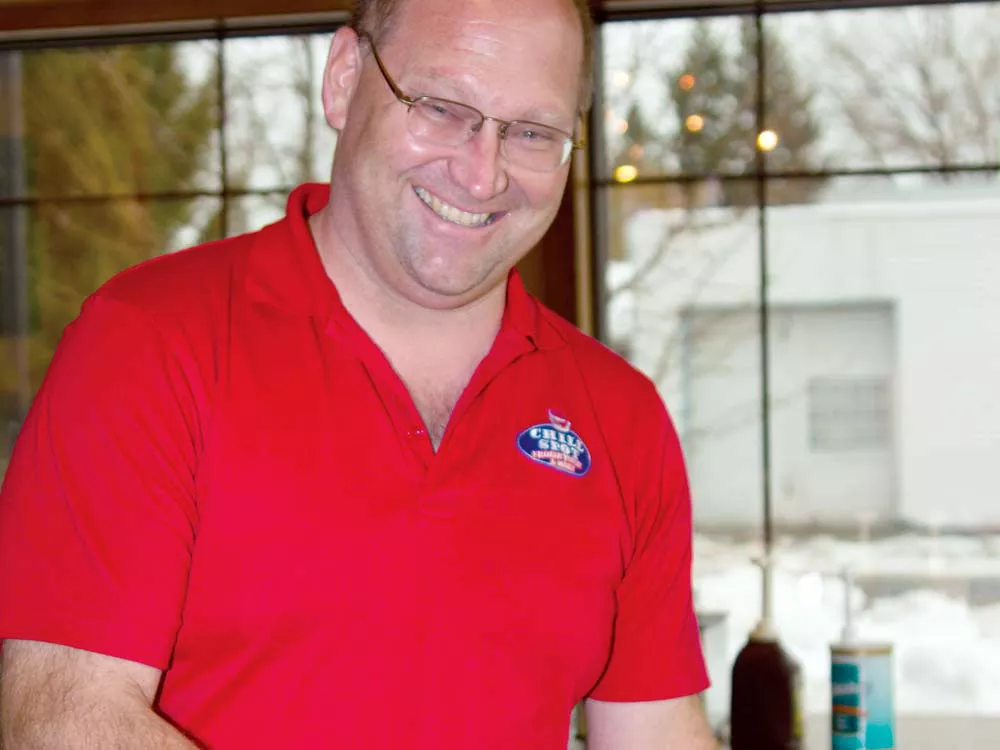 "Before opening this place, I was a realtor,"
says Rick Purcell, owner of Spokane's latest venture into frozen yogurt,
THE CHILL SPOT
. "I got tired of all the negative interactions. I wanted to be someplace fun … where people could come and enjoy themselves … and just chill."
"Chill" is right. The store opened on Dec. 1 with a parking lot full of snow.
But while "froyo" and "winter" might not sound like the ideal combination, the space Purcell and his wife, Jennifer, have created is decidedly cozy. The seating area features a walk-around gas fireplace, a kids corner with coloring books (a few child-masterpieces are tacked up on corkboard), three flat-screen TVs, and a marker board encouraging customer graffiti. (If you're feeling antisocial, or short on time, fear not: There is a drive-thru.)
The taps feature eight flavors of YoCream, the Live Active Culture variety driving the frozen dessert health trend. It's a DIY deal: Choose a 12- or 16-ounce container and fill it to your heart's (or wallet's) content. Then weigh and pay at the register. (It's 39 cents an ounce.)
Flavors rotate weekly but always include sugar- and dairy-free options, vanilla and chocolate, and more adventurous flavors like Red Velvet and York Peppermint Patty. Toppings range from fresh fruits, like mango and blueberry, to unhealthier alternatives (among the candy and nuts, you'll find Pebbles cereal, chocolate River Rocks, and candy cane shavings).
While froyo is the main course, the Chill Spot also offers, from 11 am to 3 pm, a simple lunch menu of grilled panini sandwiches ($5.50), soups ($3.25), and Craven's coffee. One customer raved about his mozzarella-basil-red pepper panini. If you didn't have enough Thanksgiving, go for the Gobbler — a seasonal sandwich of grilled turkey, cranberry sauce and stuffing.
For the Purcells, the Chill Spot is exactly what they hope the place will be for the community.
"Nobody leaves a froyo place not smiling," Purcell says. (Anna Vodicka)

The Chill Spot • 2706 N. Monroe St. • Mon-Thu 11am-9pm; Fri-Sat 11am-10pm • 290-6689
A Garlic Cloud
Heading south on Regal St., you could smell it as early as 42nd Avenue. Pungent and earthy, roasted-seeming yet astringent, it was the kind of smell your nose tells your brain to find the source of, then devour.
The epicenter of the phenomenon was at 44 th and Regal, which, using Google Maps and middle school math, gave the smell a blast area of 34 acres, blanketing our southern suburbs.
Chef/mogul Raci Erdem and his sidekick, garlic, had finally invaded the upper south hill.
Walking head-on into the garlic cloud, you could hear it halfway across the parking lot. People, packing the place, caroused loudly. A mass of bodies in the foyer spilled out the front door, waiting — relatively patiently — for a seat.
The suburbanites had caught wind that Erdem was coming, and were prepared.
Past the rustic arched faux-rock foyer, the best seat at THE WEST WING that night was at the bar, which sits perpendicular to the open galley-style kitchen. Erdem, a Turk, was holding court, chatting with staff and patrons and dancing a kind of full-body wiggle like Anthony Quinn in Zorba the Greek.
"What is a soft opening?" he asked rhetorically. "We don't even know what that is." The restaurant had only opened four nights earlier, but things were going well. The place was packed, but the wait was only 20 minutes. The servers were busy, but not harried.
The patates kizartma ($4.50) — a mountain of fried potatoes covered in a glacier of fresh garlic, circled by a lake of olive oil and lemon vinaigrette — came hot, giving off an acidic steam. On their heels was a roasted garlic spread called firinda sarmisak ($6.25) with toasted baguette slices crispy all the way through like oblong, saucer-sized croutons.
Our main courses were a pasta and bell peppers dish called Renkli ($12) and a spicy eggplant sandwich ($9), whose tzatziki sauce started creamy cool before becoming a four-alarm garlic mouth fire.
At one point, the undulating, shepherdic sounds of the Eastern Mediterranean stopped abruptly. Erdem continued to dance for a moment. Then, realizing he was moving only to the rhythm of the atmosphere he had created here, went and fixed the iPod. (Luke Baumgarten)
The West Wing • 4334 S Regal St. • Mon-Sun 11 am-10 pm • 443-1660 • http://www.whitehousegrill.com