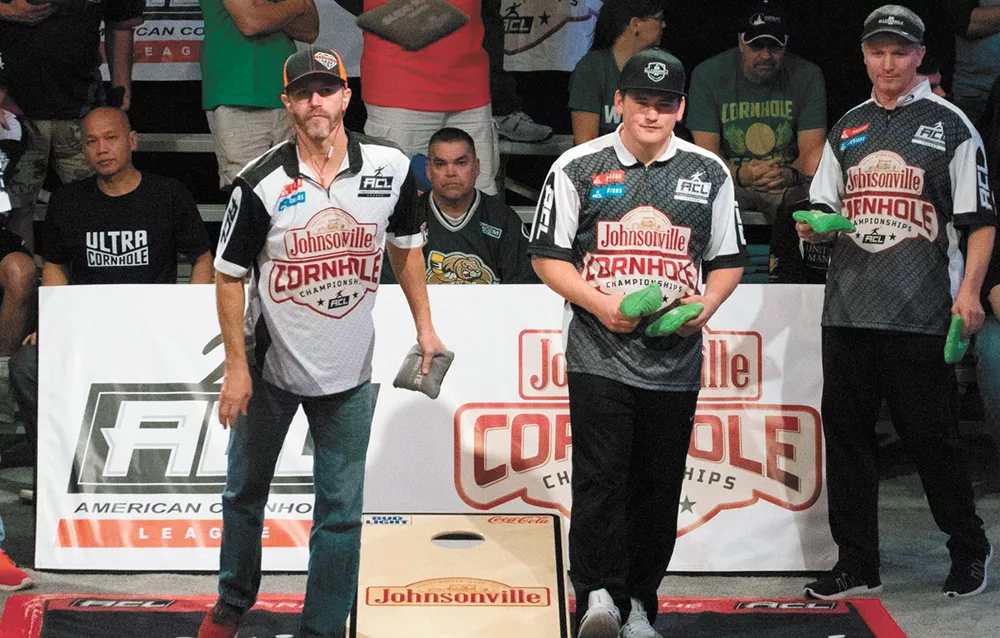 If you haven't noticed, cornhole is taking over America.
It's at the local bar. It's in your friend's backyard. It's at the office work party and at any wedding that's worth going to. I was waiting for a flight at the Denver airport last month, and I looked outside to find the signature square-shaped bean bags leaping and spinning over a crowd of mildly entertained onlookers. During the flight, I turned on the headrest TV and it was showing professional cornhole.
What the hell is happening? How has this friendly yard game turned into a phenomenon?
Trey Ryder, a former competitive cornhole player who is now the media director for the American Cornole League, says cornhole has really blown up in the last two years. The American Cornhole League was founded in 2015, but it wasn't until 2017 that ESPN2 started broadcasting cornhole tournaments. And it was a big hit.
"After that," he says, "we thought it could take off."
Watching cornhole on TV is unlike watching other sports on TV. Ryder uses this comparison: When you see Drew Brees throw a 60-yard touchdown pass, it's awe-inspiring, sure — but you don't think, "I could do that." You do think that when you see some dude throw a bean bag into a hole.
"It immediately draws the viewer into a realm of wanting to prove to themselves that they can do it," Ryder says.
From there, it's super easy to get started. All you need is a cornhole set and some bags. You don't have to be in shape, you can hold a beer while you play, and it's not hard to learn the rules. It's also not hard to fool yourself into thinking you're really good. I, for instance, thought I was hot shit because I finished second in my office cornhole tournament.
Yet when I played against a pro in Sandpoint's cornhole tournament last year, I was quickly put to shame. I have since learned there's a vast difference between the pros and any random guy or gal with decent hand-eye coordination.
There's technique. Strategy. Fundamentals, even.
Ryder says it takes a year or two of consistent playing to get really good. And there are enough local tournaments — with good prize money — to do that.
As far as yard games go, cornhole is kind of like a Marvel superhero movie. If you don't think too much, you'll have a great time. And if you want to be a huge nerd about it, you'll have an even better time. I, for one, choose the latter.♦