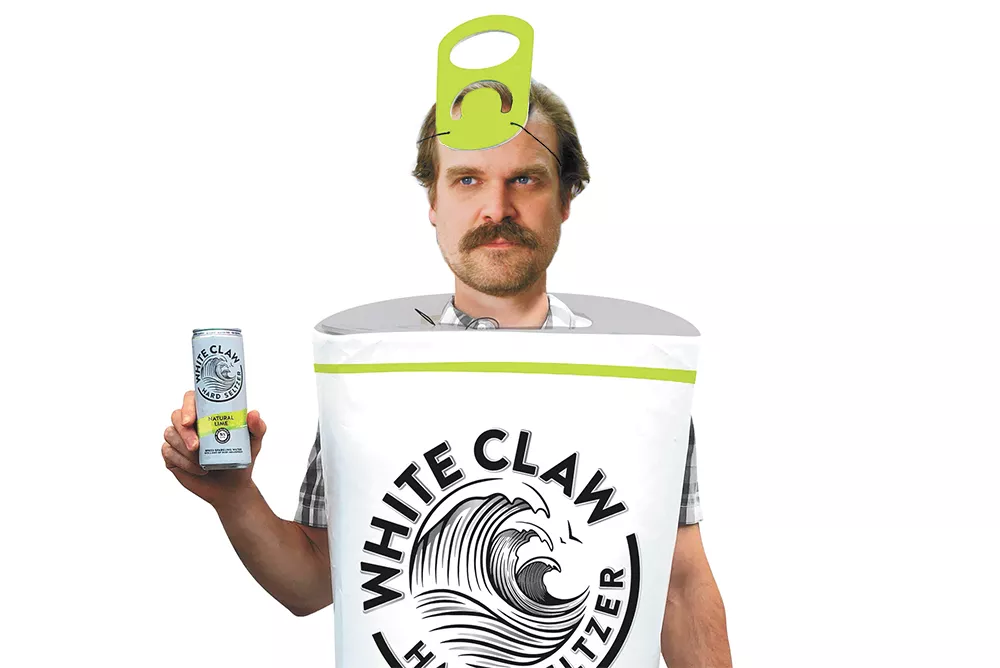 Listen up, Inland Northwest. Much like the character Stefon on Saturday Night Live, I've got some of the hottest new trends for Halloween 2019 and you're not going to want to miss them.
Here's how to win the relevancy award (I assume that's a thing) at all the costume contests this year.
White Claw
What's better than getting drunk while shouting to your bros "ain't no laws when you're drinking claws"? Getting the group together to dress as cans of all your favorite flavors. Shout that catchphrase while Black Cherry Chad gets handcuffed outside the house party you crashed, and don't forget to pick up his oversized flatbill hat before someone peels the sticker off.
Stranger Things
If you've gone to a thrift store in any hipsterville like Portland recently, you know that the neon wind slickers and brightly colored shirts of the '80s are going for astronomical rates these days. Spokane is blessedly behind-trend, so try a local shop or raid those boxes in the attic to recreate your favorite look from Stranger Things. High-waisted shorts and striped polos are fine for the guys, while ladies can rock an oversized button down shirt in a pattern ripped straight from a bowling alley carpet catalog.
Stay Body Positive, Bad Guys
In the likely event it's cold on Halloween this year, plan ahead to dress like Billie Eilish, who rocks her baggy sweats and oversized brightly colored shirts with chokers and chains as a way to flip the bird to those who would judge her body.
On the flip side, Lizzo has been serenading the nation this year about embracing your body no matter what size. Honor her words and forget about the cold by rocking a sparkly one-piece swimsuit and dancing all night to stay warm.
Impeachment
The politically focused couple that doesn't mind getting yelled or laughed at all night might take this moment in history to dress as a peach and a mint leaf. For the slow ones in the room, try adding a name tag that says "Hi, I'm___."
'Like Tears in Rain'
As cult classic nerds already know: Blade Runner was set in November 2019, which means it's a perfect time to break out the oversized trench coats, puffy shoulder pads, wigs and see-through rain coats. Basically the whole movie is set in the rain, so this should be one of the best ways to stay dry this Halloween. ♦