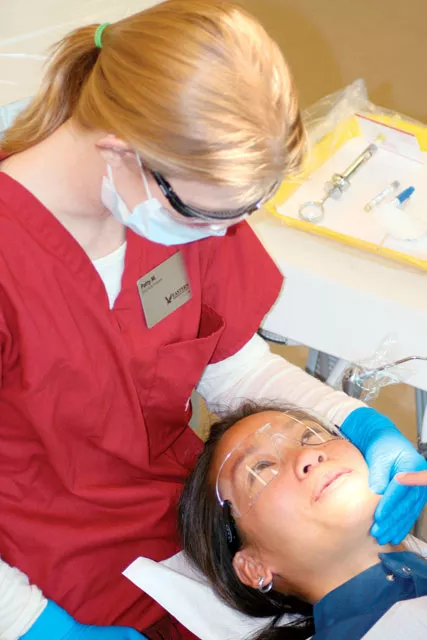 Between the east and the west sides of Washington state, there's a dental gap. And not the David Letterman kind. Graduates at the University of Washington School of Dentistry tend to stay in Seattle. They tend to practice in the Big City or the Big Suburbs. But Seattle doesn't need dentists. Places like Colville do.
On the eastern side of the state, dentist Art DiMarco says, there are already 37 open spots in need of filling. Fifty percent of Washington dentists are headed for retirement by 2015.
That's why last year the UW School of Dentistry launched the Regional Initiatives in Dental Education (RIDE) program at the Riverpoint campus in Spokane. They've linked with Washington State University's WWAMI (Washington, Wyoming, Alaska, Montana and Idaho) program, and Eastern Washington University's dental hygiene program.
"We want to place our [dentists] in the eastern side of the state," says DiMarco, the program's director.
RIDE students conduct their first year of training in Spokane, including a four-week summer rotation at a rural or underserved clinic. For the next two years, they'll head off to UW in Seattle, and for their final year they return to the rural regional setting, for extensive hands-on rural clinic experience.
Since the 1970s, the University of Washington's medical school has done something similar — but only recently has their strategy branched into dentistry. For some students, it's a perfect fit.
"Yeah, I've always been interested in rural dentistry," says first-year RIDE student Eric Nygard. "I grew up on a farm. Those are the people I associated with."
Nygard grew up in Wenatchee. His wife grew up in Liberty Lake. The location — and future occupation — of the RIDE program works perfectly. He's excited to work with rural communities.
"It's quite typical to graduate from school and go to a nice suburban community, where you typically don't run into the sorts of challenges that you find in the rural community." says DiMarco. "There's a great personal reward you gain when working with these [rural] populations."
The personal reward, of course, comes bound to the challenges.
In small towns, residents may visit the dentist more sporadically. It's tough to get to the dentist when she's 55 miles away instead of a few blocks down from the office, DiMarco says. So initially, a new rural dentist should expect to see a lot of major problems: a lot of deep decay, a lot of gum disease.
"You're basically doing a lot of triage," DiMarco says.
And a lot of times, that's you doing the triage. Not an oral surgeon.
"What I've noticed is dentists in the rural settings don't always have the luxury of having specialists close by," Nygard says.
Every rural dentist, then, has to play the Renaissance man. The dentist has to perform root canals, oral surgery and various kinds of periodontal magic.
"You don't have a periodontist," DeMarco says. "There's not an oral surgeon for 200 miles. You have to do it yourself."
As a result, the RIDE program, in some ways, is even more intensive than the typical UW dental load.
"There's an initial higher skill set," DiMarco says. "We're talking a dentist who comes out of the gate with more experience."
They work in small teams. After all, in Spokane, there are only eight of them. Some of their courses — like oral biology and dental materials — are done online. Other courses are collaborations with dental hygiene and medical students, learning some of the same course material.
"It creates more of a broad base of medical knowledge," says associate dean Wendy Mouradian. "And it's not just that — it's how you're going to relate to those people."
Broader medical knowledge in these communities can be crucial, especially because dental problems can be the canary-in-the-coalmine for deeper, more dramatic health issues.
"There are many clues, many intraoral signals of systemic problems. There are ulcers that develop in the mouth that show other diseases. There's dry mouth," DiMarco says. "I've had people walking in shaking and referred them [for] thyroid [problems.]"
Being a successful rural dentist, DiMarco says, is also about becoming a part of the town.
"They become respected people and members of the community," DiMarco says. "The community develops trust in them. Your persuasion is much more acute when they know you well and they trust you."
Those experiences — firsthand knowledge of rural dentistry, working with rural clinics, making connections with small-town dentists — are precisely the sort that UW hopes will invigorate Eastern Washington dentistry.
And the many open slots mean graduates, like Nygard, are pretty much guaranteed jobs when they graduate.
"I've already started doing a little bit of networking at Wenatchee," Nygard says.