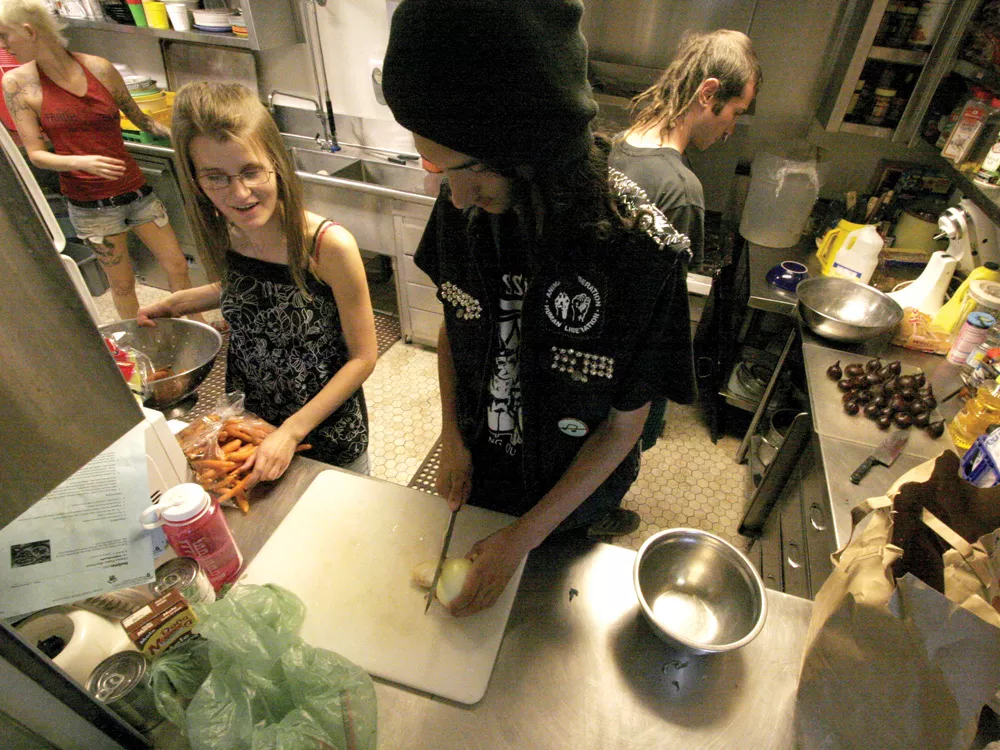 Nathan Kelm is organizing piles of food on a table at the Peaceful Valley Community Center on a recent Sunday afternoon. Fennel bulbs. Over-ripe bananas. Packages of tempeh. Bottles of blackcurrant juice. Jars of asparagus tapenade.
"The hardest thing is coming up with the recipes," says Kelm, a tall, lanky 17-year-old with dark, twisted locks that flow out from under his black knit cap. Kelm and a few others who share his youthful appearance and penchant for black clothes work quietly, carefully maneuvering in the community center kitchen, where they've gathered every Sunday since March. They're members of the local chapter of Food Not Bombs, a group that serves free vegan meals in cities worldwide, hoping to draw attention to poverty, hunger and the destruction of the environment and to pressure governments to redirect military spending toward basic human needs.
Kelm and other members of the group collect donations from Main Market, vendors at the Spokane Farmers Market and Fresh Abundance — gathering food that would otherwise be thrown away. The donors are pretty sympathetic, Kelm says.
But stores like Safeway and Rosauers are becoming reluctant to help, he adds, in the wake of controversy that has arisen recently in Orlando, Fla., where the mayor has branded the Food Not Bombs chapter "food terrorists." Twenty-eight members of the group there have been arrested since June for serving watermelon and corn-on-the-cob to Florida's homeless population. The group was in violation of a city ordinance, which prohibits feeding 25 people or more in a public park without the proper permit.
Kelm speculates that the arrests in Orlando could be motivated by the fact that it's a tourist town, and he wonders if city officials don't want people who come to experience Disney World to see the reality of poverty in the city. The same thing happened in Spokane, he says, during the 2007 U.S. Figure Skating Championships, when local police swept the homeless from the streets.
"I would definitely keep doing what we're doing even if it meant risking arrest by the authorities, because I feel that feeding the hungry and continuing to serve the community as we are trying to do is much more important than following laws," he says. "The laws are made by those who are supposed to keep our interests at heart but that may not always be true."
But the current group is also battling a bad rep left by the last group of active members. "They had problems with drugs, and they weren't too polite," says Helm. "We're trying to fix that, too."
Ryan Weech, tossing a salad with lettuce left over from the Spokane Farmers Market, explains that Spokane's Food Not Bombs group has been around for eight years, but with different members along the way.
Weech supports the group's commitment to salvaging food and promoting non-violence. "The more people share a name, the more the ideology and principles get out there," she says.
Peaceful Valley Community Center Director Mark Reilly has only positive things to say about local Food Not Bombs members. "We hear so much negativity about young people these days. I don't think these kids get the support they deserve from the community," says Reilly. "Their message is 'We want to serve people, not cause problems.' It's really neat to see."
Reilly notes that there are a lot of free meal programs during the week, but on the weekends, Food Not Bombs fills in the gap with a Sunday meal. "People need to eat, that's the bottom line."


By 3:45 pm, the smell of caramelized beets and roasted potatoes fills the kitchen and volunteers ferry bowls of fresh fruit, stir-fried tempeh and salads to a table in the shade outside. What began as boxes and bags of food destined for the dumpster have turned into a skillfully prepared, mouthwatering six-course feast. "Hopefully people show up. Last week we had a ton of people," says Kelm.
A few guests trickle in and wait to be served. Some, like Justin Bell, are just curious. "I volunteer a lot places," he says. "I just wanted to see what was here. Besides, my wife is out of town," he laughs. Others have been affected by the economy and hope to stretch their grocery money with a free meal.
Kelm works as an outreach coordinator for street youth and sees poverty first-hand. "I see a problem here in Spokane, and I really want to help solve it."
"On the Food Not Bombs website, there is a statistic that says the amount of money the United States military spends in one week is enough to feed the planet for a year," Kelm says. "I really took that to heart and think about it constantly when I am preparing and serving meals.
"I suppose the bottom line for me is just a basic willingness to help."

Food Not Bombs serves a free vegetarian meal every Sunday at 4pm at the Peaceful Valley Community Center, 214 N. Cedar Street. Visit Food Not Bombs Spokane on Facebook or go to the national web site foodnotbombs.net.