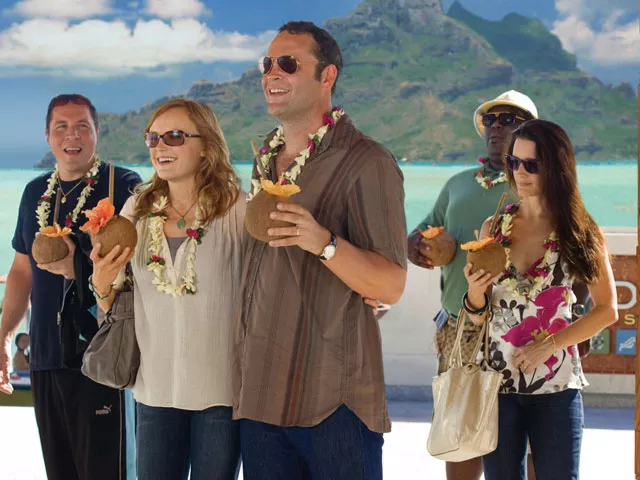 There is almost nothing believable about Couples Retreat. Noth-ing. Please don't misread me: I am not saying that this is an unbelievable, must-see film. I'm saying that practically no part of it makes sense.
Let's start with the casting. To me, it's pretty unbelievable that a schlub like Vince Vaughn would be married to Malin Akerman (Harold & Kumar, Watchmen). It's even more unbelievable that Kristen Bell (who looks young enough to play a teenager — and has done so on Veronica Mars) would be married to Jason Bateman. The aging men of the Frat Pack apparently think they can attract women like these. Riiiight.
Vaughn plays a videogame dealer who has an unbelievably huge house. He's a busy guy. (Doing what? We don't know.) And he is constantly counseling his friends on their marital issues. He has two young sons — both, we assume, were birthed by Akerman, who in no way has the body of a recent mother (again, unbelievable).
At their son's birthday party, Vaughn, Akerman and their friends, Joey (Jon Favreau), Lucy (Kristen Davis) and Shane (Faizon Love) are pulled aside by Bateman and Bell. They proceed to give a PowerPoint presentation (unbelievable) on an island getaway vacation perfect for struggling couples. The group resists — but eventually they cave, easily finding babysitters and cashing in vacation time to get away (unbelievable!).
Once at "Eden," an island resort, the group discovers that they unknowingly signed up for an intensive week of marriage counseling, orchestrated by wellness guru Marcel (Jean Reno — unbelievable because he plays such a good hit man). He's weird, but the group plays along with his bizarre therapy activities, like swimming with sharks and taking classes from a yoga instructor who humps all of the women. (Do I need to keep saying it? UNBELIEVABLE.)
All the unbelievable things keep going on for nearly two hours, but they don't make Couples Retreat any funnier or more enjoyable to watch. Maybe the writers (Vaughn, Favreau) just wanted to cozy up with hot, young actresses. Or maybe the actresses wanted to cozy up to the Frat Pack.
As I said, unbelievable. (Rated PG-13)