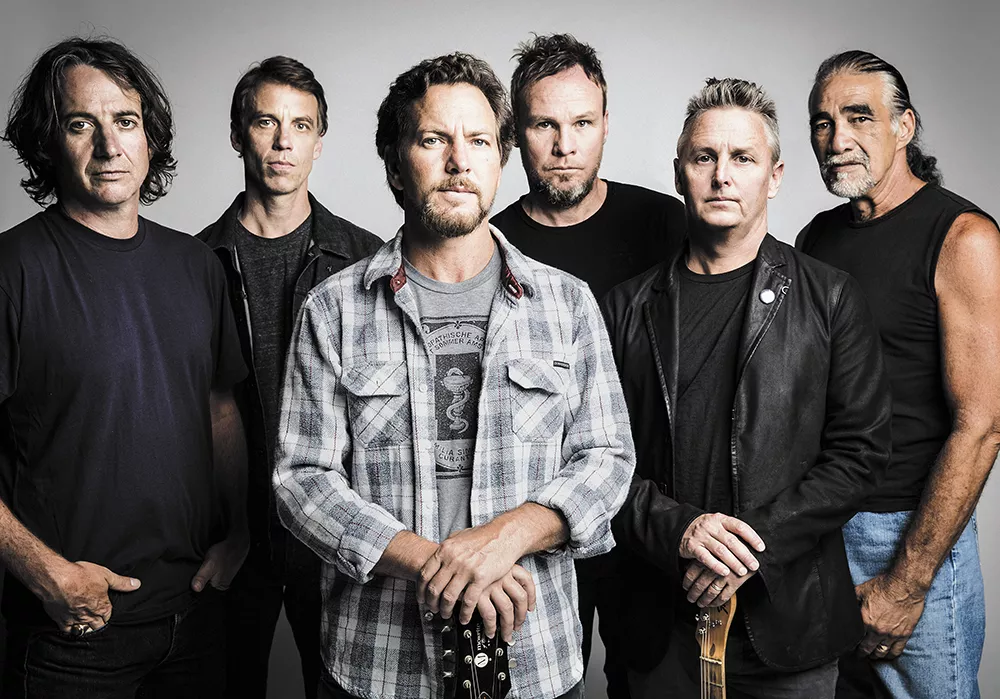 THE HYPOTHESIS
This is not a definitive declaration. The topic remains open to debate, but I hypothesize that it could be argued that Pearl Jam is the great American rock band.
Others have come and gone, rising to the sort of prominence the Seattle quintet has reached, but those others have never sustained the sort of musical machinery and cultural relevance, and ability to continue to sustain such prowess, as we've seen with Pearl Jam.
THE DEFINITION
The great American rock band is defined as any outfit comprised of American citizens (or mostly American citizens), founded in the United States and continuing to reside in the United States, and playing music that can, at least in a general sense, be referred to as "rock music."
The word "band" implies that the group is not a solo effort flanked by rotating musicians or some sort of Guns N' Roses bullshit, wherein the band exists essentially as a name only, its members having collectively given up any sense of operating as a unit. For the sake of this argument, "great" refers to longevity of both the band and its material, the band's societal and cultural impact and the manner in which its reputation is catalogued in the minds of rock 'n' roll fans.
THE COMPETITION
You've likely realized by now that Pearl Jam's competition for such a distinction isn't as formidable as you initially perceived.
The obvious challengers that might come to mind — the Who, the Rolling Stones, U2, Led Zeppelin and of course, the Beatles — all have been major influences on Pearl Jam, but, as you've likely realized now, are not American bands.
Who are we left with, then? Aerosmith? They should have quit with the asteroid song. Bon Jovi? It's a solo project now that Richie Sambora walked out on the last tour. Van Halen? A great band at least needs a steady lead singer. Other acts you might mention are now playing casinos. Pearl Jam is playing, and selling out, arenas.
In terms of all-time greats, you'd have to give a serious look to the Grateful Dead, who revolutionized live rock music and whose influence looms large nearly two decades after their lead singer and guitarist died. The Allman Brothers, a form of which still remains, could be up there, too.
The best challenger, and one that will probably get the heaviest support, is Bruce Springsteen and the E Street Band, an act that strives to exude a certain sense of American-ness in its songwriting and presentation.
THE EVIDENCE
Pearl Jam's story makes them especially deserving of this distinction. They came out of the ashes of a band whose lead singer had died and rose to almost immediate fame. Pearl Jam was shoveled on top of the grunge bandwagon, but the band was always a classic rock act, making big, technical sounds few, if any, other "grunge" bands displayed. They've been through other challenges along the way, including inner-band strife and the death of nine fans during a Danish festival performance.
All the while, the band has existed both within and outside of the mainstream. It is hard to argue that a band whose 10th studio album debuted at the top of the charts in the U.S. and nearly a dozen other countries is not mainstream. That was their fifth album to debut at the top of the charts. (Oddly, Ten, the band's top-selling album, never reached the top.) At the same time, Pearl Jam has always been fiercely independent, breaking away from their major label as soon as they could and waging an epic, albeit ultimately unsuccessful, battle against Ticketmaster.
Surrounding Pearl Jam is this bizarre paradox: The band is simultaneously characterized as warriors of the rock 'n' roll scene — the only Seattle band to truly survive the explosion that hit there two decades ago — as well as '90s has-beens.
This is odd, but Pearl Jam has almost always remained relevant. Not that album charts are the only metric of relevance, but it's worth noting that the act Pearl Jam's recent Lightning Bolt knocked off the top of the chart was Miley Cyrus, whose relevance — albeit a blight on music and common decency — is unquestioned.
Sonically, Pearl Jam is most easily identified by Eddie Vedder's thunderous vocals. Yet their sound has evolved continually through their lifespan, evidence of a rock 'n' roll act that has remained creatively adventurous at a point when they could easily, and profitably, eschew new records for greatest hits-packed stadium tours.
But no matter where their style has wandered over the years, Pearl Jam has always circled back to a sound and attitude that's definitively rock 'n' roll — loud, big, brazen and always a little bit pissed off. All the while, the band has remained one of the best live touring acts in the business. Their live show alone — marked by unpredictable, lengthy set lists — is reason enough for Pearl Jam to be considered "great."
And it's worth noting that Pearl Jam does very American things outside of their music — like speaking out about injustice, helping people who need help and staying true to their own ideals.
THE CONCLUSION
If rock 'n' roll was a competition, the members of Pearl Jam would likely be the first ones to say they would rather not play. Still, at a time when earnest rock outfits are all but extinct, there is value in having this discussion. Maybe there's a comfort in acknowledging some sort of leader. A band that you can be proud of. A band you can go see, even if you haven't listened to their albums in years, and be reminded that rock hasn't died. Pearl Jam is that band. ♦
— Pearl Jam with Mudhoney • Sat, Nov. 30 at 7:30 pm • Spokane Arena • 720 W. Mallon Ave. • $69.50 and up • All-ages • ticketswest.com • 800-325-SEAT
PEARL JAM SAVED MY LIFE
In August of 2011, Jason Baldwin became a free man for the first time since he was 16 years old, convicted of murdering three 8-year-old boys in a small Arkansas city in 1994. As one of the West Memphis Three, Baldwin's plight, and the plight of the other two men convicted as the result of a sloppy, corrupt investigation, caught the attention of Eddie Vedder and Pearl Jam, who worked for more than a decade to help the men get out of prison.
When he got out of prison, Baldwin had nowhere to go, and that's when Pearl Jam's philanthropy wing, the Vitalogy Foundation, stepped in.
Now living in Seattle, here's what Baldwin had to say about Pearl Jam:
"Since the first Paradise Lost documentary was released in 1996, Eddie Vedder has contributed his money, time, energy and reputation to not only freeing Damien [Echols], Jessie [Misskelley] and myself, but to ensure that continued justice efforts for the three slain boys are not forgotten. Since our release was contingent upon the unjust Alford Plea, which prohibited compensation for our years of wrongful imprisonment, Ed has also helped ensure that we are able to live happy and productive lives. For me in particular, a major goal of free life has long been to pursue higher education. In June, I completed an Associate of Arts degree, thanks to the generosity of a scholarship provided by Pearl Jam's Vitalogy Foundation. Each band member decides where 20 percent of the proceeds will go, and Ed chose to help me pursue my dreams. I am so thankful to him and to Pearl Jam for everything they've done for me."