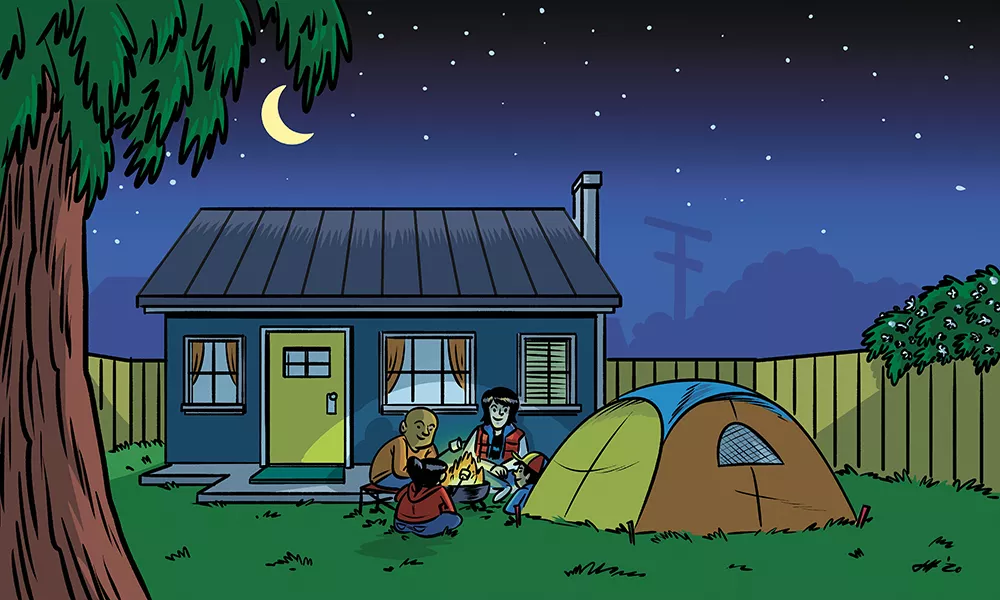 What if you could answer the call of the outdoors without having to stray far from home? Backyard camping can provide the perfect activity. It's easy to arrange, offers plenty of room for interpretation and is suited to everyone — from families with young children to more rugged individuals who enjoy spending the occasional night under the stars.
Unlike wilderness camping, you don't even need much in the way of gear for backyard camping.
"Nothing says you have to use a tent or a sleeping bag or anything," says Mike Harcarik, store manager at the Spokane REI. "If you're talking about just bare minimum, it could be as simple as going outside on the lawn and throwing a blanket down." A folding cot or a hammock strung up between two trees could work just as well too.
While back-to-basics simplicity has its appeal, there's also fun to be had in resourcefulness a la Swiss Family Robinson. Depending on weather and other conditions, ordinary household items can make a perfectly good shelter or bed.
"You could make a tent out of a tarp with some rope and some poles. Or just pull the couch cushions off the couch and the comforter off the bed and sleep out on the back deck," says Ryan Griffith, assistant recreation director at Spokane Parks.
As it happens, that's exactly what Griffith and his dad did when he was younger. Those nights are ones that he still recalls fondly.
And that captures the real charm of backyard camping. It can be whatever you want to make it. It doesn't necessarily have to be fancy or elaborate to be memorable.
"It comes down to what kind of experience you want to have," says Harcarik. "That's the core of the backyard camping idea — figuring out and identifying what you might get from it. Is it just the satisfaction of being self-sufficient? Is it getting the experience of tuning out the world and the news for the day? What does a fun experience mean to you?"
One approach that Harcarik recommends is committing to an "authentic" style of camping. That means "pretending like the house isn't actually there" and using only self-transported water or a properly prepared fire pit for cooking.
Although setting yourself that kind of challenge can be fun, it can also serve a practical purpose. Mimicking wilderness camping provides a helpful test run when you have a brand new kit — for example, a camp stove, a water-filtration system or a portable solar charger — that you should familiarize yourself with before you're miles from nowhere.
Speaking of test runs, backyard camping can also be a safe, yet stimulating, way of introducing young children to the basics of camping.
"Whether they're seasoned campers or not, you want to make it positive," Griffith says. An easy way to keep things engaging and upbeat is by creating a backyard scavenger hunt for hidden objects or different plant and insect species.
Other kinds of physical activity — even something as simple as a sightseeing walk around the neighborhood — can hold kids' interest while also giving them the chance to work off excess energy. For instance, Griffith has been making obstacle courses out of sawhorses and basic play equipment for his two young children: "We'll have them kick the soccer ball around the cone or shoot a basketball into a 5-gallon bucket."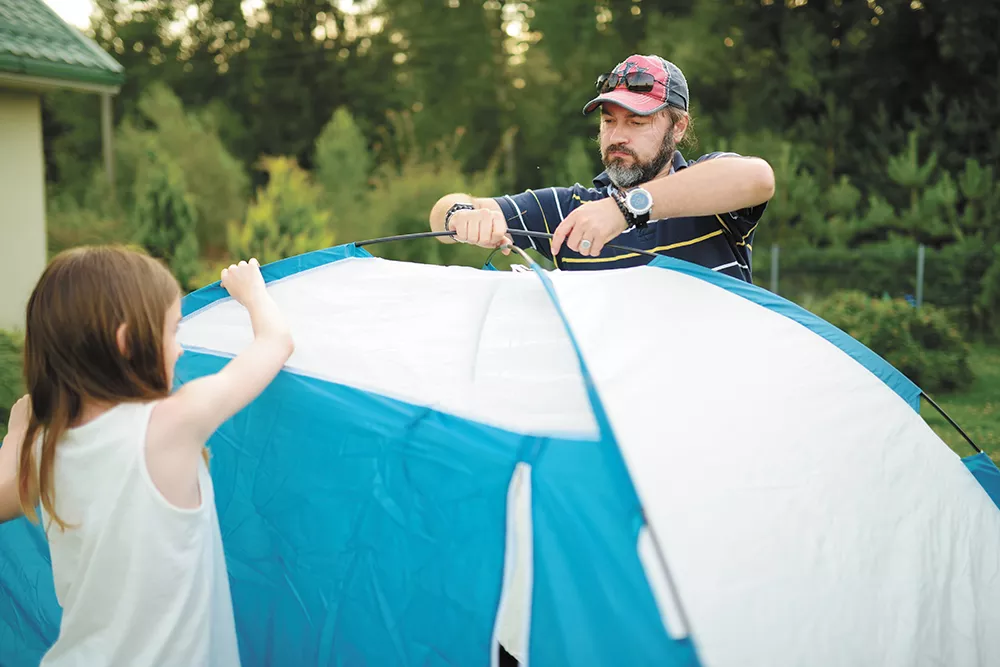 Having the house nearby also puts toys and board games within reach while keeping the temptation of screen-based entertainment at one remove.
"You can tell ghost stories or have your kids tell stories using their imagination," he adds. "Even just taking books off the bookshelf and reading them aloud... it gets people back to their roots."
Which isn't to say that screens don't have their place. Apps like Star Walk 2, SkyView or StarChart can enhance the backyard stargazing experience through augmented reality. Holding your tablet or smartphone up to the night sky will reveal the outline of constellations.
And when snack time comes, the adaptability of backyard camping is highlighted once again. When they're enjoyed on a cool summer evening, instant hot chocolate prepared on a camp stove or s'mores made from leftover Easter candy somehow taste magical to kids and adults alike.
However you might choose to go about backyard camping, there is one important thing that it shares with wilderness camping: A little forethought goes a long way. Doublechecking the weather, topping up your supply of bug spray and drawing up a rough schedule of mealtimes and activities can make things more rewarding and avoid a hasty retreat indoors.
"You might make a decision on a whim: 'Let's go sleep outside tonight.' But it can be so much more if you actually plan it out," Harcarik says. "The planning process can be part of the fun."