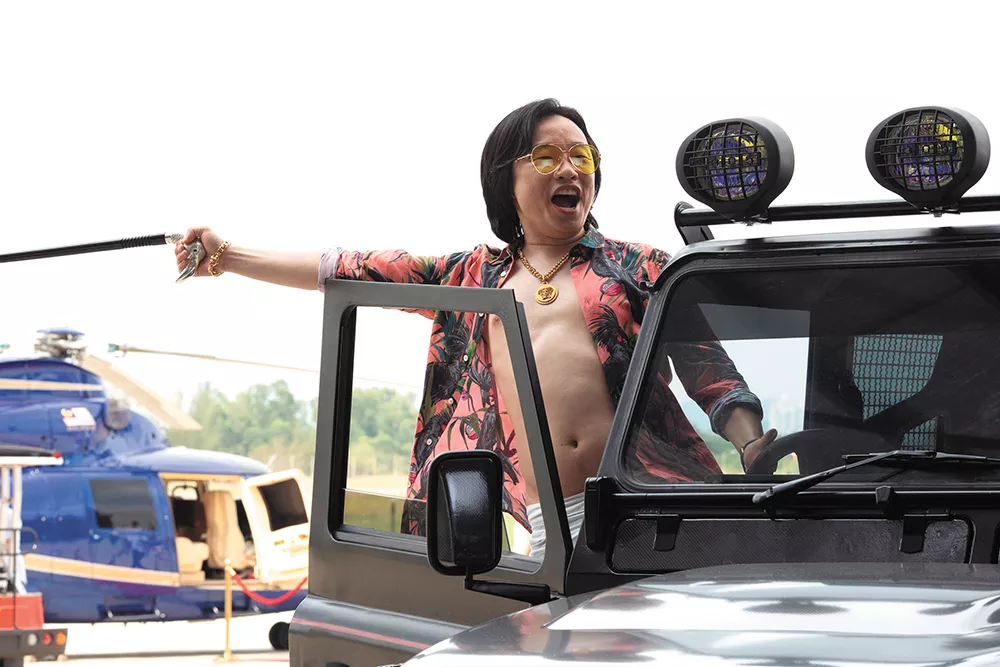 Given how high the expectations have been for the adaptation of Kevin Kwan's popular 2013 novel Crazy Rich Asians, it's remarkable how limber and lighthearted the movie is.
In a time when old-school romantic comedies have been mostly relegated to Netflix original movies, Crazy Rich Asians delivers an unabashedly glamorous love story, with a predictable but mostly satisfying narrative arc and plenty of entertaining, likable characters. Its cultural specificity opens up the story in ways that set it apart from the typical Hollywood rom-com, but the basic structure is as old as cinema itself: poor girl falls in love with rich boy.
In this case, it's more like comfortably upper-middle-class girl falls in love with stratospherically rich boy. NYU economics professor Rachel Chu (Fresh Off the Boat's Constance Wu) thinks that her boyfriend Nick Young (Henry Golding) is just a nice guy from Singapore who doesn't like to talk much about his family. When he invites her home with him to attend the wedding of his best friend, though, she learns that Nick actually comes from one of Singapore's wealthiest families, heir to a massive fortune and expected to take over the family business.
For the American-born daughter of a Chinese-immigrant single mother, everything about Nick's life comes as a shock, and Rachel is totally unprepared for dealing with Nick's ultra-wealthy socialite friends and family, and especially with Nick's controlling mother Eleanor (Michelle Yeoh), who does not approve of her son dating (and potentially marrying) someone from such a comparatively low social class (and whose values are more American than Chinese). Rachel's culture shock is the source of most of the movie's comedy, but the filmmakers also take it seriously, especially as the toxic effects of ingrained social expectations become clearer.
Wu is warm and funny as the sharp, confident Rachel, and newcomer Golding is charming — if a little vapid — as the less complex (and less compelling) Nick. The movie is full of goofy supporting characters, including Ocean's 8 scene-stealer Awkwafina as Rachel's Singaporean-American college buddy Peik Lin, and amusing turns from Ken Jeong and Silicon Valley's Jimmy O. Yang.
The large cast can get a little unwieldy, and keeping track of the various relationships is tough at times. Rachel jokes about being positioned as the villain in a soap opera, and there's more than a little soap-operatic scheming and betrayal going on among the secondary characters.
That most strongly manifests itself in a tangential subplot about the marital difficulties of Nick's beloved cousin Astrid (Gemma Chan), which may have been more fully realized in the novel but here too often seems like it's been imported from a heavier, more melodramatic movie (despite Chan's strong performance). The drama between Rachel and Eleanor is more convincingly handled, and even though the plot runs through multiple rom-com clichés (including a makeover montage and a last-minute rush to the airport), the emotions mostly ring true.
Director Jon M. Chu has a background in dance movies (including two Step Up installments and two Justin Bieber documentaries), and he brings a sense of choreographic grace to the movie's many parties and other social gatherings. The Youngs and their associates live an almost impossibly extravagant lifestyle, and Chu captures all of it in vibrant colors, making Singapore both inviting and intimidating (which is exactly what it is for Rachel). The costumes and set design are lavish and eye-catching, and Chu puts as much care into the details of food preparation as he does into the over-the-top wedding celebration at the movie's climax.
As grandiose as the setting may be, the central relationships are grounded, and Wu in particular keeps the movie rooted in clear, powerful emotions. The mix of luxury and intimacy, familiarity and freshness, gives Crazy Rich Asians just the right balance to put a slightly new spin on a well-worn genre. ♦