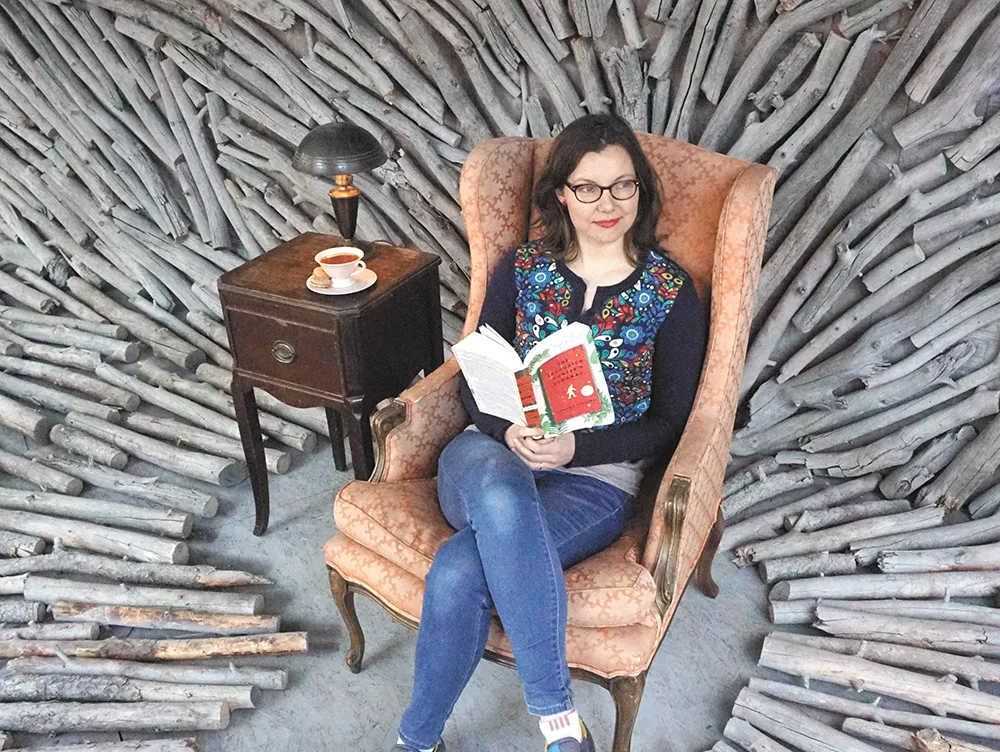 It looks as if someone has just stepped away from this cozy-looking antique wingback chair with pink quatrefoil upholstery. A copy of The Sasquatch Hunter's Almanac by Sharma Shields rests on the seat cushion, awaiting the return of its reader. On the adjacent side table, a dainty cup of tea is softly spotlit by a reading lamp.
This could easily be a view of "your grandmother's reading parlor," says artist Richard Vander Wende — if it weren't for the fact that these quaint domestic furnishings are situated in a large downtown display window and surrounded by an ominous vortex of round, ash-gray logs.
Vander Wende and his creative partner Kate Vita have designed this installation as part of the 2015 Get Lit! Festival, which is collaborating with the Window Dressing program for the first time to fill vacant storefront windows, like this one at 702 W. Main with interpretations of works by two of this year's festival authors. Ginger Ewing, who heads Window Dressing, asked Vander Wende and Vita to find a visual vignette that captured some aspect of Shields' new book. She then asked Chelsea Hendrickson to do the same for The Dead Lands, Benjamin Percy's post-apocalyptic literary imagining of the Lewis and Clark expedition.
"We really wanted to honor the writers who were being featured in a significant way," says Ewing, while providing a platform that would allow local artists "to shine." She and festival director Melissa Huggins selected Shields' novel because it's "wrought with so much creative imagery" and Percy's because it "would give an artist a lot to work with and sink their teeth into."
By drawing on his experience in film production design, Vander Wende co-created with Vita a scene that he thinks distills recurring themes in The Sasquatch Hunter's Almanac as well as Shields' short story collection, Favorite Monster.
"For us, one of the really interesting things is this contrast between proper society and its rules and conventions, and the world of nature and its full, raw, uncensored, unedited spectrum, and the discrepancies between those two worlds. That's what we tried to evoke in our window tableau," he says.
Hendrickson's take on The Dead Lands spans two windows, each with a wide central pane and two narrower sides. She chose to focus on two components to evoke the novel's bleak, end-of-days atmosphere: colors and symbols.
"The far right window starts where their journey starts. It's dry, desolate, dusty colors that then morph into white and gray. As they travel northwards, they get into barren, snowy lands in the Dakotas," she says. "The left window continues that transition from ashy colors into the dark browns and greens and blues that taper off into blues." Those colors are a backdrop to silhouettes of nuclear cooling towers, crows and collapsing buildings.
On the opening day of this year's Get Lit!, the authors or their proxies will step into the scenes the artists have created and read from the works that inspired them.
"We thought it would be great imagery," says Ewing, "if we placed the writer inside their installation to give the sense that they're being enveloped by their book." ♦
Get Lit! Window Dressing Exhibit Walk • Mon, April 20 at 8 pm • Meet at River Park Square, 808 W. Main, Suite 251 (former home of Whiz Kids)