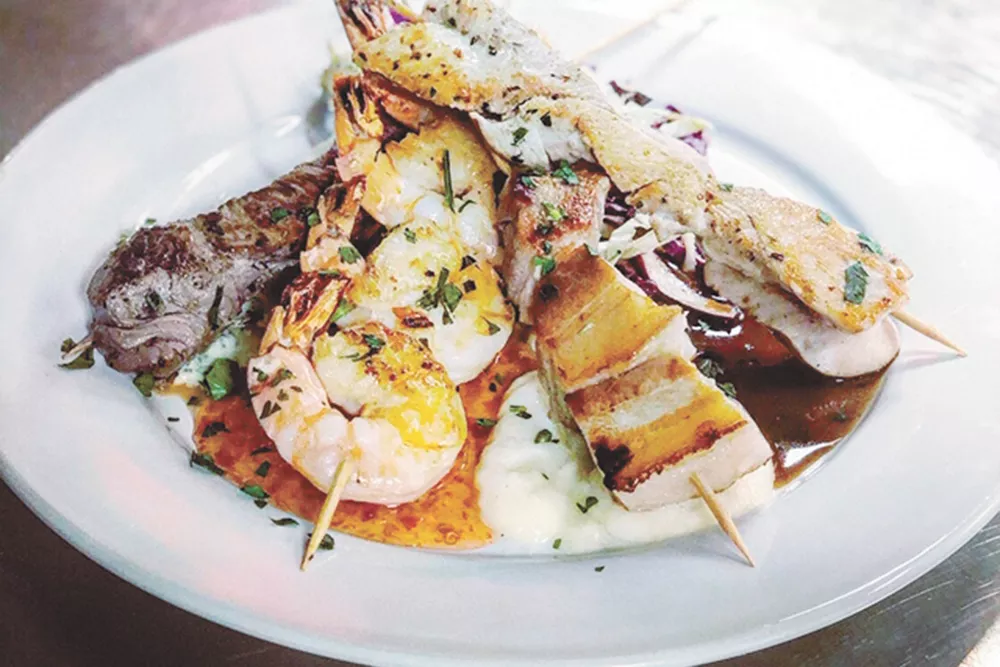 A Spokane-area family marked their return to restaurant ownership after more than a decade with the opening last month of Crimson Hearth in Spokane Valley.
Located in a bright white building with a contrasting black roof and a crimson red door on busy Sprague Avenue, Crimson Hearth serves breakfast, lunch and dinner with a European-inspired menu and focus on hearth oven cooking.
The restaurant is owned by father-and-son duo Rick and Kaston Pedersen; the elder Pedersen is the original founder of regional chain Old European. The family spent the last two years remodeling the building, which sat empty for many years before that, Kaston Pedersen says.
"My dad has been in the restaurant industry for quite some time, he had Old European for 20 [years] but we unfortunately had to get out of it, and for the last decade we jumped around," he explains.
"We want to be a place where people can come to get quality, made-from-scratch food for a really fair price."
The menu rotates throughout the day; breakfast is served daily from 7 am to 2 pm, while lunch runs 7 am to 3 pm. Dinner service is from 3 to 9 pm, except for Monday and Sunday.
On the breakfast side, Crimson Hearth offers some nostalgic fare from Rick Pedersen's Old European days, like aebleskivers, crepes ($7-$11) and beignets (two for $2), along with omelets ($10-$14), eggs Benedict ($13-$16) and other traditional breakfast combos.
A signature item is the tarteflette ($14; also spelled tartiflette), a dish of potatoes, cheese, butter and meat originating in the French Alps. Pronounced tart-eh-flay, the dish also goes by "breakfast nest" at Crimson Hearth, and is based on a mid-1800s German recipe passed down in the family. The cheesy hashbrown bowl is topped with German sausage, two eggs and a side of sourdough toast.
"Most of the breakfast and lunch menu are my father's recipes from cooking with his grandmother," Pedersen says. "Although my family is from Denmark, there is a lot of cuisine here that has a French influence, and of course we do burgers, soups and sandwiches."
Rather than focus solely on breakfast and brunch, the Pedersens also wanted to revitalize the hearth oven cooking techniques the family used on the farm where Rick grew up.
That detail, paired with collaboration from executive chef George Turner, inspired the creation of a traditional dinner menu, a highlight of which is the Crimson pub steak ($26). The top sirloin is dry-aged for 30 days, seared at 600 degrees, topped with butter made using an 80-year-old recipe from a famous Swiss restaurant and served with garlic mashed potatoes and seasonal veggies.
There's also a variety of hearth-fired pizzas ($13-$15), and an oven-roasted chicken breast ($16). Yet, Pedersen says the restaurant's most popular lunch/dinner menu item is its mac and cheese ($11).
"We do it a little differently, it's a lot creamier than people are used to, but it's our number one seller," he says.
Soon the Pedersens hope to open the restaurant's drive-through espresso window, which will also offer some quicker to-go items like pastries and beignets.
"It's been really good so far," Pedersen says of the restaurant's first month. "A lot of people who've followed my dad around have come to check us out. People have been waiting for a place like this in the Valley." ♦
Crimson Hearth • 11003 E. Sprague Ave. • Open Tue-Sat 7 am-9 pm; Sun-Mon 7 am-3 pm • facebook.com/crimsonhearth • 598-8927