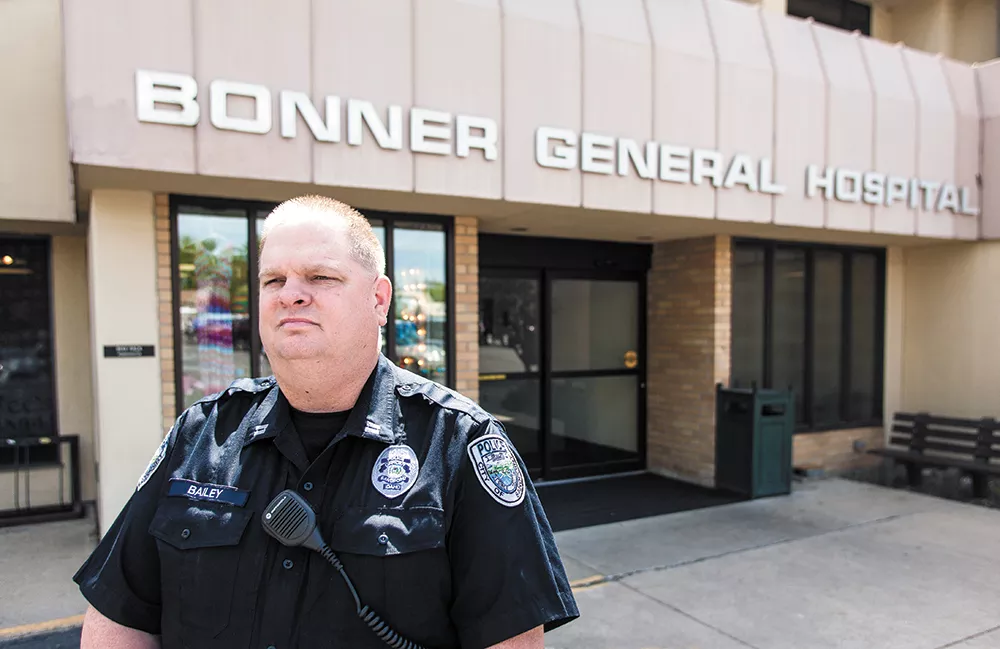 By the time police officers arrive on Feb. 12, the man has ransacked most of his house looking for it. When Sandpoint police officers ask him what "it" is, he answers mostly in nonsense. The man's mother explains he has paranoid schizophrenia. A few months earlier, the State Hospital North psychiatric facility had released him, but the voices had returned and he needed help.
"You don't know who I am," the man tells officers. "I am the light."
Based on his behavior and mental health history, police records show the officers took the man into protective custody — starting what would become a more than two-day process to transition him from police "mental hold" to psychiatric treatment, an increasingly complex task that can tie up North Idaho officers for a few hours and, in some cases, a few days.
"It's one of those issues that's just not spoken about," Sandpoint Capt. Rick Bailey says. "It's becoming a burden on all communities."
Bailey, a 20-year veteran of the Sandpoint department, explains that mental health calls have increased dramatically in North Idaho over the past decade, while psychiatric beds have become scarce. Without a psych ward at Bonner General Hospital, his officers must desert patrol duties to drive mental hold subjects to out-of-county facilities.
Such a call might take officers off the street for about five hours to check someone in at Kootenai Behavioral Health in Coeur d'Alene. But Bailey says that facility is full about half the time, which means arranging two officers and an ambulance for the eight-hour round trip to St. Joseph's Regional Medical Center in Lewiston, often in the middle of the night.
On this night, neither Kootenai Behavioral Health nor Lewiston can take the man, so Sandpoint officers must remain with him around the clock in a local hospital room until a bed opens up almost 51 hours later. Bailey says the department of 19 officers sometimes struggles to keep officers on patrol when mental health calls tie them up for multiple shifts.
North Idaho law enforcement agencies take pride in connecting vulnerable people with mental health care, but many acknowledge that mental holds place an extreme strain on officer time and department operations. With call numbers continuing to increase, five local law enforcement officials recently signed a letter supporting a proposed crisis center to take on the region's growing mental health needs.
"It is kind of in a crisis mode as far as law enforcement goes," Bailey says of current services. "It's really taxing our resources."
Idaho law requires police officers and deputies to take mentally unstable people into protective custody if they appear endangered. Police say a person must pose a danger to himself or others, or must qualify as "gravely disabled," which means they cannot function safely. If someone has not committed a crime, they cannot be booked into jail, but officers remain responsible for their placement at a treatment facility.
The Coeur d'Alene Police Department, which handles more protective custody calls than any other North Idaho agency, saw its involuntary holds increase by more than 100 cases in 2013, jumping from 185 to 299 calls. Even with a local psych ward, CPD Capt. Steve Childers says the check-in process can still prove time-consuming.
"There's not a lot of beds," he says. "[The hospitals] try to get us in and out of there as fast as possible ... but you could be at the hospital a couple of hours just waiting."
Most of the department's holds take two to four hours, according to call records, but of the 299 last year, at least 24 took more than five hours. The longest racked up more than 29 hours. In all, Coeur d'Alene spent nearly 800 hours on protective custody calls last year, the equivalent of having one police officer working full-time for five months.
"Is that the best use of our police officers?" Childers asks. "It certainly has an impact."
The Kootenai County Sheriff's Office reports 80 mental health holds for 2013. The Post Falls Police Department reports 82. Sandpoint reports 32. Officials say the calls often come in waves, depleting staffing as they stack up. Even a couple such calls a month can complicate scheduling or have an outsized cost on overtime budgets.
Kootenai Sheriff Ben Wolfinger says mental health hold delays cost the region thousands of dollars in officer salary and transport expenses. Out-of-county transports often take two deputies off of assigned duties for their entire shifts — two deputies who can no longer respond to 911 calls, ticket speeders or protect local neighborhoods.
"It's a huge problem here," Wolfinger says, adding, "Any time you take a deputy off the street, it's not a good thing."
If a police officer needs to find a psychiatric bed at 2 am, Claudia Miewald may get a call. As director of the Kootenai Behavioral Health Center, she works closely with law enforcement agencies, trying to improve the process for checking people in for treatment. She says she understands the challenges officers face when trying to get people help.
"We generally take them," she says of mental holds. "We try to get the right person in the right bed. ... We work as hard as we can."
Kootenai Behavioral Health also has seen an increase in mental health intakes. Miewald says the facility admitted more than 700 involuntary holds last year, most from police detentions. Staff often shuffle beds around to make space. From April 2013 to this past March, she says, at least 126 mental health patients spent more than 12 hours in the hospital's emergency room waiting for a bed.
"It certainly does stretch our resources," she says.
While the hospital has invested $1.2 million this year toward five additional inpatient beds and extensive safety upgrades, Miewald strongly supports the construction of a mental health crisis center. A voluntary crisis center could provide "wraparound" services to help keep people stabilized on treatment and medication, which would reduce encounters with police.
If approved, a Coeur d'Alene crisis center would function similar to a 24/7 mental health service center in Billings, Montana. MarCee Neary, director of the Billings center, says local authorities immediately noticed dramatic decreases in police detentions and emergency room intakes after the crisis center first opened its doors in 2006.
"[The effect] was pretty drastic," Neary says. "We expected there would be an impact, but we didn't think it would be that visible or measurable."
Police officers could drop off people in need of immediate mental health assistance around the clock, with just five minutes of paperwork. Within 24 hours, those people got a mental health assessment, counseling, a case manager, food, laundry and follow-up services.
"They've streamlined the whole process," she says. "It has completely changed the way we're able to help people in the community."
During this year's legislative session, Idaho lawmakers considered funding for three regional crisis centers in Coeur d'Alene, Twin Falls and Boise. In the end — despite strong support from Gov. C.L. "Butch" Otter — legislators approved just $1.5 million of the $4.5 million request, enough for one of the three centers. The final location now remains undecided as the three communities vie for a single center.
Sheriff Wolfinger, along with police chiefs from Coeur d'Alene, Post Falls, Rathdrum and Spirit Lake, issued a joint letter in March, emphasizing the area's need for additional mental health services. The letter outlines the heavy burden placed on local law enforcement and the opportunity to shift many of those calls to voluntary stays at a crisis facility.
"The transports are costly and unanticipated which has a direct impact on our fiscal budgets," the letter states. "This crisis center would benefit everyone not only in Kootenai County, but the surrounding counties as well, all of whom have the same issues with mental holds."
Wolfinger emphasized immense community support for the project from law enforcement and hospital officials. The county's deputy prosecutor responsible for filing mental commitment cases also enthusiastically supports the center.
State Rep. Kathy Sims (R-Coeur d'Alene) says she voted against the crisis center funding because she was not convinced of the benefit. She says she did not understand what good the center would provide, adding that she feels any significant spending should go before local voters instead of being passed down from the state level.
"It's not like this money falls from the sky," she argues. "It comes out of somebody's pocket."
State Sen. John Goedde (R-Coeur d'Alene) says many people do not recognize the increased impact that mental health holds have on law enforcement, emergency rooms and other services. He argues that a crisis center would free up officers to "do the job that they're trained to do."
"I believe it's a solution to a problem that's been growing," he says. "It'll end up saving taxpayer dollars in the long run."
The state's Department of Health and Welfare has assembled a small team of behavioral health and research professionals to review the qualifications and needs of the three cities to determine where the crisis center should be located. Spokesman Tom Shanahan says the team hopes to release its decision by the end of June.
"We want to stand up the crisis center as soon as possible because of the community need," he writes in an email.
Wolfinger says the other communities have more mental health resources than Coeur d'Alene. He argues that a North Idaho center could drastically improve service for the region. Childers, with the Coeur d'Alene Police, agrees, saying this year's mental holds already approach 90 calls.
"That would be a huge thing," he says of a center.
Bailey, with the Sandpoint police, will take any help he can get. In mid-May, a teenager swallowed more than 100 sleeping pills during a bout of depression. Sandpoint officers scrambled to get her into the hospital and find a psychiatric bed that could take her after doctors treated the overdose.
Records show officers spent a total of 47 hours assigned to the call, watching the teen as she awaited treatment and placement.
Bailey does not see any clear answers, but he says the crisis center seems like a step in the right direction — a way to get people better care and keep his officers out on the street where they can help others.
"One thing's for sure," he says. "The problem's not going away." ♦