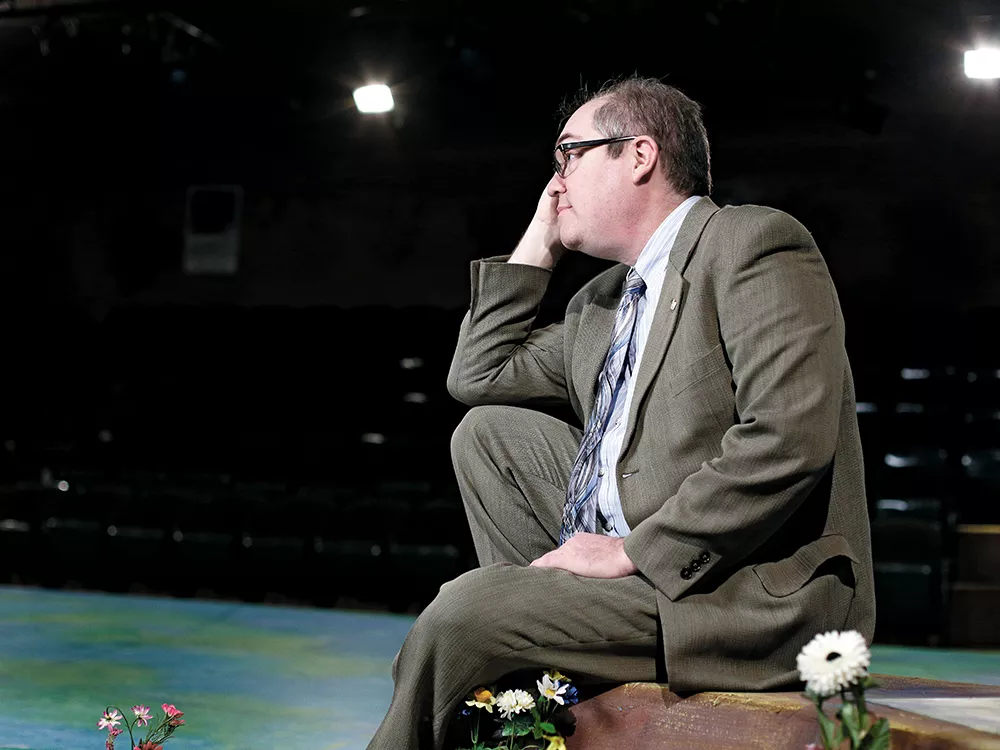 When Interplayers announced its 2013-14 season last week, it came with a caveat. The shows — and indeed the 32-year-old theater itself — would only go on if $150,000 were raised by the end of May.
The fact that Interplayers was soliciting donations is hardly news. Nonprofit arts organizations generally rely on funding outside of their production revenue. And this particular theater has been widely known to have been teetering on the precipice for years, largely due to a decade of hard times between its heyday in the 1980s and '90s, when it was run by founders Bob and Joan Welch, and the recent (post-2009) past when a skeleton crew attempted to get to grips with the gravity of the problem.
The real shock of Interplayers' request lay in its scale and the speed with which it was hoped to be met. A call for donations is one thing. A call for a $150,000 in donations is quite another. And a call for that amount in less than two months' time is quite another still.
"We've been very reluctant to say to the public, 'We need your help again.' It was always easier to survive until the next show," says Reed McColm, Interplayers' artistic director.
"What's happened to us is that the donations from corporate and business sponsors have just dropped because of the economy. Since we're living hand to mouth, we have no cushion. If we had a cushion, the productions would not be responsible for covering the overhead. We just need that push," says McColm.
He consults an itemized list of proposed allocations: $40,000 of the total will be used to pay back salaries, $75,000 will cover the theater's overhead during the quiet summer months. About $20,000 will be allocated to cover the legal fees associated with the visa troubles McColm, a Canadian citizen, experienced last year.
The figures aren't arbitrary. There's an intended place for every penny of that $150,000.
Put in a wider context, however, there's another issue that makes Interplayers' appeal seem brazen: It isn't the only regional theater to have endured the economic recession or a period of bad management. When Yvonne A.K. Johnson became artistic director of the Spokane Civic Theater in 2005, it already had an annual operating budget of $450,000. Today it's on track to surpass $1.25 million. Across the state line in Coeur d'Alene, George Green began resuscitating Lake City Playhouse in 2010 as its artistic director. He recruited donors, paid off tens of thousands of dollars in debt and back royalties, and brought a dilapidated building up to code. In just three years, he has boosted the operating budget from $60,000 to $250,000 and staged shows like Rent! and Spring Awakening that have been gritty, high-quality and, crucially, big box-office draws. Juxtaposed with those venues, Interplayers looks like the black sheep.
Green expresses a strong desire to see Interplayers succeed, but remains skeptical in light of the theater's chronic financial troubles.
"If Interplayers is going to come to the community again and ask to be bailed out, it's only fair that the community ask for proof and assurances to find out what mistakes have been made and how they will be corrected so that our investment as a community will be [a] success," says Green. "If that proof can't be shown, I have a question mark."
At the same time, Green is quick to point out that community theaters like Civic and Lake City are different beasts from professional ones like Interplayers. Community theater casts perform for free, and their royalties are significantly lower. In the public's mind, "community" also carries connotations of charity, whereas "professional" suggests a self-supporting institution. But there are other differences too — in the choice of productions, for example, and their overall quality — that mark the divide between community and professional theater, and Green and others would argue that Interplayers, much to its detriment, has allowed that divide to become less distinct.
Patrick Treadway, a veteran regional actor who regularly appears on the Interplayers stage, is of a similar opinion.
"That identity, that definition of what a professional theater is, is not clear to Interplayers," he says, specifying that by "Interplayers," he's primarily referring to the board of trustees and not McColm.
"Right now, we're dog-paddling. We're not serving anything, we're just trying to survive. If Interplayers continues, I hope that it doesn't follow the same path of doing the same shows that community theaters can do," says Treadway.
On that very issue, McColm routinely finds himself between a rock and a hard place. For years he's worked to persuade the board of the theater's need to stage "risky," yet-unknown contemporary productions like Speech and Debate or boom! instead of warhorses like On Golden Pond. Yet with occasional exceptions, the more ambitious productions have barely been filling one-third of the seats. With the bottom dropping out of the bottom line, it becomes harder to justify their place in the program.
The lower-than-expected returns of those shows also restrict McColm's wherewithal to bring in expert directors who, he says, "might come in and say, 'I love this space and I know what I want to do with it' " as well as national talent. So instead he leans on non-exclusive local actors who might have starred on the Civic stage the week prior, further blurring the professional/community distinction.
Amid all this, Interplayers' meager staff hasn't balked at making personal sacrifices. McColm has received just a few hundred dollars in salary since last November. Pamela Brown, the theater's executive director, has gone entirely without pay since then, yet at the same time she's assumed the roles of fundraiser, marketer and ambassador.
Without enough funds to even pay themselves, they can't hire additional staff such as grant writers. Without that staff, they have to shoulder more responsibility themselves, but their ability to fulfill those responsibilities suffers, which in turn jeopardizes the potential income from publicity and fundraising. Nor is grant money available to organizations who are unable to demonstrate solid bookkeeping and some degree of solvency.
Working within those constraints, McColm and Brown have nevertheless been resourceful. They launched Family Night to lure parents of young children with the promise of an in-house babysitter. They negotiated a more favorable lease agreement with Jerry Dicker, head of GVD Commercial Properties, who declined to comment on the ins and outs of his dealings with Interplayers. They've also vastly overhauled the lobby area to make it more inviting, yet without significant outlay.
"Labor and materials were donated by volunteers," says McColm. "We just designed the area and recruited the proper people."
Clearly, though, it hasn't been enough. Which perhaps raises a more fundamental question: Are Interplayers' troubles an indication that Spokane is simply unwilling or unable to sustain a professional theater?
"Professional theater is a very viable need in Spokane," McColm says, "and I think Spokane would miss us if we weren't here. I just don't want them to have to find out that way."