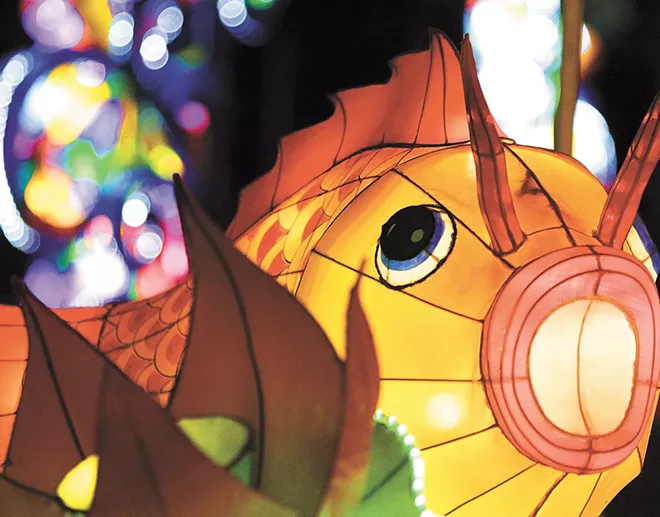 Giant orange koi fish and lotus blossoms in rich gem hues are resting in the afternoon sunshine inside Riverfront Park. A cluster of pandas — actually an "embarrassment," the term for a grouping of China's beloved bear species — with oversized heads and expressions of surprise and elation are stiffly basking on their backs and sides, their outstretched front legs frozen in open embrace.
Four children gather outside a chain-link fence surrounding the colorful, curious display, pointing and staring in awe, as workers assemble the first-ever Washington State Chinese Lantern Festival, which opens Saturday and runs through Nov. 1.
"I'm going to go over and tell them about the event," says Sam Song, acting director of Riverfront Park.
Song strides over to the gawking group. The vibrant sculptures of fabric and wire strewn across the lawn behind him will be spread throughout the park in a spectacular display of color and light, and they shouldn't miss it, he earnestly explains to the children's parents.
To call the Chinese Lantern Festival's elaborate, themed displays "lanterns" almost disparages the complexity and sheer scale of the artistic pieces. The illuminated sculptures — in the shapes of tulips, flamingos, butterflies, dinosaurs, elephants, tigers and dozens of others — are entirely handmade, from the welded wire forms to the translucent fabrics cut and glued, piece by piece, onto the frames and then painted.
Chinese artisans wearing matching royal-blue uniforms are scattered throughout the treed park, perching on overturned crates or atop high ladders, silently focused on these tasks until Song greets each one in their native tongue.
"It's going to shock you a little bit how majestic this is," he remarks after attempting to explain one of the festival's centerpiece displays, a 196-foot-long dragon undulating across an expanse of grass overlooking the Spokane River. Visible from the Centennial Trail and the Division Street bridge, the dragon's golden scales were each handpainted onto its snakelike body by one of the 20 Chinese artisans who've been on site since August to construct the more than 3,000 pieces making up the Lantern Festival's 31 displays.
A year and a half in the making, the Chinese Lantern Festival is the first event of its kind for Spokane, and, in a way, for all of the U.S., Song explains. The company hired to construct the festival, Sichuan Tianyu, has never displayed its work in the U.S. before, though it's constructed shows around Europe, Australia and Asia. It was through a mutual connection that Song was able to get in contact with the Chinese-based company and invite them to showcase their work in Spokane. Sichuan Tianyu has since booked additional festivals in New Orleans and Raleigh, North Carolina, next year.
A Chinese native who moved to the U.S. more than 14 years ago with his American-born wife, Song is well-versed in the lantern festival's traditions and origin; it's typically held in February or March as part of the Chinese New Year celebrations. People in China would light red-colored lanterns to drive away evil spirits, he explains, but another long-held belief of the 2,000-year-old tradition is that the glowing lanterns would trick a god who wanted to punish mortals' transgressions with a storm of fire.
"Then one of the smart people said, 'Rather than have them burn us, let's light up lanterns so it looks like we're already on fire,'" Song says. "So [the gods] think, 'They're already on fire, so just let them go.'"
Lantern festivals in China are massive displays, with building-sized structures and highly detailed scenes filling parks and other public spaces. The Chinese company creating the displays in Spokane is based in Zigong, a city in southwest China's Sichuan Province known as the "Lantern Town of the South Kingdom" for its exquisite artistry and skill in creating the complex lantern forms.
"It was so impressive, I thought it wouldn't ever happen," Song recalls. "First of all, it's a public park, and to close it off is almost impossible."
The idea had been set in motion, though, and when Song eventually took the proposal last year to representatives of Visit Spokane and the Downtown Spokane Partnership, "they were both like, 'Let's do this, it's so cool.'"
The $1 million price tag to host the five-week event in Spokane is being funded in part by tourism grants, sponsorships and event ticket sales (see "Festival Facts" on page 27). Song and other stakeholders involved are anxious about how the Lantern Festival will be received, but remain hopeful it could become an annual Spokane tradition that draws visitors from around the region. Song believes it could become the biggest event the downtown park has hosted since Expo '74.
Tim Robinson, director of communications with Visit Spokane and a member of the festival's steering committee, adds that while Riverfront Park certainly hosts numerous sizable events each year — Bloomsday, Pig Out in the Park, Hoopfest — the Lantern Festival is different:
"You get those events all the time, but this is really bigger than those. It's not as large as Expo, no. It's probably the next biggest thing to come along to the park since Expo, but it's a different animal. It's something you could only really see in a movie or on TV, or if you went to a really big city and you got lucky enough [that] they had a lantern festival going on there."
Jeremy Hansen is stressed. He and his wife, Kate, owners of the downtown fine dining mainstay Santé Restaurant and Charcuterie, and Common Crumb Bakery, are working tirelessly to organize a full-scale restaurant set to open in less than three weeks. There's still food to order, equipment and permits to secure and other items on a seemingly endless to-do list.
"This is probably the biggest challenge I've taken on in my life," Hansen remarks. "I was talking to another local chef who heard about it, and he said, 'Whoever is going to take on that project is an idiot,' and I said, 'By the way, that idiot is me.'"
Hansen is the visionary and culinary force behind the Lantern Festival's biggest feature aside from its main focus, a pop-up restaurant in a park shelter serving a menu of authentic Chinese cuisine three nights a week. During each of the event's five weeks, the restaurant — called Deng Chu, which translates from Chinese to "lantern kitchen" — highlights one of China's diverse culinary regions, from the mild and light food of the Shanghai region to the vibrant street food culture of modern Beijing.
"I'm nervous because I can make good food and I have a little bit of experience in [Chinese cooking] but in reality, that's not what I do," Hansen explains. "I really want to make it good and show the highest level of respect possible to this culture and these people. I want them to be like, 'Wow, this is really good Chinese food,' not 'Oh, this is just some white guy cooking Chinese food who doesn't know what he's doing.'"
Hansen is not entirely without experience cooking or eating Chinese food, however. Early in his career, the chef cooked at a local, Asian-focused restaurant, and he and Kate traveled to Shanghai a few years ago. "We ate some crazy things, as much as I possibly could," he recalls. Hansen is also eating every dish on the Chinese-written menu at one of the city's more authentic Chinese food spots, Peking North. So far, the Sichuan pig ears are his favorite.
Weekly dinner menus served during the Lantern Festival, as well as reservations for the limited experience, can all be found on the festival's website (spokanelanternfestival.com). Dinner service is open by reservation or to drop-in diners based on capacity. The picnic shelter seats up to 120 people, with a special chef's table in the kitchen where diners can see each course being composed in front of them. Some less-expected highlights on Hansen's Deng Chu menu include sea cucumber and shrimp, peking duck and sweet and sour fried carp.
"I just love the culture behind everything, and the flavors and the techniques are amazing," he summarizes. "I feel like when I'm all done, I might go over to China and work over there for a couple months, and come back and open a Chinese restaurant. That's how much I love it."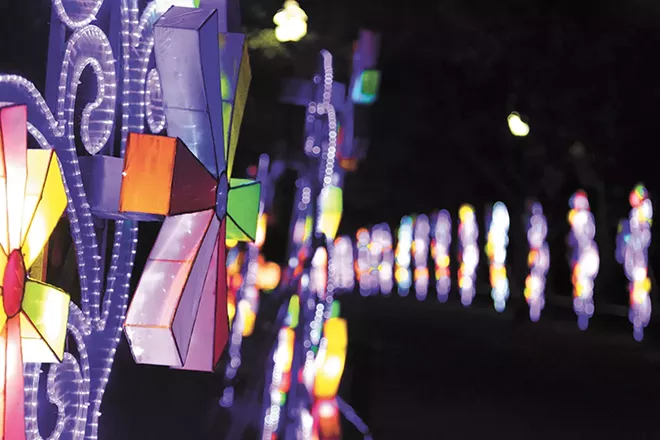 A week after their sunbathing adventures, the little troop of cartoon-faced pandas have relocated to a shadier spot in the park — a smart move since the day is overcast and hints at rain. Still gleeful in manner, they've taken to mischievously climbing rainbow-hued stalks of bamboo. A pair perch on the edges of a seesaw, and another holds a tiny pink parasol above its bulbous head.
"That's one of my favorites, too. I really like the panda on the bamboo — she looks so cute," remarks Jessie Li, a representative for the Sichuan Tianyu company. In Spokane since April helping plan the festival, Li is excited to share her country and city's culture with the residents of Spokane.
"Zigong is very famous for this; even though you see other Chinese lantern festivals in the U.S., almost all of the lantern festivals in China, they're from Zigong artisans," Li explains.
Beyond the cute pandas and other zoo animals delightful to any age, many of the festival displays portray significant aspects of Chinese culture, like a traditional wedding scene and a pagoda three stories tall; the latter is positioned with the backdrop of the Pavilion.
The festival's nightly stage performances feature traditional Chinese dancing, acrobatics and music. Li says Spokane's version of the lantern festival won't differ much than those she's seen in China since she was a child.
"These are amazing. In China it's just like this, and it's a tradition in our hometown, so it's bigger, but the lanterns are almost all the same," Li says. "We're trying to make it perfect and successful so we can have the chance to come back next year and, if possible, make it an annual event. That's why we chose here. We hope to bring something different here." ♦
---
Dates: Open daily from Sept. 26 to Nov. 1
Festival entrance: Riverfront Park, at ticket booths near the Rotary Fountain/Looff Carrousel and the INB Performing Arts Center, across the wooden bridge
Hours: Sun-Thu, 5-10 pm; Fri-Sat, 5-11 pm; Sat-Sun daytime hours, 11 am-4 pm
Tickets: $12/ages 12 and under and $17/adults during evening hours; $7/ages 12 and under and $9/adults on weekends before 4 pm; $60/festival pass; $12/senior night Mon-Tue; kids under age 2 are free all days
Deng Chu, Chinese restaurant: Thu-Sat, 5-10 pm
Restaurant prices: $25/person fixed-price menu, plus $14 (discounted) festival admission, or $100 chef's table seating (limited to 20 people per night) with free festival admission
Live performances: daily at 6 and 8 pm, in the Riverfront Park Lilac Bowl
Reservations and details at spokanelanternfestival.com