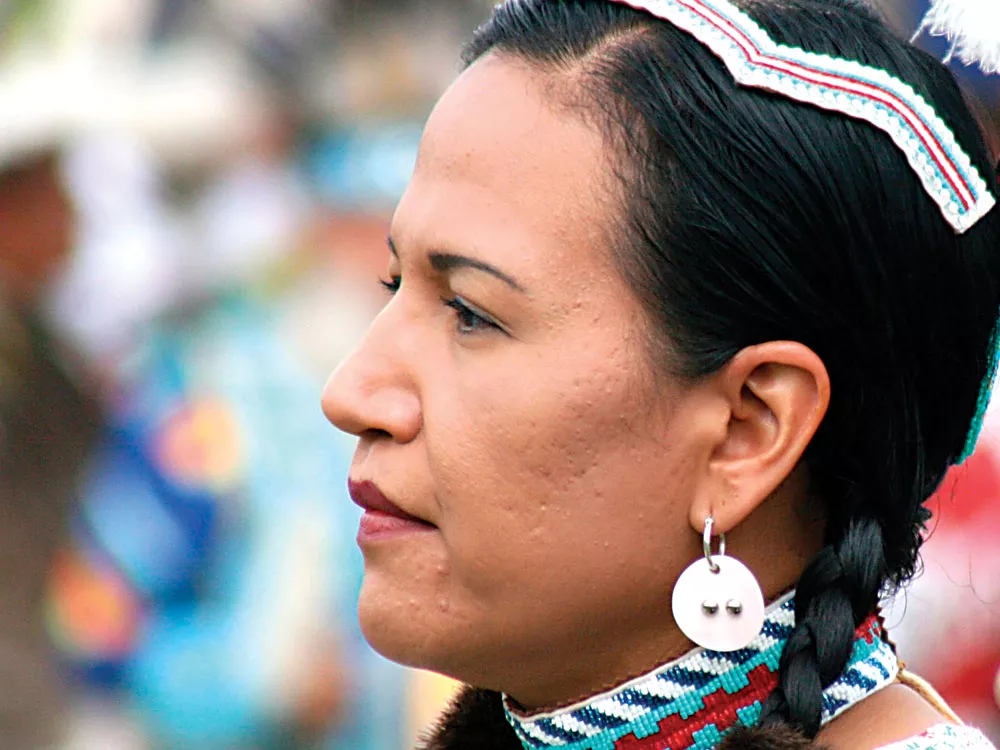 Julyamsh Powwow is family-friendly in a cosmic sort of way, beginning with Mother Earth. It involves all ages, from the youngest children to parents to grandparents. It celebrates extended family, too, through art, music, dancing, storytelling and the mingling of voices from myriad age groups and regions. And everyone is invited; in fact, admission is free.
By attending Julyamsh (july-ump-sh), you're participating in something larger than yourself. "It's a living activity," explains Cliff SiJohn, Coeur d'Alene tribal elder and spiritual leader.
A continuation of the Native American story? Yes, says SiJohn, who also acts as the Coeur d'Alene Casino Resort Hotel's director of cultural affairs and who was instrumental in reinstating the powwow in 1998. The regional powwow had languished but has since become one of the largest in the Northwest.
"Julyamsh serves as opportunity for the dancers and participants to take part in their traditional and cultural ceremonies with other tribes," continues Shaina Nomee, the casino's cultural awareness assistant and SiJohn's stepdaughter. "Julyamsh is also an enormous cultural exchange between the local communities, visitors, and the participants."
Nomee and SiJohn, an accomplished flute player and storyteller, were my guides for all things Julyamsh.
Julyamsh follows a traditional powwow format, including the set-up: a series of concentric circles. Outermost areas are for spectators and vendors selling traditional items like frybread, clothing, crafts, etc. The innermost areas are for drummers, participants and the emcees, whose job it is to keep things going efficiently. The center circle is for dancers only; visitors should respect sacred areas and refrain from taking photographs as directed.
First-day events include registration, the art show, presentations and the Drum Roll Call, an indication that drums have individual, soulful qualities and are thus introduced along with the drummers who play them. New this year are the Apache Skateboarders, led by Arizona artist Doug Miles Sr., whose depictions of Apache culture on skateboards have inspired a new wave of Native American youth.
After the Horse Parade, the Grand Entry symbolizes "years ago, when war parties would come home and the tribe would welcome and celebrate their return," Nomee says. Select participants and guests will be introduced, including military veterans, and the Head Man and Head Woman, Mark Ramos and Paulette Jordan (both Coeur d'Alene), whose job is to assist the arena director with more than a thousand dancers.
An invocation is offered and dancing usually begins shortly after, continuing late into evening and resuming the next day with another Grand Entry, more presentations and different dancers. Men and women dance separately, from age 5 all the way up to the "golden age" (51 and older).
Both dancing and drumming serve multiple functions. They tie generations and people together, with traditions passed on not only at the powwow, but in the preceding months during practice and in the sewing of the intricate regalia worn by the dancers. "Families work all winter to create a garment," SiJohn says.
Dance, drumming and clothing are vehicles for storytelling and identity, said SiJohn, noting that each garment relates to a region or tribe, including medicine marks and other signage.
On another level, participants are competing for bragging rights and cash payouts totaling about $200,000 in the Drum, Dancing, Horse Parade and Art Show categories.
A stickgame tournament will also take place at the casino. It involves two teams, each with five "bones" and one in the middle, who try and outguess each other. Of course, with a $25,000 payout at stake (and plenty of side bets), it's also great fun to watch, says SiJohn.
Another important part of Julyamsh is artwork, including by local artists George Flett (Spokane), Ric Gendron (Colville), and Lori SiJohn (Coeur d'Alene/Cayuse). The Painted Face Northwest American art show also features work by Ed Noisecat (Salish), who recently won Best of Show at the Heard Museum Indian Fair and Market; Terrance Guardipee (Blackfeet); Andrew Morrison (Apache); and Lillian Pitt (Warm Springs/Yakama/Wasco), known for her Northwest masks.
In conjunction with Julyamsh, more than 100 artworks will be auctioned on Saturday, July 24, preceded by a preauction artist and buyers' reception on Thursday, July 22, from 5-7 pm and will have on display their own American Indian Artist and Western Art Show (through Aug. 13), including artists George Hill and Ric Gendron.
Art, dancing, singing, friendly competition, meeting new friends and reconnecting with old ones as you honor and celebrate culture — that's family friendly. That's Julyamsh.

Julyamsh Powwow and Coeur d'Alene Tribal Encampment at Greyhound Park, 5100 Riverbend Ave., Post Falls, Idaho on July 22-23. Visit cdacasino.com or julyamsh.com or call (800) 523-2464.
Art Auction Artist and Buyers' Reception on Thursday, July 22, from 5-7 pm at the Jacklin Arts & Cultural Center, 405 N. William St., Post Falls, Idaho. American Indian Artist and Western Art Show through Aug. 13. Exhibit hours: Mondays-Fridays from 10 am-2 pm. Visit jacklincenter.org or call (208) 457-8950.