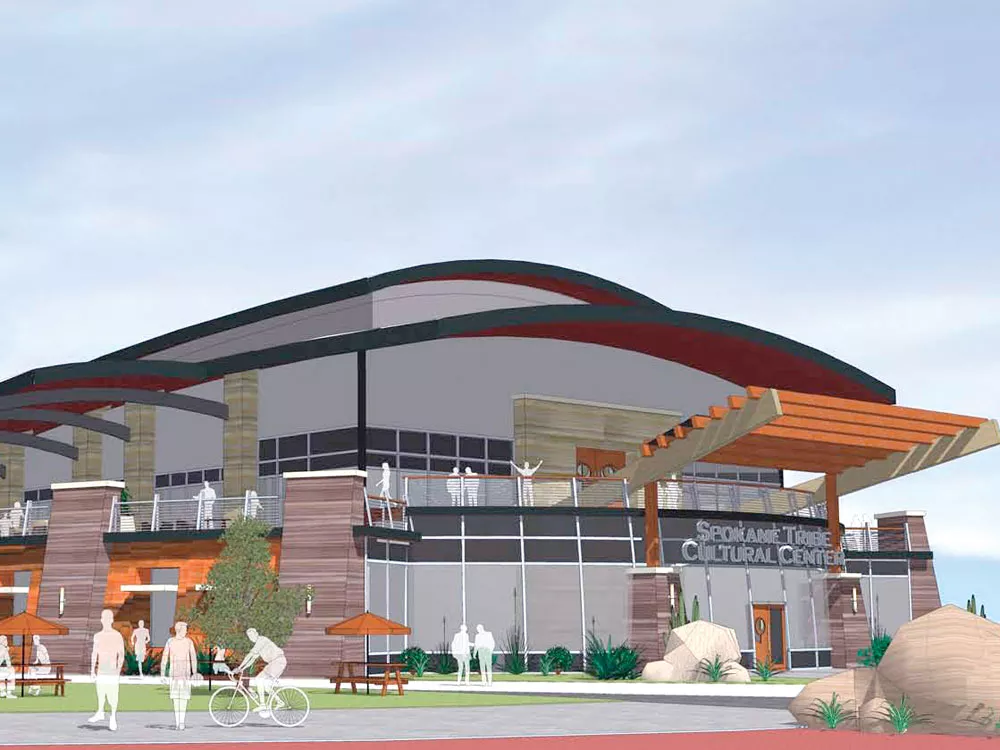 The Bosch Lot, on the corner of Monroe Street and Bridge Avenue in downtown Spokane, is not much more than concrete dividers, gravel and a "Pay Here" sign next to a fee machine. Someday it could feature a massive two-story building with detailed architecture and a whole lot more than parking spaces.
The Spokane Tribe presented plans for a multi-million dollar cultural center to the Spokane Park Board last week after the board sent out a call for proposals in June. (The tribe was the only respondent.)
The 33,000-square-foot center would feature historical and cultural exhibits, offices, a theater and retail space. The facility could cost up to $8 million, and tribe officials say they plan to get funding from grants, bonds and private funding.
"It's always been important to the tribe to let the story be told of what went on there before it was settled by Europeans," says the project's planning director David Ernst. "Not only that, but what's going on with contemporary Spokane Tribe presence as well."
Parking fees on the property currently bring the city's general park fund about $70,000 a year. The cultural center will have to come close to matching that, likely from the planned retail space, says Spokane Park Board President Ross Kelley.
"It these tough financial times, looking at tough budgets coming up, we can't afford to lose the amount of money that we're getting from that lot," he says.
If a more detailed proposal at the next Park Board meeting later this month is approved, the city will begin drafting a lease and property development agreement. The tribe will be responsible for proving it can secure funding for the facility, and City Council will have the final say.
"After the presentation by the tribe and some [of those] within subcommittees hearing and seeing what is proposed, I have not seen any complaints," says Bob Apple, the council's liaison to the Park Board. "But how it will be received by the public will be a big determining factor." (Heidi Groover)
BUSINESS BOOMING, TAX-FREE
In what Spokane City Councilman Jon Snyder hopes is a good omen for development in Spokane, the council last week unanimously passed a resolution granting an eight-year tax exemption to an eight-unit condo project at Fifth Avenue and Chandler Street, near the Rockwood Clinic and Sacred Heart Medical Center. The project, which consists of two sets of four chi-chi, glass-plated townhouses, will not have to pay taxes on the construction and building improvements (though it will continue to pay taxes on the property) for eight years, because of Washington's Multi-Family Tax Exemption.
"Just by putting a house or condos on the property, you're improving the value of the dirt," says Snyder. "We'll still get increased taxes on the value of the dirt — just not on the buildings — for eight years."
The project aims to encourage denser housing in cities, in part because it's cheaper to provide city services to those areas that are already close-in.
"[The exemption] is for in-fill development, not fringe development," says Terri Stripes, the city's business and development coordinator. "This is where we have infrastructure in place."
The project at Fifth and Chandler is eligible because it lies within both the downtown Central Business District and the University District Revitalization Area.
Snyder thinks it's a good sign that this and other projects are coming forward for council approval (which is really a formality in the state-initiated process).
"The last couple of years, there haven't been any of these projects coming forward. Maybe a couple," he says. "This year, we've had [several] that have come forward. … That's a hopeful sign."
Stripes says only one business has applied for the exemption in each of the last two years, but already four have been approved this year (the other three are Kendall Yards, the Joel building downtown and a project in the Hamilton Street corridor), and there are other projects that will be coming forward before 2010 is over. (Joel Smith)