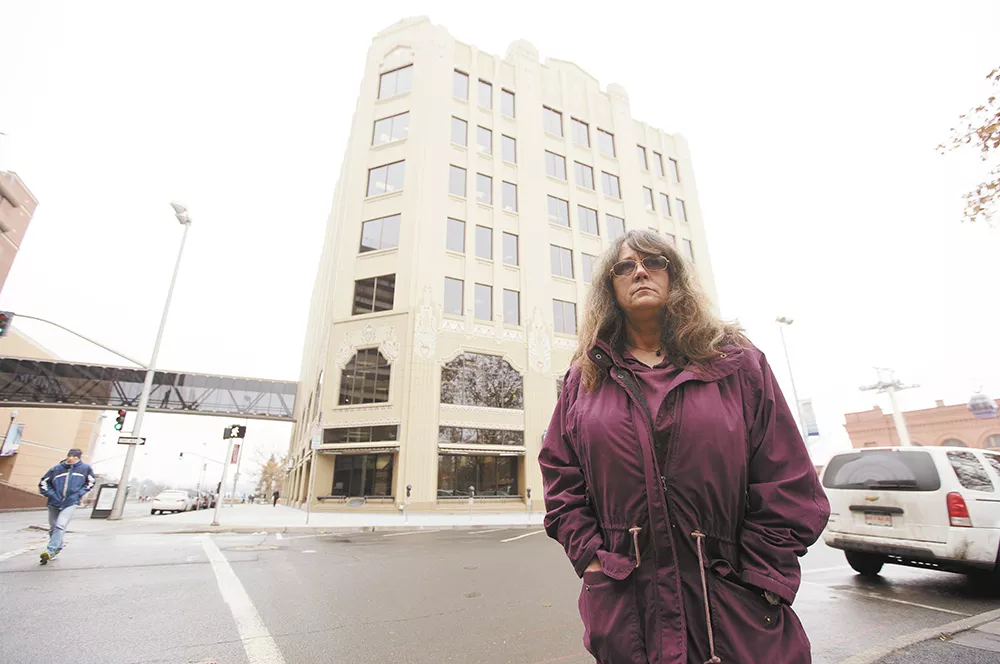 Jackie Murray is nervous. Nervous about talking with the press. Nervous for her family. Nervous that she'll come home one day and find her tires slashed.
"I had no intention of becoming infamous," says Murray. "I'm just an ordinary person."
A 59-year-old Spokane truck driver with virtually no political experience, Murray says she just wants people to do what her dad did when he legally immigrated to the U.S. in the 1950s from Jamaica. But she's waded into one of the country's most combustible issues by sponsoring a local ballot initiative that would reverse a current ordinance preventing police and other city employees from asking people about their immigration status.
Supporters of Murray's efforts say the current policy will attract undocumented immigrants, who, they insist, will bring crime and potentially terrorism while draining public resources.
Opponents of the proposed initiative contend it would simply make us less safe. Greg Cunningham, director of refugee and immigration services program at Catholic Charities of Spokane, says the ordinance boils down to a jurisdictional matter: Local police should enforce local laws while federal agencies enforce federal immigration law. He adds that Spokane is safer if immigrants can cooperate with local law enforcement without worrying about being deported.
"If you have people in the community who are afraid to approach law enforcement, we all suffer from that," he says.
Not one of nearly 2,500 valid signatures needed to qualify the initiative for the November ballot has been gathered, but its politics have already proved quarrelsome. The city council hearing on the initiative held last week was the most confrontational in recent memory, with an irked Council President Ben Stuckart gaveling the meeting to an abrupt end after people cheered and clapped in violation of council rules.
On its face, the issue could be problematic for Republicans looking to expand their base, but the Spokane County GOP has heartily embraced Murray's efforts. County Republican chair Dave Moore says the city council is forcing a very unpopular policy on the voters.
"At the end of the day, I'm responding to a very large cry from the citizens that have contacted me," he says.
Mark Kadel, the director of refugee resettlement group World Relief Spokane, says proponents of the initiative are often working from false assumptions and rumors.
"My personal reaction," he says, "is that there are some very uneducated people who make very knee-jerk reactions."
By passing the ordinance in October, Spokane joined a growing number of cities, from small towns to New York City, that have sought to scale back the use of local law enforcement in immigration matters. According to a report in the International Business Times, more than 250 municipalities have adopted such laws.
Spokane's ordinance was meant to codify an already existing police policy, under which officers can still inquire about a suspect's immigration status if they think that person has been previously deported or has committed a crime. As is, nothing prevents U.S. Immigrations and Customs Enforcement from doing its job, and the agency still conducts raids in Spokane.
For her part, Murray says she never paid particular attention to the council until she learned that it had passed the ordinance in October. She decided then to get involved.
"I wanted to do a lawsuit, but they talked me out of that," says Murray.
"They" is Councilman Mike Fagan, an outspoken foe of the ordinance, and Craig Keller, co-founder of Respect Washington, a group with a mailing address in Federal Way that has been involved with a handful of immigration-related ordinances across the state.
Fagan recommended that Murray get in touch with Keller, who helped with the language of the initiative and the process of filing it.
"One thing I want to set the record straight on right away is this is not a Respect Washington initiative," says Keller. "This is a petition on the behalf of Jackie Murray."
When reached by phone, Keller is also nervous talking to the media. He won't say much about his background. He won't say what he does for a living or what city he lives in, but he mentions how in 2014 he lost badly to U.S. Rep. Jim McDermott, a Democrat whose district includes Seattle and surrounding areas.
For the past seven years, Respect Washington has been pushing a ballot initiative that would require public and private employers in Washington to use E-Verify, an Internet-based system that uses government databases to determine if a potential employee can work in the country legally. Supporters, though, haven't been able to put the issue on the ballot.
In Spokane, all citizen-sponsored initiatives pass through city council, which has the option of voting them into law or referring them to voters without requiring any signature gathering. If the council takes no action, the initiative is reviewed for legal soundness before supporters can start collecting signatures.
Fagan is continuing to drum up support for the initiative. He's discussed the issue on his "The RIGHT Spokane Perspective" radio show on KTW, which likely increased turn-out for last week's council meeting.
"I didn't think it would garner that much attention," says Fagan, chuckling. "But I'm grateful that it brought that much attention."
Nationally, a debate is going on within the GOP over immigration policy, and last Friday Republicans in the U.S. House introduced legislation to undo President Obama's executive action allowing 5 million undocumented immigrants to stay in the country. The local GOP, however, rarely inserts itself so directly into city politics, and its motivations might be to rally its base, says Mike Treleaven, an associate professor of political science at Gonzaga University.
"The initiative that they are proposing sounds like a solution in search of a problem," he says. "But it is a solution for a party to find a hot-button issue to energize a party."
The local GOP doesn't have the same demographic pressures seen in other communities. According to U.S. Census numbers, only 5 percent of Spokane County is Latino or Hispanic. Statewide, that number is 12 percent.
Cunningham, from Catholic Charities, says he's disturbed by the fearful language that's been used by the pro-initiative side, but he says that such talk is nothing new. Irish immigrants, he says, were once derided as drunk, and pseudoscientific arguments were made that immigrants from Eastern and Southern Europe had smaller brains.
"It's the same sort of rhetoric," he says, "that's been used since before the U.S. was a country." ♦