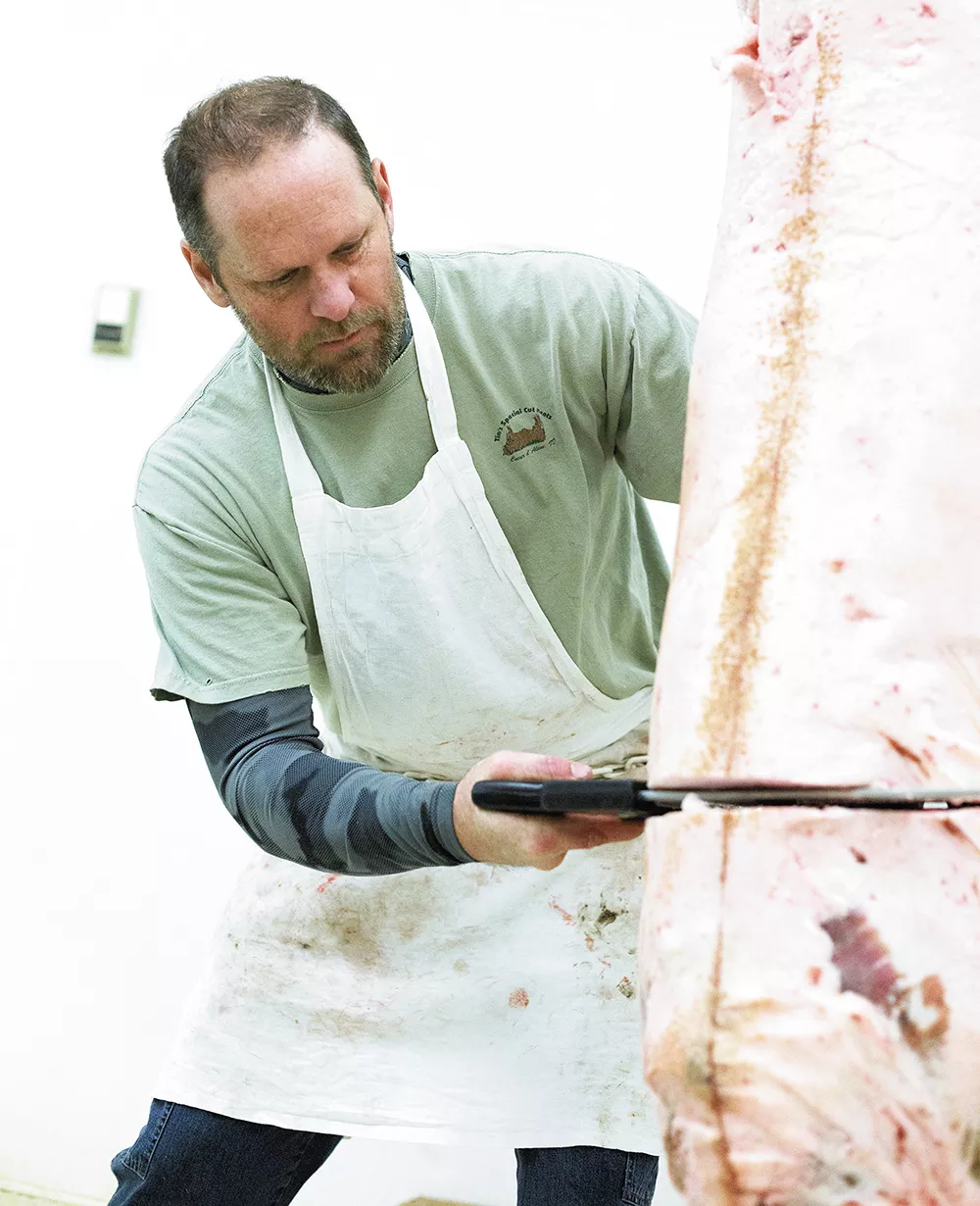 Noelle Branen has seen her husband Tim in a dumpster full of animal guts. That sight might send some spouses running, but when your better half is the owner of Tim's Special Cut Meats, it's the norm.
"He loves to shock people by drinking the blood from the bottom of a tub that's been full of meat," says Noelle.
Like most people in the business, Tim Branen started young, working in his parents' Ketchum, Idaho-based grocery store. At 14, he started his own game-cutting business. After graduating from high school, Branen moved to Southern California and apprenticed with a butcher.
He eventually relocated to North Idaho, working from home and specializing in mobile butchery with a specially designed rig that features a hydraulic lift gate, hanging rails and gut bins. Typically, Branen butchers game onsite — he also works with people who raise their own feed animals — and brings the meat to the shop to process. The service is especially ideal for game hunters, who abound in North Idaho. According to a U.S. Fish and Wildlife Service survey, more than 12.5 million people spent $22.9 billion on hunting in 2006. Around 122,000 of them hailed from North Idaho.
In 2002, Branen (who ironically doesn't hunt) opened a retail butcher shop on Government Way, growing the business to include just about everything but vegetables (which, not that ironically, he doesn't eat).
So in addition to 3,500 pounds of retail meat — beef, pork, chicken, turkey, seafood, rabbit, lamb, goat, elk, buffalo — Branen has around 50,000 pounds of meat and game on hand. Featuring hormone- and antibiotic-free Angus beef from an outfit in Montana, the shop's top-selling items are top sirloin and seasoned prime rib, as well as Twin Falls-based Falls Brand pork. Bulk meat packages range from the 52-pound all-beef Coeur d'Alene ($275) to the Pend Oreille ($259), which totals 75 pounds of assorted chicken, beef and pork.
Over the years, Tim's Special Cut Meats has become a hub for regional products: soups, pancakes, pasta, jams, olives and sauces; beer and wine; and soap, candy, candles and books from local vendors.
Supporting worthy causes is important to Tim, says Noelle. The business supports local organizations — schools, churches, parks and rec leagues — as well as national causes such as Habitat for Humanity, the Rocky Mountain Elk Foundation and efforts to battle breast cancer. In 2013, the Coeur d'Alene Chamber of Commerce's Education Group recognized Tim's Special Cut Meats for going "above and beyond" in helping public schools.
Have a cooking question? Branen is the go-to for that, too. In addition to stocking barbecues and fire pits, he features a wide range of sauces, spices, rubs and accoutrements. His summer — when he's not spending time with Noelle and the couple's four children — includes catering cookouts, weddings and other events.
Tim's also carries local eggs, raw milk (goat and cow) and butter and deli items, as well as a proprietary maple bacon sausage. A typical day for Branen involves making jerky, sausage or bacon, as well as cutting and selling meat, invoicing, answering calls, and doing paperwork.
When you spend your days up to your elbows in animal parts, typical is a relative term. For Branen, that results in a wry sense of humor. The business logo features an upside-down cow, because that's how Branen usually views the animals he slaughters.
Noelle recalls a story about the time Tim catered an event for Gozzer Ranch involving an alligator.
"We drove to Spokane and picked up an alligator and put it in the back of our pickup truck," she says. "However, the tail hung off the tailgate and was swaying in the wind. People were staring at us like we were crazy."
They eventually cooked the gator over open flame, using a chainsaw to cut it open while the guests — many close enough to get sprayed — watched. ♦
Tim's Special Cut Meats • 7397 N. Government Way, Coeur d'Alene • Open Mon-Fri, 9 am-7 pm; Sat, 9 am-6 pm • timsspecialcutmeatscoe.com • 208-772-3327