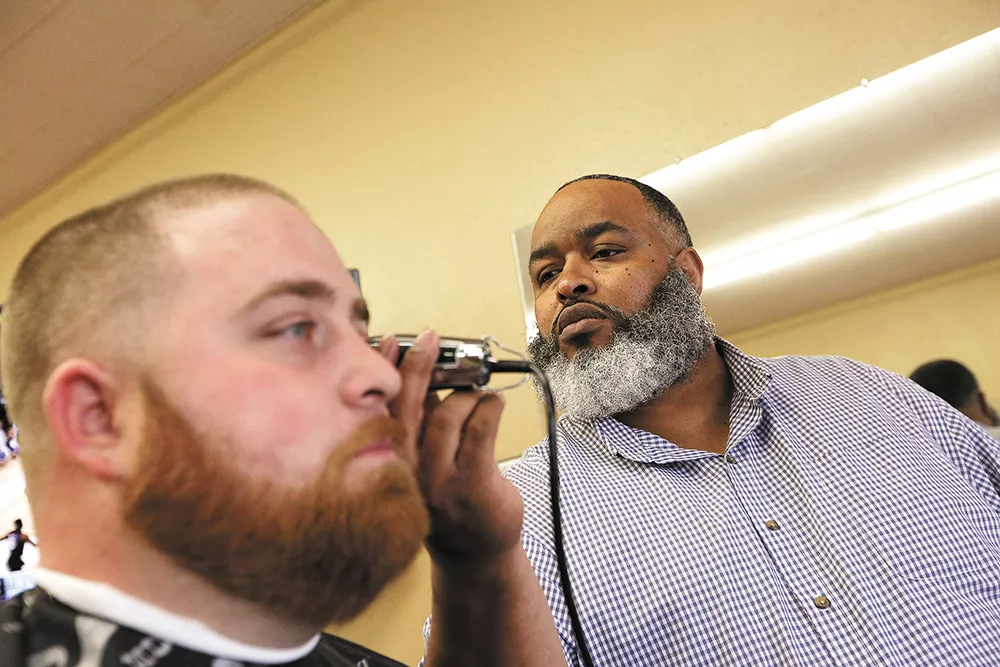 When Jay Troutt opened Classic Cuts just over a year ago, the front door literally hadn't been opened in 23 years. Customers of the former tenant, Vintage Rabbit Antique Mall, entered the space from a labyrinthine set of hallways inside the building, perusing decades' worth of odds and ends piled up on carpet that was installed a good 50 years ago.
For Troutt, 44, making that entry on 2311 N. Monroe inviting for his longtime customers and passersby was just one step in rehabilitating the space into the barbershop. He and his wife Brianna painted the walls, tore out the carpet and got the wood floors underneath buffed into shape. Less than five years after getting his barbering license and building a clientele working at a mall barbershop, Troutt has decided that the gamble involved in opening his own spot was well worth the risk for the satisfaction it's brought him.
"Peace of mind is the best way I can explain it," he says one weekday afternoon between customers. CNN plays on one TV hanging in the shop, and a sports talk show on the other, while posters of Muhammad Ali overlook the four barber chairs Troutt installed. There's room for more when it's time for Classic Cuts to grow, he says.
Troutt isn't quite a Spokane native, but he's lived here since he was 12, when his Air Force dad was stationed at Fairchild. He worked all kinds of jobs through the years — industrial manufacturing, construction, "all kinds of stuff" — before starting to think about a long-term career.
"Life begins at 40, right? You've heard that?" he asks with a smile. "I needed to do something I'd be happy doing for years and years."
He's found that in cutting hair, Troutt says, especially since opening Classic Cuts. Gone are the days of staring at a clock waiting for the day to end; instead, he only looks at the time to make sure he's going to finish one haircut in time for his next appointment.
Landing on Monroe wasn't automatic. Troutt hired a realtor and looked around a few different parts of town. He knew he wanted somewhere between his old job at NorthTown Mall and downtown, where his clients could easily find him. So far, so good, he says, for his spot that, instead of being shuttered, now boasts big windows opening onto Monroe.
"People walk by and walk in who never knew we were here," Troutt says. "I've met so many people in this barbershop. The diversity — so many walks of life."
While Troutt considers Classic Cuts a throwback to the good, old-fashioned barbershops he grew up with, you could say the same about the other barbershops doing business on North Monroe. All cater to a predominantly male clientele looking for some of that old-school vibe, though they all have their own distinct personalities.
Dan's Barber Shop, toward the top of the hill at 3301 N. Monroe, is quite literally old-school; it's been in the same location more than 50 years since Dan Flambouras opened it. Bright fluorescent lights shine on walls covered with photos of generations of customers. While Dan's does women's hair, too, they specialize in "flat-tops, crew cuts, fades and shaves," and one whiff upon entering the place will produce flashbacks for anyone who ever went to a real old-timey barbershop growing up.
Down the hill at Brickyard Barbershop (2802 N. Monroe) there's a bit of a retro vibe, too, but the place just opened last year. Like Troutt, owner Chris Banka was looking for a long-term career after years of manual labor.
"I had crazy long hair in the '80s, some pretty horrendous metal hair," Banka says. "My mom used to always tell me, 'You should be a hairdresser when you grow up. You can have your hair however you want.' Instead of listening to her, I did construction for my whole life, until I was so sick of it I couldn't stand it."
Banka picked Monroe for his shop after some looking around, and Brickyard's clients come from all corners of the area for the friendly vibe he's created in the 111-year-old building.
"I just wanted it to be a warm, comfortable environment" while maintaining the qualities of a traditional-style barbershop, Banka says.
The vibe at Quick's Barbershop (1429 N. Monroe) is a bit of a combination of the other three shops. Sports played on TVs one recent evening when I popped in, and a few barbers and customers bantered about their families, recent vacations and the street scene outside the large windows. Facebook is full of pictures of children's first haircuts done at Quick's, and grown-ups can get all the services one would expect from a traditional barbershop.
Brickyard's Banka says it makes some sense for the shops to have congregated on Monroe, even if that wasn't intentional. And there's room for all of them to succeed.
"I've traveled Monroe my whole life. It's affordable and it fits perfectly," Banka says. "Here's the thing about the shops: We're all different, in many ways. The style, the feel, the people. And that's not bad." ♦