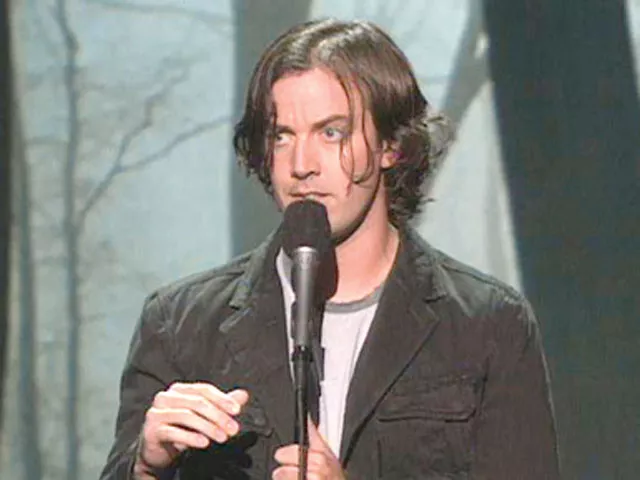 Dan Cummins: Crazy with a Capital F (Premieres Saturday, May 29, 11 pm Comedy Central)
All those complaining about how MTV never plays music anymore, and how the former SciFi Channel's begun airing WWE wrestling, should thank Comedy Central for sticking to their mission. The network not only airs The Daily Show and South Park, it airs comedy in its purest form: stand-up. They give rising comedic stars a chance to rise even higher.
One of those stars is local wit — and the subject of an award-winning Inlander cover story — Dan Cummins. Most of Comedy Central's live stand-up comedians are, let's be honest, pretty awful. They beat the same old drums of marriage and sex and porn, differing mostly on their placements of F-words and C-words.
But Cummins, thank God, is unique. He traffics less in observational humor or and-then-I-did-this stories, as much as surreal, slightly cruel scenarios. Cummins is an intellectual imp, a scalawag playing convoluted pranks — pranks of absurdity and pranks of confusion and pranks with just a wee bit of malice. He wants to yell "peanut butter is the answer" to confuse passing strangers. To get revenge on a childhood fear, he wants to break into a circus clown's house and watch him sleep.
Oddly, Cummins actually labels his jokes. "That joke's called 'Impossible Violence Is Funny,'" he'll say after describing a particularly grisly scenario.
The rhythms of Cummins' jokes are Jack Handey-contemplative he delivers punchlines with a tilt of his head and a maniacal gleam, almost like the audience is the priest to whom he's gleefully confessing his dark thoughts.
(Sidenote: It's always annoying when comedy specials pan to show close-ups of regular schlubs cracking up in the audience. It should be enough that we can hear the laughter. We don't see individual studio audience members in a sitcom or on The Daily Show; it's awkward to see them here.)
Cummins' comedy runs more on bizarre than classical clever, more on oddity than traditional comedy. And thank goodness for that — good comedy thrives on the new, on the fresh. Too many comedians, after all, articulate what "everybody else is thinking."
Cummins says what nobody else but him is thinking.

---
TIVO-WORTHY
So You Think You Can Dance? For me, the answer to this question is an easy one: Nope. I hold no illusions about my dancing prowess. But for others — for those who think they can dance, and those who wish they could — this question stretches into its wildly successful seventh season. Maniacs that they are, they'll dance, I'm sure, like they've never danced before. (Thursdays, 8 pm, Fox)
Hell's Kitchen Gordon Ramsey's recipe for training world-class chefs: Fry thoroughly in biting criticism. Soak for 10 minutes in withering glares. Stir occasionally. Let stand for five minutes, then pepper liberally with profanity. Serves eight. (Tuesdays, 8 pm, Fox)
Royal Pains Vigilante cops? Passé. Vigilante spies? Been done. Ah, but vigilante doctor, that's new. It's the old Burn Notice formula, turned medical. Instead of burned spy doing for-hire spycraft in swanky Miami, it's a fired doctor doing for-hire doctor-craft in the swanky Hamptons. There's no replacement for Burn Notice's Bruce Campbell, however, because, really, Bruce Campbell is irreplaceable. (Thursdays, 10 pm, USA)