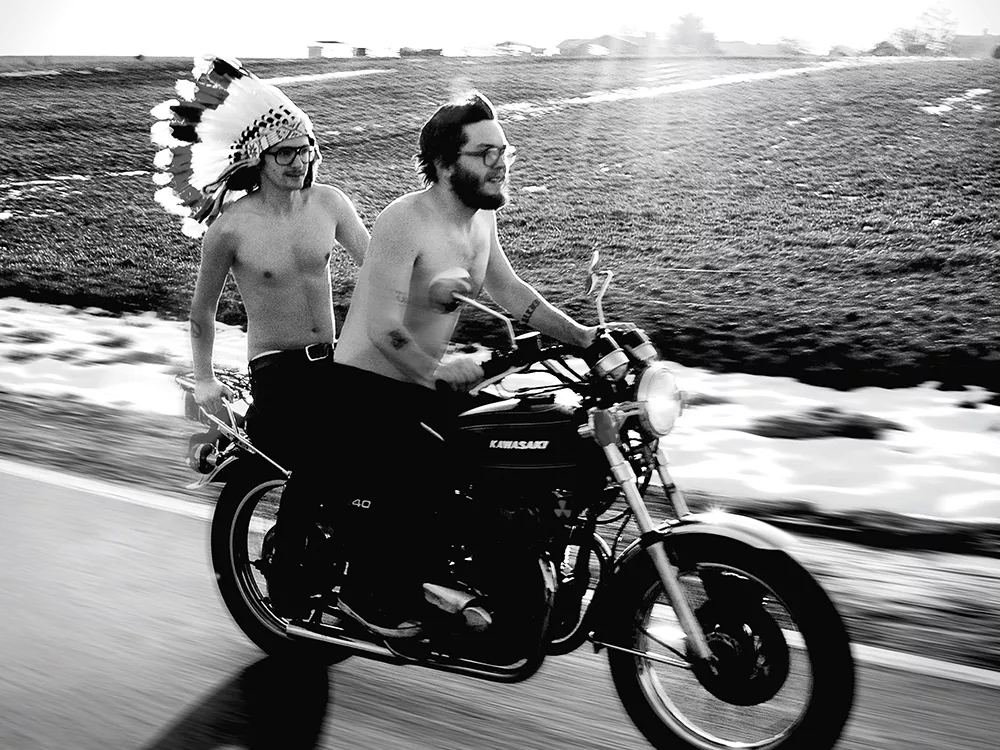 "In a perfect world," says Ashton Bird, "no one would be on their cellphones when we played our set."
Bird — the drumming half of Tweak Bird, Los Angeles' jarringly brutal psychedelic rock two-piece — is certainly no curmudgeon. But he is absolutely speaking to what he would like his band to be capable of: to get the crowd to forget about the rest of their lives for a little bit.
Chances are, the dim light of cellphone screens will be glowing on the faces of concertgoers for the foreseeable future — at least until something comes along to replace them. But Bird remembers a simpler time when it was never an issue, where the music reigned supreme at all times.
"We want to go up there and be the Grateful Dead and move some bodies," Bird continues, referring to himself and his brother Caleb, who handles the howling and the guitar riffs in the band.
"We're just, like, two brother dudes who like to play hard and make people dance."
Later in our conversation, Bird began to allude to a higher ambition. It's not just about the weed and the movement and the jams — there's a greater purpose at work behind the propulsive stoner rock of Tweak Bird.
"We want to go out and change the world of music," he says. Coming from almost any other musician, the claim would be laughable, but Bird comes off as so earnest that it's hard to fault him.
In fact, it's rather refreshing when a young musician is willing to admit that their aspirations exceed their own enjoyment. To Bird, there is a greater ideal at work in Tweak Bird, and it shines through in their wild and dangerous music.
The duo's tunes are indeed progressive, featuring frequent experiments and bold exercises in pummeling fuzz blasts. It's not just the thick, scuzzy pounding we've come to expect from bands with their particular sound. There's a definite edge to Tweak Bird, an exploratory spirit that shines through in the band's experiments with electronics and genre-bending.
Still, don't expect to watch two straight faces make all of this noise.
"We think music is fun and we don't take it grossly serious," says Bird. He's also fairly open concerning his expectations on the night of the show, April 20: "It's a great date. We want everybody to be dancing and smoking weed."
So let's try — if for one day — to make this a perfect world for our traveling brother dudes. Maybe keep our phones in our pockets?
Tweak Bird with 66beat and Hooves • Sat, April 20, at 9 pm • Mootsy's • $5 • 21+ • 838-1570