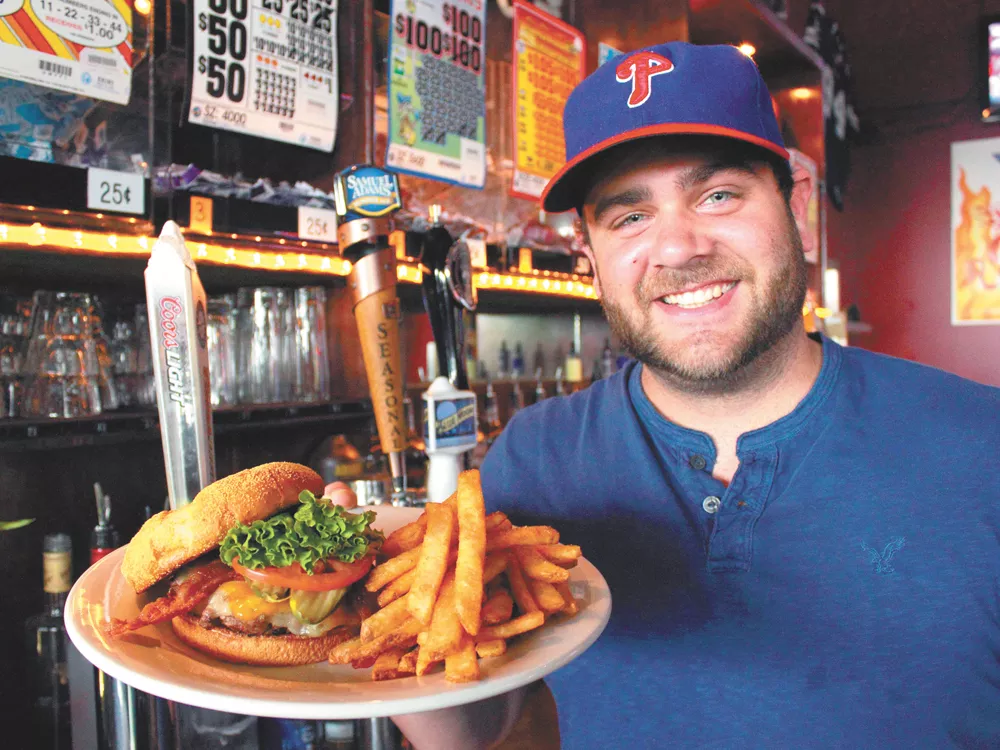 needed.
Up in the Indian Trail neighborhood, John and Johnny Oliveri are filling the need for a medium-sized sports bar that provides tasty food, friendly service, outdoor dining and plenty of parking. Yes, it may seem that north Spokane needs another sports bar like a cactus needs an umbrella, but JJ's Grill and Brewhouse is a relaxed alternative to the large, crowded bars along Francis Avenue.
The father-son operation opened on Feb. 1, and the venue's signature pizzas have since gained a following. JJ's 12-inch combination pie ($11) — pepperoni, olives, onions, Canadian bacon and mushrooms — is an exercise in simplicity. The vegetables are fresh and the meats lightly seasoned. The crust is buttery and chewy. You won't find oil, grease or bizarre spices that could potentially disturb your beer palate but, if spice is your thing, then try the fries with homemade pepper sauce ($5). Wash that down with a Mac and Jack's, Inversion IPA or a brew from the rotating retro tap that features such childhood delights as Rolling Rock, Hamm's and PBR. The menu also includes burgers, salads, house-made soups and appropriately named sandwiches, like the Indian Trail ($10), a grilled chicken breast topped with bacon, Swiss cheese, lettuce, onions and tomato.
Even though JJ's is located in a strip mall, the pub has the feel of a stand-alone establishment, with patio dining, high ceilings, dark wood, a full bar and strategically placed flat-screens. The brewhouse is also home to a dart league, a blues band on Wednesdays and trivia on Mondays.
This is the kind of place you can stop into on your way home from work and get to know your neighbors. On a recent night, John Olivieri brought the regulars samples of the new menu: taco pizza layered with lettuce, tomato, flavorful ground beef and delicate nacho crumbles. A taco salad settles into a warm, puffy, flaky shell. The newest dessert is a dirty snowball — a scoop of coffee ice cream seated on warm fudge and covered with Heath bar crumbles. Later in the evening, couples arrive to the dining area and order a couple of Oliveri's eight-ounce top-sirloin cuts ($12 - $13). It's clear this couple has been here before. And this won't be the last time.

JJ's Grill & Brewhouse • 8801 N. Indian Trail Rd. • Open Mon–Fri 3 pm to close; Sat–Sun, noon to close (467-4267)