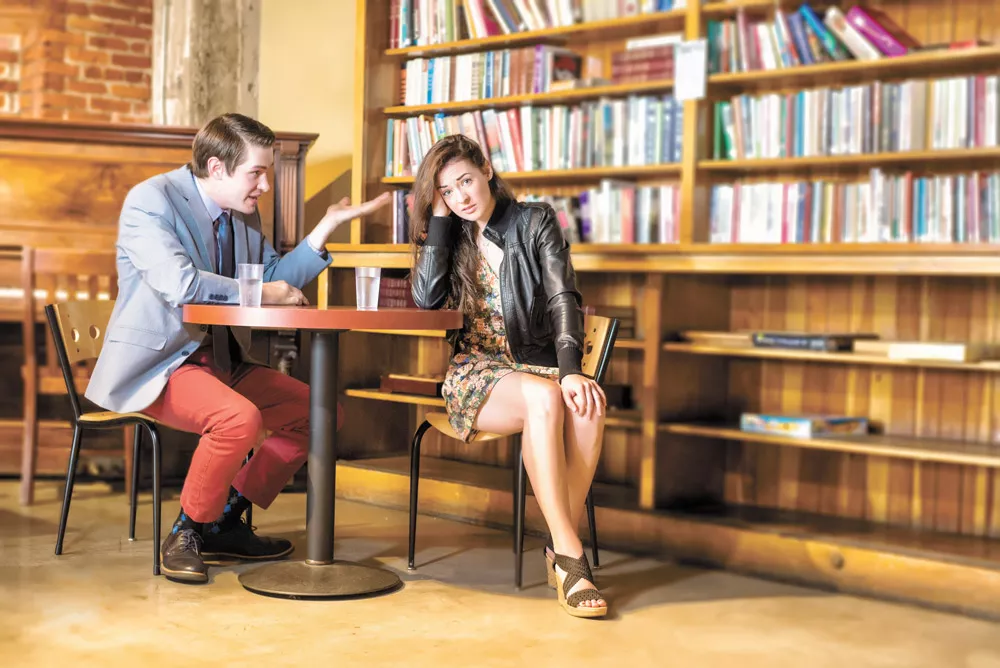 What could be more nerve-racking than being on a first date? How about watching it unfold in front of you, privy to all the "uh-oh" moments and awkward pauses when two mismatched folks fumble their way through that all-important first encounter.
If you're thinking an adult beverage would wear down the rough spots just a bit, you're spot-on. In fact, since First Date is set in a bar, Coeur d'Alene Summer Theatre has made one charming adaptation to the recently retired Broadway musical by switching the venue from a traditional stage (CST shows typically take place at the Kroc Center) to Coeur d'Alene's Eagles Lodge.
"We love that fact that we are doing this at a bar so the patrons get a different experience," says Laura Little, CST's executive director.
That means that while Casey (Aubrey Shimek Davis) downs yet another (pretend) drink to the chagrin of her blind date, Aaron (Cody Bray), the audience can buy real drinks prior to the start of the show, feeling like they're part of the scene.
Alcohol is hardly necessary, however, as the play's premise is plenty ripe with comedic potential. Casey has a brash, artsy, city-girl personality but a poor dating track record. She's described as a serial dater with a thing for bad boys; the perfect foil to Aaron with his conservative manner, post-divorce shyness and apparent dating naiveté.
The plot moves along briskly in this 90-minute production. Conversations cut from the contemporary — they Google each other prior to and during the date, for example — give us insight into Casey's and Aaron's character, history and motivation for the date. What they don't say outright to each other is revealed through cleverly staged dream sequences. These allow Casey and Aaron to manifest their inner doubts, such as the pressure to date within one's faith or the inability to understand patterns of past relationships. Here, supporting cast members (Michael Feldman, Melody Stolpp, Dustyn Moir, Emily Cawley, Lanz Edwin Babbitt) do the presto change-o from bar patron or server to friends and family of the would-be couple and back again.
Although the music is often showtune-snappy under musical director Brandon Peck, don't expect a lot of sugarcoated love songs. The lyrics (by Alan Zachary & Michael Weiner) are peppered with profanity and slang, like when Aaron comes to term with a past relationship. "You're a cock-friggin-tease, girl you never stop your talking / And in fact you got a double-chin," he sings, much to Casey's delight.
Little and CST Artistic Director Jadd Davis kept fairly true to the original Broadway version, which starred Zachary Levi from the television series Chuck and Krysta Rodriguez of NBC's Smash.
Little and Davis actually previewed the play's debut at Seattle's ACT Theatre in 2012, after which Little was so enamored that she signed on to co-produce its 174-show run at Broadway's Longacre Theatre. She even tapped several regional investors, including Patty and Jerry Dicker, who helped revitalize the Bing Crosby Theater, before looking for a way to bring First Date to the Inland Northwest.
When producing a play, "your hope," says Little, "is that it has a respectable run on Broadway, and then is licensed out so regional professional theatres, community theatres, colleges and high schools would have access to it. Luckily, that is exactly what happened." ♦
First Date • Thu-Sat, June 18-20, 7:30 pm (sold out); Sun, June 21, 2 pm and 7:30 pm, Mon, June 22, 7:30 pm • $25 • Coeur d'Alene Summer Theatre • Eagles Lodge • 209 E. Sherman Ave., CdA • cdasummertheatre.com • (208) 660-2958