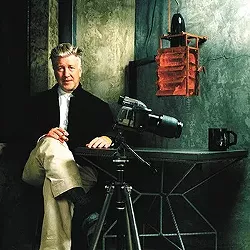 It seems like particularly good timing that a documentary about David Lynch should open at the Magic Lantern on the same weekend that Twin Peaks returns to television. Subtitled The Art Life, the movie basically functions as a supplement to Lynch's filmography: Although it shows no actual footage from his features (we do see clips from his early, bizarre short films), it nonetheless helps contextualize some of the peculiarities of his distinct cinematic worldview.
The doc focuses primarily on Lynch's career as a visual artist, which began before he ever stepped behind a camera. In what is essentially a run-on monologue, Lynch talks, mostly in voice-over, about his parents and his childhood, how art distracted him from teenage delinquency, his frequent collaborators, and the outcasts and weirdos who most certainly inspired some of his characters. As he speaks, we watch him producing art in his L.A. studio, all the while puffing intently on a cigarette.
It's hard to imagine The Art Life appealing to anyone who isn't already familiar with Lynch's movies (it chronicles the director's life up to the making of his 1977 feature debut Eraserhead), but it should be of interest to anyone who's puzzled over Mulholland Dr. and wondered, "What kind of person thinks up this stuff?" This documentary confirms the one thing we've all suspected about Lynch: He is, indeed, a deeply strange man with weird hang-ups. No surprises there.
David Lynch: The Art Life opens at the Magic Lantern Theatre on Friday. See magiclanternonmain.com for showtimes.