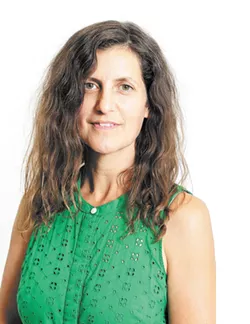 The Big Dipper has occupied the corner of Second and Washington for decades, its distinctive blue brick exterior and celestial mural a familiar sight to all Spokane music fans. The all-ages venue has changed hands a few times, opening and closing and reopening. But for the last five years it has been under the control of owners Dan and Dawson Hoerner.
Dawson Hoerner spoke about fostering a local scene, and how the Dipper has been at the forefront of that for years.
A music scene can only grow when new bands have a place to play
New bands pop up with some regularity, and it's important they have an outlet. Hoerner says they're conscious of this, and that they often pair newer bands with musicians who have more experience under their belt.
"It builds relationships for everybody," she says.
And because the venue has such a storied history, many of those veteran musicians are already familiar with the place.
"A lot of people come in and say, 'I played my first show here,' Hoerner says. "That's important to a community, and it's a cool thing for us."
It's important to treat the bands well
In their years touring with the influential emo-rock band Sunny Day Real Estate — Dan was the bassist, Dawson managed merchandise and publicity — the Hoerners learned what touring musicians want on the road.
"We can see it from the band's perspective, and we know the band's experience," Hoerner says. "Dealing with the bands and setting up contracts and interacting with the bands — we know how they're feeling."
Touring bands regularly praise Spokane audiences
It happens all the time, Hoerner says: Touring bands make their tour stops in Spokane and are knocked sideways by the fervor with which they're greeted.
"We've had multiple bands tell us that the Spokane show was their best show on tour," Hoerner says. "Part of that is our room sounds good, but also because of just how enthusiastic the audiences are. It's exciting and supportive."