ELLENSBURG
Unless you attend Central Washington University, Ellensburg is often just a pit stop between Spokane and Seattle: a place to get gas, stretch your legs and stock up on snacks.
If this mindset sounds familiar, take it from Carolyn Honeycutt, director of the Ellensburg Downtown Association: You have no idea what you're missing.
"Not everybody has that adventuresome spirit to go a little bit beyond," she says. "But if people have five more minutes and are willing to drive just one more mile, they will experience a 16-block, amazing, historic preserved downtown."
Ellensburg, two and a half hours west of Spokane, has a blossoming arts scene that's celebrated every month during First Friday, a two-hour event that hits nearly 20 venues, including galleries, museums, coffee shops and wine bars.
Art nerds should also stop by the Clymer Museum & Gallery, which celebrates John Ford Clymer, an Ellensburg-born artist known for painting Saturday Evening Post covers, and Dick & Jane's Spot, the eponymous couple's home, which is covered in bottle caps and reflectors and features kooky pieces like a teddy bear totem pole and "The Tourist," a sculpture that lovingly mocks picture-snapping visitors.
Dog lovers of all breeds will get a kick out of Ellensburg's Dachshunds on Parade, a yearly jaunt through downtown featuring dachshund races, "stupid pet tricks" and prizes for the most cleverly dressed pooch.
Head to Ellensburg during the last weekend in July for the Jazz in the Valley festival, now in its 17th year. Single day and night passes run from $10 to $15, and $40 will get you a three-day festival pass. Children 10 and under are free. Performances are spread across two stages and 10 venues, so you'll get a nice tour of the city while moving from set to set.
After a day of sightseeing, make like a local and visit the Tav for burgers and fries, and Campus U-Tote-Em for the best milkshakes in town.
And don't be surprised if, by the end of the day, you're already planning your next trip to Ellensburg.
"We have this beautiful, little walkable downtown," Honeycutt says. "It's so worth a stop."
PULLMAN
Though it's only an hour and a half from Spokane, Pullman is a bit like the distant relative you only see once or twice a year during holidays. And if your only thoughts of Pullman are of the crimson-and-gray variety, you may not be aware of all the area has to offer.
For foodies, trips to Pullman's annual Lentil Festival (Aug. 21 and 22), Ferdinand's for ice cream and WSU Creamery for Cougar Gold Cheese are a must. Those looking for more adult fare should feel right at home at Merry Cellars Winery, Paradise Creek Brewery and the Cider House.
If you're looking for area-specific trivia to impress people back home, head to the Palouse Discovery Science Center. There's also the Appaloosa Museum and History Center (just over the border in Moscow), the Roy M. Chatters Newspaper and Printing Museum in nearby Palouse and countless cemetery tours (yes, really).
Those with young travelers, or the young at heart, should stop by the Cougar Laser Arena, which will offer black-light mini golf in August, or Zeppoz, a 24-lane bowling alley, to get rid of any lingering energy before the drive home.
Most notably, Pullman is in the thick of the Palouse, home to the quintessential Eastern Washington scenery (golden wheat fields, historic barns, breathtaking waterfalls, etc.) that makes the area so photogenic, no filter needed.
To truly take advantage of the view, grab your bike and hit one of the area's numerous trails. Look closely and you just might catch sight of the elusive giant Palouse earthworm.
For those with more ground to cover, take a drive down the Palouse Scenic Byway, which meanders from Rockford to Hooper and down to Uniontown, with three legs of the byway converging in Pullman.
Don't be embarrassed to have your camera with you at all times. Chances are you won't be the only one.
"More than one-third of the tourists who come to Pullman and to the Palouse region are here for the fabulous photography opportunities," Tourism Director Carol Cooper says. "It's not unusual to find several hundred photographers at a time up on Steptoe Butte."
Cooper suggests potential visitors check out the "Picture Perfect Palouse" Facebook page. If the photos alone take your breath away, just wait until you're in the middle of those rolling hills yourself.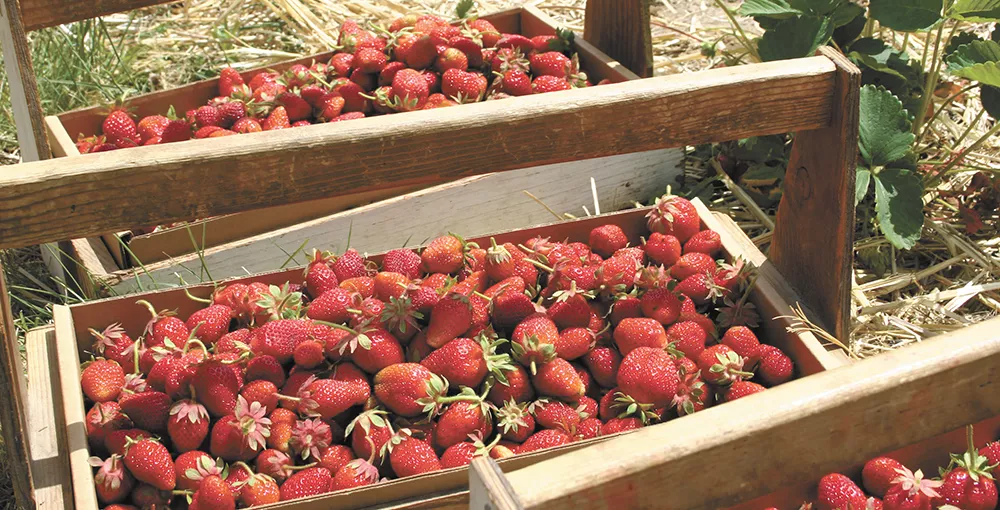 FRUIT PICKING IN GREEN BLUFF
No matter the season, you can always count on Green Bluff to have the freshest fruits available, as in you-pick-it, you-eat-it fresh. The Strawberry Celebration (June 27-28 and July 4-5) kicks off a handful of summer events, followed by the Cherry Festival (July 11-12, 18-19, 26-27) and the Cherry Pickers Trot (July 16), which features a hamburger and hotdog dinner, a tot trot, a 6.4K race for the grown-ups and, of course, a cherry pit spit. Last, but certainly not least, is the Peach Festival (Aug. 15 through Labor Day). Head to greenbluffgrowers.com to find out more.
CANADA DAY
Just three days before celebrating America's independence, visit our neighbors to the north, specifically those in Fernie, British Columbia, for Canada Day, which this year happens to coincide with the 50th anniversary of the Canadian flag. After a cardboard boat race on Fernie's Maiden Lake, the celebration appropriately kicks off with a singing of "O Canada," followed by a cake cutting. Then it's all-day activities, including bouncy castles, bike races, live music and a market featuring crafts, art, clothing and more, before the day ends with a fireworks display. Visit tourismfernie.com for more information.
CHATAQUA
Though the name may be difficult to pronounce, it's not hard to see why Chewelah's Chataqua brings anywhere from 40,000 to 60,000 people to the tiny town an hour north of Spokane every year. Now in its 42nd year, Chataqua is a three-day festival (this year's fest runs from July 10-12) that boasts a variety of food, arts and craft vendors, carnival rides, live music, a beer garden, fun run, parade, golf tournament and more. Times and days for each event vary, so check out chewelahchataqua.com for more info.
PEND OREILLE VALLEY LAVENDER FESTIVAL
Spokane may be the Lilac City, but in Newport, it's all about lavender. Since 2004, the festival, which takes place July 11-12 in Newport's City Park, has made the summer breeze that much sweeter. This year, try your hand at making lavender wands or learn how to grow and process the plant. There will also be model airplanes, fly-tying, and spinning and basket-weaving demonstrations, as well as food and art vendors, live music, children's activities and wine tasting. Tickets range from $5 to $10, and kids 12 and under get in free. Visit povlavenderfestival.com for more information.
HAPO GOLD CUP AND OVER THE RIVER AIR SHOW
Fans of all things fast are in for a real treat July 24-26 with the HAPO Gold Cup and Over the River Air Show, which this year is being hosted in the Tri-Cities. This year marks the 50th anniversary of unlimited hydroplane racing on the Columbia River, and the California-based Patriots Jet Demonstration Team is set to bring its six-jet team of aerial acrobats to the sky. This year's schedule is still in the works, so keep checking waterfollies.com for updates.
FEED THE BUFFALO
Want to have the most unexpected answer to "What did you do this weekend?" Head to Springdale's Win-Tur Bison Farm, where every Friday, Saturday and Sunday, hourly from noon-4 pm from May 1-Sept. 30, you can meet and feed buffalo. Tours also feature a slide show presentation, a history of the farm, bison facts and a Q&A session. Tickets are $6 for adults, $5 for seniors and kids, and free for children two and younger; cash or check only. Tours for groups of 10 or more are also available. Call (509) 258-6717 or visit winturbisonfarm.com for more information. (But remember: Never feed a bison in the wild.)
SIERRA SILVER MINE TOUR
If you're aching to get off the beaten path this summer, why not venture below the beaten path? Head to Wallace, Idaho, for a tour of the Sierra Silver Mine, which began operations around 1900 and was sporadically worked until the 1960s. Tours leave every half-hour from 2-4 pm seven days a week and last an hour and a half. Tickets are $15 for adults, $13 for seniors and free for children 4 and younger. Bring a camera, and don't forget a light jacket. Head to silverminetour.org to learn more. ♦