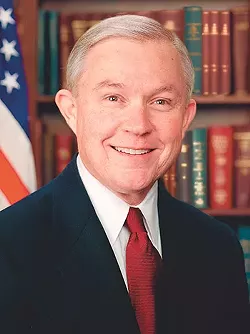 HB 1937. HB 1212. HB 2021. HB 1099. HB 1416. EHB 1857. SB 5264. SB 5284. SSB 5284. The list goes on.
Dozens of cannabis-concerned House and Senate bills in various states of consideration and passage have been introduced by Washington state legislators on both sides of the aisle so far this year. With subtitles like "Concerning buffer zones with respect to siting state-licensed marijuana businesses and entities near reservations of federally recognized tribes" and "Concerning inspections of licensed marijuana processors' equipment and facilities," it's clear the government is working to massage local marijuana laws into a sustainable and regulated system, not write them out of existence.
But that's exactly what Attorney General Jeff Sessions is now threatening to do at the federal level. As White House Press Secretary Sean Spicer said in late February, referring to the legalization movement in states across the country, "the last thing we should be doing is encouraging people." When asked about cannabis' illicit status as a Schedule I controlled substance, he dropped the bombshell revelation that has since sent states into a tizzy: "There is still a federal law that we need to abide by [...] I do believe you'll see greater enforcement of it."
Washington Attorney General Bob Ferguson and Governor Jay Inslee quickly fired back in a letter to Sessions, citing "significant initial success" in designing and implementing a "rigorous regulatory" system. Oregon lawmakers have even proposed a law requiring marijuana businesses to destroy their customers' personal information, often stored on computers for future marketing purposes, within 48 hours should the Department of Justice make them criminals with the stroke of a pen.
But the asterisk accompanying the potential crackdown reveals a distinction in the new administration between medical and recreational marijuana. Last week Spicer acknowledged "a specific carve-out ... for medical marijuana." More than half of the states have legalized it, and even Sessions, who High Times has dubbed "truth-challenged," is most concerned about recreational cannabis "being sold at every corner grocery store."
The twist in states like Washington and Colorado is that the two markets are essentially integrated as one (Washington's were folded together last July to snuff out a "gray market" of unlicensed dispensaries), which should only confuse matters further if DEA agents suddenly decide to darken the doorways of area businesses. John Hudak of the Brookings Institution told Bloomberg, "There are dramatic regulatory differences [between medical and recreational marijuana markets] from state to state. The comments from [Spicer's] podium were overly simplistic."
Far from crying uncle, states are insisting on their right to govern with the "reserved powers" afforded them by the Tenth Amendment to the United States Constitution. But given the new climate of uncertainty, even political leaders in Olympia are starting to hedge their bets. As Ferguson and Inslee admit in their letter, "If our approach is successful, other states and the federal government may choose to emulate it. If it proves a failure, despite current good signs, our state may retreat." ♦