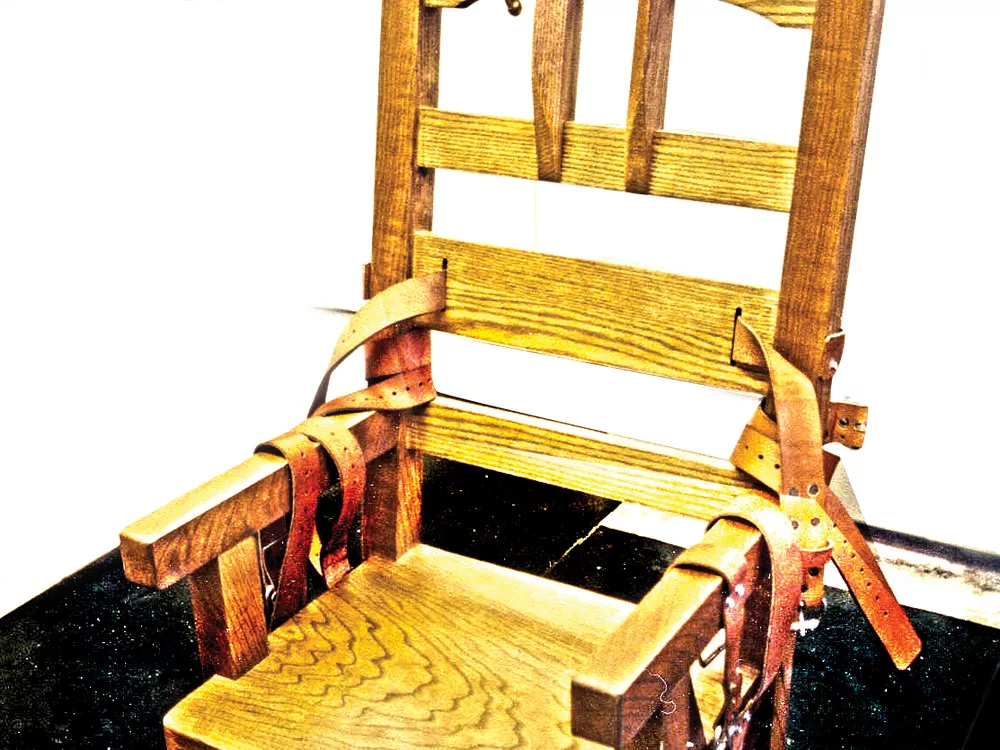 The lights, every time, had this way of flickering. It was a side effect, in Florida State Prison's death row, of the approximately 2,000 volts used in the electric chair. This time, the lights flickered for the execution of Leo Jones, a convicted cop killer. Jones had long protested that he was innocent, claiming that cops had beaten his confession out of him.
Juan Melendez is another man who repeatedly claimed to be innocent from behind bars. After serving six years for an armed robbery, he was wrongly convicted of a brutal murder. Melendez watched Jones being snatched from his cell.
"I knew what was going to happen," Melendez says. "And I couldn't stop it."
These men on death row — men who prosecutors called monsters — had taught Melendez how to read, to write, to speak English. They spoke to each other about things they told no one else. Over 15 years, he grew to care about them. To love them. And one by one, he saw many of them led off to be executed.
At Jones' execution, there was a clanging buzz, then the lights stuttered as electricity coursed through his body, then silence. For a few moments, the inmates were completely silent — lost in reverence or thought.
"We know precisely the time when they were burning the life out of him," Melendez says.
"You feel helpless. You cannot do nothin'."
Today, sitting in a Spokane coffee shop, a thickly accented phrase tumbles out of Melendez's mouth like he's chanted it a thousand times: "Seventeen years, eight months and one day." That's how long Melendez sat in a 6-by- 9-foot cell on death row before evidence suddenly surfaced to free him. Over 40 men were executed in Florida while he waited in that tiny room.
Last Wednesday, two men were killed by lethal injection — one in Georgia, the other in Texas. The convict in Texas was a white supremacist who had been convicted of dragging a black man to death behind a pickup truck. But the man in Georgia may have been innocent.* Several eyewitnesses used in Troy Davis's conviction for shooting a police officer later recanted their statements. But the judge said the evidence still proved Davis' guilt.
Last week, as some protested outside Davis's execution, and as others applauded Texas Gov. Rick Perry's pride in executing 235 inmates, Melendez spoke at Whitworth and Gonzaga universities against the death penalty.
Across the world, he speaks not only about the very real danger of executing innocent people, but about the way that death row itself saps the will to live.


Living on death row almost killed Melendez before the electric chair could. He remembers the cockroaches — they'd swarm his breakfast if he didn't grab it in time. He remembers the rats that would crawl on his thin blanket until he shook them off. He remembers the smell.
"It smelled like death to me," Melendez says.
As the years in the cell passed, the fear of death — fear as the lights flickered — began to fade away. He grew numb. Melendez says inmates would fear for how their families would feel when they were dead. As for death itself, they began to welcome it.
"Amigo, ten years [in], a friend of mine, he killed himself," Melendez says. "When one person committed suicide, the others start thinking about it."
There was another prisoner, a man with a lighter sentence, tasked to clean death row, who could help. All he wanted was four stamps — or a pack of rolling tobacco — and he'd hand the inmate a plastic garbage sack.
"You take it, and you twist it and you make a rope. Then you put a noose in it. Then you put the noose on your neck and tie the other end on the cell bars. You throw yourself down and you're dead. Then you're free," Melendez says. "Why you gotta satisfy them? … You say you didn't do it? You think they're going to believe you? So grab that rope. Grab that bag."
Melendez gave the man four stamps. He twisted the bag, made the noose.
Then he decided to sleep on his decision. He describes a vivid dream: swimming with dolphins in the Caribbean, in his homeland of Puerto Rico, seeing his beautiful mother smiling and waving. Both were happy.
"I wake up, amigo, I swear the bunk smelled like a beach," Melendez says. With a new will to live, he flushed the garbage sack down the toilet. More moments of depression would come, and more dreams would lift his spirit.
It took seven more years before the taped confession of the real killer surfaced. And as he left death row, smiling, crying, he attempted to say goodbye to one of the other inmates, Clarence Hill. He couldn't speak. Hill, also crying, also smiling, told him to take care of himself, to take care of his mother and to not forget about the other men on death row.
Melendez didn't. On Wednesday, September 20, 2006, Hill was executed.
"I know what's going to happen if we don't abolish the death penalty," Melendez says. "I know they're going to kill them all."
Years after his release, he still sees executions go on. He believes that some of the executed, like Troy Davis, are innocent. But now, as he speaks across the world, as he meets with governors and college students, he's no longer helpless to stop them.
* A previous version of this story switched the states in this paragraph.