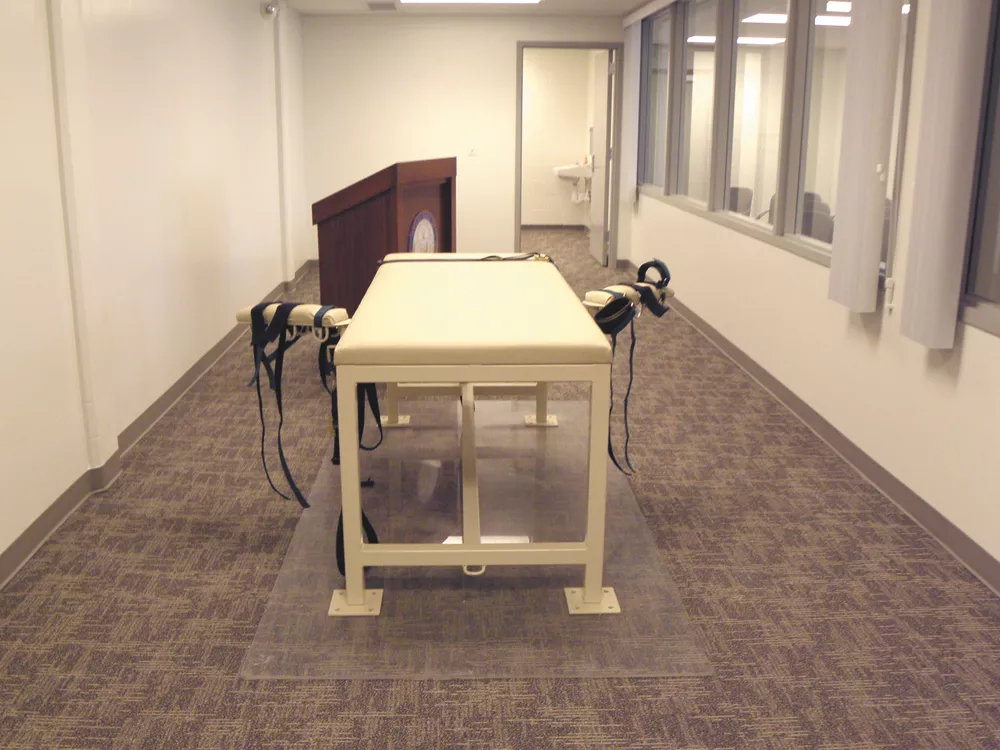 Michael Graczyk has watched more than 300 men die. As a journalist for the Associated Press, it's been his responsibility to look into the death chamber in Texas and observe the final moments of the condemned.
He's seen a needle pop out of a dying man's arm, and the deadly solution squirt out. He's seen an inmate smuggle a handcuff key in his mouth — and then spit it out before he was killed. He still recalls the look on convicted killer Gary Graham's face as he prepared to die in 2000. And he was there to hear Graham's last words:
"They are killing me tonight. They are murdering me tonight."
"I don't think there's any power the state has that's greater than the power to take someone's life," Graczyk says. "We fulfill … the proverbial watchdog role of journalists, making sure the state is conducting its business in an appropriate fashion."
Journalists like Graczyk take their role as public witnesses seriously and fight to preserve it. But in Texas — as in Idaho, Washington and Montana — journalists have been prohibited from witnessing certain moments of the process — as inmates are led to the death chamber, strapped in place and hooked up to the lethal drugs that will kill them.
That may now change. Last Saturday, only a few days before Idaho's execution of Richard Leavitt, the Ninth Circuit Court of Appeals ordered that Idaho open every single step of its execution for public viewing.
The impact of the ruling was swift. On Tuesday morning, when Leavitt entered the death chamber, prison officials immediately opened the viewing blinds. Leavitt, who was convicted of repeatedly stabbing and mutilating a 31-year-old woman in Blackfoot, Idaho, in 1984, was pronounced dead at 9:25 am.


This isn't the first time the Ninth Circuit has made this ruling.
It made essentially the same ruling — requiring full viewing of executions — a decade ago, in a case in California. But several states in the Ninth Circuit have continued using policies that limited viewing.

In response, a coalition of news organizations, including the Associated Press and the Spokesman-Review, asked Idaho to change its policy.
Idaho refused, arguing the 2002 California case didn't apply.
In fact, Idaho used the privacy rights of the inmates being executed to justify limiting the viewing.
"Few of us know with certainty when or how we will die," the State of Idaho argued in court documents. "If we did, would we want our full gamut of emotion, or our contemplation of eternity or cessation of existence, or our regret or defiance, on display? Or would we prefer some final, private moments during the arrangements for the execution before the curtain is opened?" The more compelling argument, according to the court, was protecting the anonymity of the execution team. It's the same reasoning used in Washington.
"That's something that we make it clear, as part of their agreement to be part of the execution team," says Chad Lewis, director of communications for the Washington State Department of Corrections. "We assure the participants that their identity remains secret."
To allow reporters to witness the team preparing the inmate for execution would violate that promise, he says. Not all witnesses are reporters — and some may want retribution against the team.
But the Ninth Circuit had addressed that concern a decade ago.
Surgical garb, it found, was more than enough to conceal the team's identities.
"The State [of Idaho] has made no serious attempt to explain why medical team members in Idaho might be less likely to remain anonymous than those in California or why any risks that they might face upon public exposure would be greater," Ninth Circuit Judge Stephen Reinhardt wrote in the opinion.


Reporters who have witnessed executions call it an important duty for the press. After all, sometimes things can go wrong.
Tampa Bay Times reporter Chris Tisch has seen it happen. The execution of Ángel Diaz was the third Florida execution he'd covered, so he knew about what to expect.
But when the toxic cocktail was injected, minutes ticked by, and when Diaz should have died, he was somehow still alive.
"His mouth would bob open like a fish," Tisch remembers. "He would kind of jerk."
Later Tisch published his notes, marking down the exact times. "6:13: Still breathing. His body tenses and he coughs again. 6:14: Still breathing. 6:15: Still breathing. Mouth agape. Deep breaths."
Thirty-six minutes passed before Diaz died, over twice as long as usual. It turned out that the needles had been improperly inserted.
"This is a perfect example of why you'd want the press to see the execution," Tisch says. "In this case, the Department of Corrections, after it happened, acted like nothing went wrong. … If something went wrong, I think we would want it documented instead of potentially covered-up."
Tisch says it "may have caused pain and suffering, which may have violated the Eighth Amendment," prohibiting cruel and unusual punishment.
Yet, in that case, Tisch didn't see the execution's preparation, like the Ninth Circuit required of Idaho. He's not sure how much more useful it would have been. "It's never even crossed my mind before, to have wanted to see that," he says.
But attorney Chuck Brown, who represented the Idaho news media in the most recent case, believes that a full viewing of an execution is of philosophical importance.
"Capital punishment is one of the hottest topics of debate. You can't have that debate without the process being totally open for viewing," Brown says. "You can't make an informed decision without being fully informed."