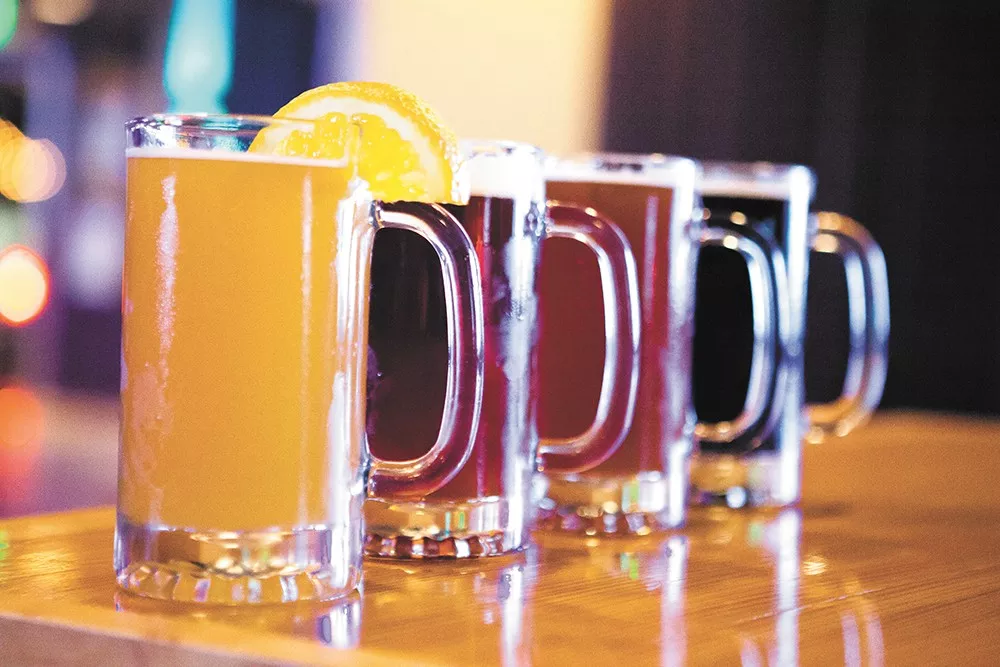 Third Annual International Marmot Beer Festival
River City Brewing, 121 S. Cedar
Saturday, Dec. 2 from 3-8 pm
River City's Midnight Marmot Imperial Stout is the namesake for this annual festival. Here, you'll find eight variations of the big-body stout inspired by regions throughout the world. From the China-inspired orange and star anise to the French cognac and oak chip-aged Marmot, there's a variant to please everyone. To top it off, River City will also be pouring their Grand Cru, a blend of five 2016 releases. Tickets are available now at the brewery and include eight two-ounce samples of each beer and a 12-ounce pour. Tickets are $20 in advance or $25 at the door.
Firestone Walker Christmas Party and Tap Take Over
Community Pint, 120 E. Sprague
Thursday, Dec. 7 from 5-10 pm
Firestone Walker Brewing Company invades Community Pint for the evening with 10 taps, including five speciality beers, like the Bretta Rosé, an oak-aged Berliner Weisse style ale with raspberries. They'll be joined by four guest taps from Georgetown and Fremont Brewing. Firestone Walker is also on site to serve up complimentary flapjacks to all attendees. Flights are available in six-, 10- and 14 four-ounce pours, and will be served throughout the weekend. Prices range from $14-$30.
Third Annual Winter Jubilee
Casper Fry and Perry Street Brewing
Monday, Dec. 11 at 5:30 pm
The two local neighbors of Perry Street Brewing and Casper Fry are teaming up for a five-course beer pairing dinner. The night starts with the first course served at Perry Street Brewing, then the party moves down the street to Casper Fry, where the four remaining courses are served. Spots are limited, and the meal costs $65 per person, including tax and gratuity. To make a reservation call the brewery at 279-2820 or Casper Fry at 535-0536.
12 Beers of Christmas
Manito Tap House, 3011 S. Grand
Tue, Dec. 12 through Sat, Dec. 23
Each day, for 12 consecutive days, Manito Tap House is tapping a rare or speciality beer. Participating breweries include Bear Republic, Avery, Boulevard, Firestone Walker, Fremont, Cascade and Pfriem. Beer styles range from imperial stouts and barleywines to barrel-aged sours. There will be many exclusive beers to choose from, like Fremont's 2014 Bourbon Barrel Aged Dark Star Spice Wars. The three-year vintage imperial oatmeal stout is aged in 15-year-old Kentucky bourbon barrels with vanilla, cinnamon, nutmeg, allspice, ginger and cloves.
Barrel-Aged Beer Tasting
Beerocracy, 911 W. Garland
Monday, Dec. 18 at 6 pm
To continue the barrel-aged fun, Beerocracy is hosting a joint tasting featuring all three 2017 variants of Fremont's Bourbon Barrel-Aged Dark Star and Deschutes' The Abyss. The two imperial stouts by top Pacific Northwest breweries are similar in idea, but vastly different in execution. This year's Bourbon Barrel-Aged Dark Star is a blend of ales that have been aged for eight, 12 and 18 months in Kentucky bourbon barrels. Variants include Coffee Edition and Spice Wars. The Abyss is a blend aged in bourbon, Oregon oak, and Pinot Noir barrels. This year, the Abyss variants were aged in rum and tequila barrels. There's also set to be a handful of other barrel-aged beers from Deschutes, Fremont and other breweries.