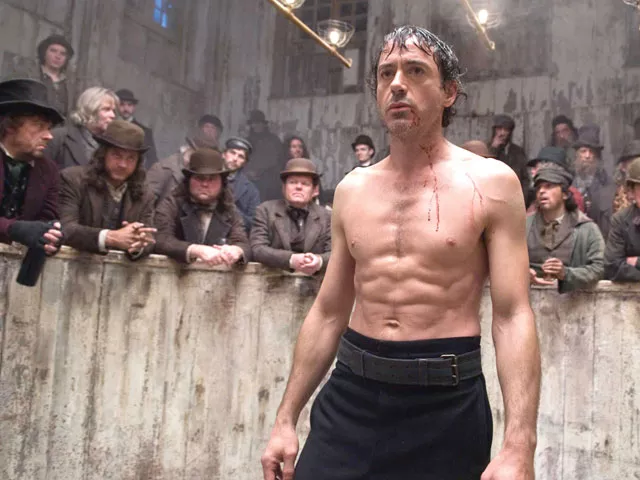 It's difficult to find the exact number, but preliminary research shows that between movies and television, this is about the 300th film made about Arthur Conan Doyle's deduction-minded sleuth Sherlock Holmes. And while Basil Rathbone, who played the character a dozen times in the 1930s and '40s, will likely remain the face people conjure up at the mention of Holmes, Robert Downey Jr. gives us a wise and witty portrayal of him in this newest adventure.

Directed with feverish and stylish aplomb by Guy Ritchie (Snatch, RocknRolla and, unfortunately, Swept Away), the film bursts into action at the opening frame, with cameras hurtling down the cobblestone streets of London — probably in the late 1800s — while Holmes has to, in a matter of minutes, dispatch an unaware guard, then rescue a damsel in distress from the vile Lord Blackwood (Mark Strong), who has a thing for practicing the black arts.

But fear not. This isn't one of those films that won't let you catch your breath. Before long, three months have rolled by, and Holmes, who is prone to moodiness when he's not working, is in a funk, holed up in his room, and tired of conducting chemical experiments on his bulldog.

Bring on dapper Dr. Watson (Jude Law), Robin to Holmes' Batman. It's Watson, his often-unwilling partner-in-crime fighting, or at least detecting, that shares Holmes' address, if not the same decrepit apartment, at 221 B Baker St., and it's here that he announces to Holmes, in one of the film's few unnecessary plot lines, that he's going to marry Mary (Kelly Reilly).

The film is as much a study of Holmes' habits and inner workings as it is the story of his going up against Lord Blackwood, a five-time killer who's finally brought to justice and only then reveals his own determined plot to achieve world domination. It's Holmes who dabbles with making order out of chaos through his use of a large bottle of flies and music theory. It's Holmes who likes to talk out loud, to himself. It's Holmes who, when out in the world, can't help seeing and hearing everything around him in detail — sometimes subconsciously using the process of deducing, even if he's not on a case.

Aided by a smooth and graceful assist from Law, Downey owns the film, using his darting eyes and curious face and, when called for, his in-shape body to create a different kind of Holmes than has been seen before. He can be simultaneously funny and serious, and proves to be as fast on his feet as he is in his mind.

The introduction of the mysterious Irene (Rachel McAdams) complicates the story nicely, but McAdams is slightly off her game, and the character needs to be filled out more. Yet it's obvious from the way that Holmes and Irene gingerly dance around each other that they have a past that could fill a film.

Any Guy Ritchie fans worrying that he's crossed over into mainstream fi lmmaking need not be concerned. He's totally in his element in a number of fi ght scenes, employing his fractured, comic style of fast editing mixed with slo-mo and even still shots of blows being landed. But this is also his most successful attempt at telling a ripping yarn with popular appeal and just enough of his fl ourishes to totally satisfy his fans. He's made a funny, actionpacked, dazzling period piece. A sequel is already scheduled for release in 2011.