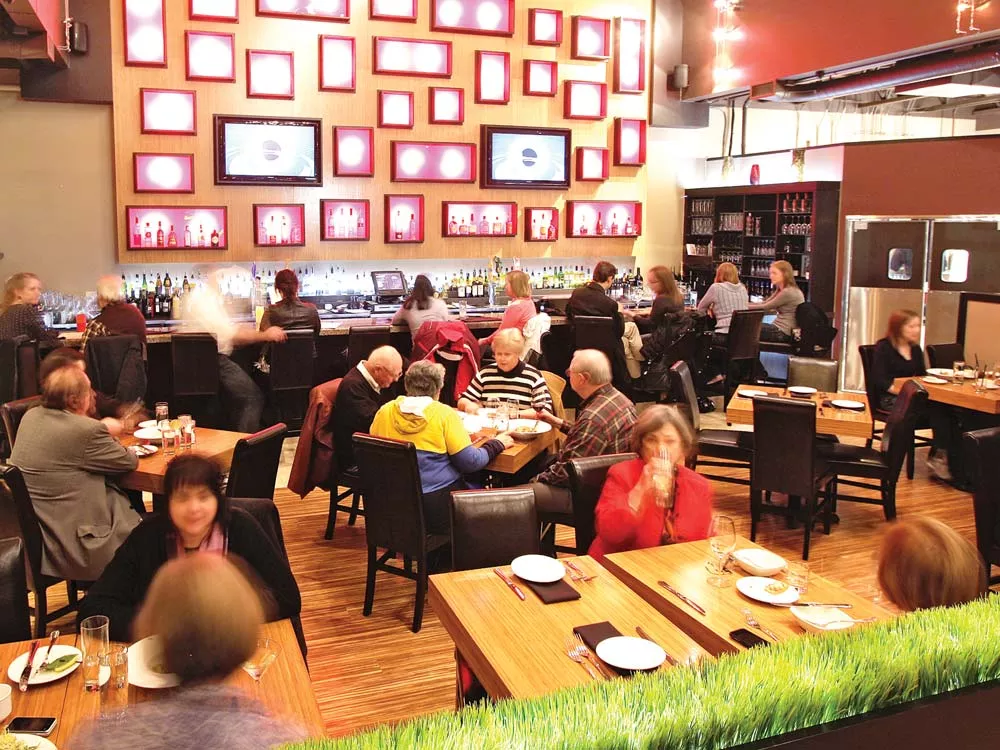 Many were no doubt drawn to Savory to inspect the dramatic transformation of the former Blockbuster video store. And having been named Best New Restaurant in The Inlander's recent readers poll, Savory Restaurant and Lounge showed it has found a place in diners' hearts.
My companion and I stopped in with a couple of friends on a recent weekend evening. Although we were dining a little later than normal (due to a rigorous basketball-watching schedule), the restaurant was still crowded. Our reservation paid off with a nice table by the windows that was ready when we arrived. I had a good view of the lounge, where flat screens over the bar pulsed with iTunes visualizers in time to the peppy jazz overhead. The bare bamboo tables are small enough to allow easy conversation despite the restaurant's hum of activity.
Although it opened last fall, it wasn't until January that Savory settled on an executive chef. That's when Jonathan Holden, formerly of Spencer's Steak and Chops, arrived and, according to our server, took charge of the menu and "made it his own."
Our server recommended the signature Mason jar appetizer ($10) as a starter. In this unique presentation, a small canning jar is packed with goat cheese, marinated olives, dried tomatoes, pickled peppers and oil, warmed gently and then upended on a platter, spilling out savory contents to be lapped up with grilled bread. One of our friends — who was a picky eater as child — was initially apprehensive about the appetizer's description. But when the chef appeared from the kitchen to do the jar inversion, there was nothing to do but give it a try. And she liked it — in fact, we all enjoyed the variety of taste combinations and texture options, and the portion was adequate to split four ways. I can imagine this rather light, cheerily colorful appetizer being elevated from good to great when the weather warms to allow dining on Savory's nearly finished patio.
On a prior visit we sampled the house-made mozzarella wrapped in prosciutto ($12), and I especially loved the accompanying fig mustarda. On my next visit, I think I'll try the fried calamari with saffron aioli ($10).
The Savory signature salad ($6) features a nice blend of artisan lettuce, along with candied hazelnuts and gorgonzola cheese. I enjoyed the kick of the flavorful vinaigrette dressing. The house-made focaccia bread was light and fragrant, nicely accented by a mildly flavored soft butter spread.
In keeping with the needs of a large restaurant, entrees at Savory are all over the map in terms of price and style. Pasta options include a pappardelle Bolognese ($18) with braised beef short ribs and andouille sausage, as well as a vegetarian option: "matchstick" pasta with roasted mushrooms, peppers, goat cheese and arugula ($17). There's chicken pot pie ($15), or for the more adventurous poultry fan, a cast-iron seared "savory chicken dinner" with celeriac potato puree ($18). Or consider the Breakfast for Dinner option ($13) — a frittata with bacon, sausage, potatoes and cheese.
Seafood is also a prominent menu feature and specials are crafted around what's fresh and available. On the night we visited, a halibut entree ($28) with a wine butter sauce proved to be delicious: The fresh fish was perfectly cooked to show off its sweet taste and delicate texture.
I opted for the grilled scallops and prawns ($21), one of the most popular dishes on the menu, according to our server. The sidekick of risotto was delicious, and I was intrigued by the intense flavor of preserved lemon jam. It was presented almost as a garnish on the plate but added a unique flavor to the dish. My only complaint was the prawns were simply undercooked: blue-gray and unappealing. It was too bad: The flavors of the oregano and chili marinade were great when I sautéed up my leftovers for lunch the next day.
The roasted veggies on the plate, while soft and tender, were lukewarm.
More successful was the beef short rib dish ($20), which apparently takes days to prepare. The beef is falling-apart tender, in a sweet sauce brave enough to boast dried prunes, as well as green olives and capers. Some of our party found the rich dish a little on the sweet side, but I liked it, especially in concert with the sage-infused fried polenta it sat on.
Given Chef Holden's former tenure at Spencer's, my companion wasn't too surprised to find his rib eye steak ($29) expertly prepared. What was unexpected was the elegant potato squash gratin that accompanied the steak, and a healthy serving of piping-hot roasted winter veggies. Still, the star of the platter was the hand-cut, Black Angus steak, seared on the applewood-fired grill, and served with a flavorful peppercorn Bordelaise sauce.
Dessert was a flourless chocolate cake with raspberry coulis and strawberry-basil ice cream ($6). The preparation was tasty, though the consensus in our group was that the cake was on the dry side. The addition of basil to the ice cream and on the plate added a fascinating depth to the berry flavors. I appreciated the effort to elevate a fairly common concept into something a little unexpected.
Our chatty group was impressed with the service throughout the evening. Water glasses were frequently but unobtrusively refilled, and our server was discreetly attentive. Adding to the convivial atmosphere were the chef's strolls through the dining room. He seemed to thoroughly enjoy his new post, as he inspected dishes and queried diners. It's that kind of attention to detail that will keep diners not just coming to inspect the unique interior, but returning for the carefully crafted food.
Savory •1314 S. Grand Ave. • Open Mon-Thurs 11 am-2 pm and 5-9 pm, Fri-Sat 11 am-10 pm, Sun 4-8 pm • savoryspokane.com • 315-8050