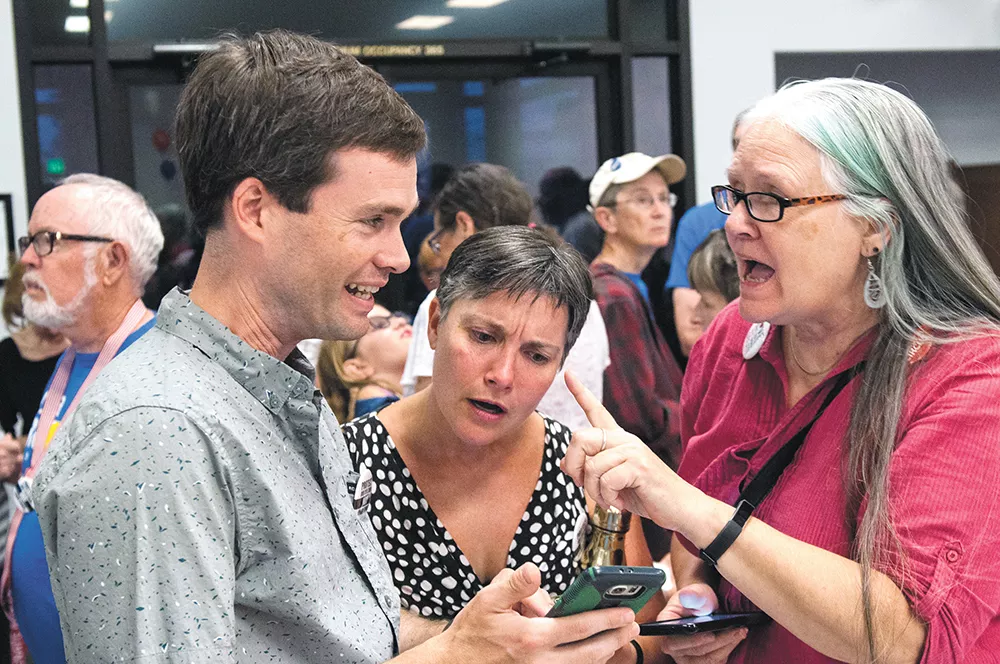 The Spokane County Democrats needed a win.
"You know how crappy I felt on the last election?" Spokane City Councilwoman Kate Burke says. "I pretty much lost my heart."
When Burke uses the phrase "last election," she's not even thinking about her own election in 2017. That's how large 2016 looms in her consciousness.
Everyone at the Democrats' primary night party last week remembers 2016, of course. They were sure they were going to win. But the next thing they know, Trump is president.
The results of a primary election not only determine the top two candidates to move on to the general, but they can also serve as either a rally call or a wet blanket. Andrew Biviano, former Spokane County Democrats chair, knows that well. Disappointing primary results can destroy the party's enthusiasm and momentum, he says. Volunteers stop signing up. Donations dry up.
But then last week, the results start to come in.
"Lisa Brown — " Biviano starts saying. He holds his phone out to show the bar graph on the Washington election page.
" — Lisa Brown is up!" his wife Amy yells. Whoops and cheers ring out as the news spreads.
As early Spokane County results are made public, Brown, the Democratic candidate, is actually ahead of incumbent Rep. Cathy McMorris Rodgers. Later, as numbers from elsewhere in the 5th District roll in, McMorris Rodgers moves a few hundred votes ahead.
Biviano is happy. Burke is ecstatic. She says it feels like the opposite of 2016.
But Biviano also offers a note of caution: There are still lots of votes to be counted in the next few days that will probably benefit Republicans.
"It's never broken our way after election night," Biviano says. "The later vote goes Republican."
Indeed, over course of the past week, each new tally of remaining ballots puts Brown further and further in the rearview mirror.
TOSS-UP?
It wasn't just local observers who were shocked by the strong initial showing from Democrats throughout Washington state. One national observer, Kyle Kondik of Larry J. Sabato's Crystal Ball, moved McMorris Rodgers' district from a "Lean R" to a "toss-up."
CNN's Harry Enten also said the race could be a toss-up and was "stunned at how poorly the GOP is doing in Washington's top-two primary."
Initially, McMorris Rodgers had led Brown by only a couple hundred votes. But by this week, McMorris Rodgers was leading Brown by more than a 6,400 votes across the district.
If you added together all the votes for Republican or "Trump Populist" candidates in the primary, Brown was behind her Republican rivals by nearly 9 percentage points. Not exactly a toss-up.
Over the next few days, outgoing Republican state Sen. Michael Baumgartner snarks on Twitter at media outlets that trumpeted Democrats' early leads. Like Biviano, he knows that Republicans in Eastern Washington tend to vote late.
"I think Republicans tend to be a bit more discerning before finally voting," Baumgartner says.
Yet, just by getting more than 45 percent of the vote, Brown is doing better in the primary than any Democrat has in the 5th District primary since 1992.
That alone suggests that a Democratic wave is coming. Even if it doesn't wash McMorris Rodgers overboard, as locals Dems hope, Republicans may not be steering the ship after it passes.
THE SIXTH SENSE
On primary night, Madeline Brown, campaign manager for 6th Legislative District candidate Jessa Lewis, can't stop laughing.
"Holy shi-i-i-t. Oh my god," Madeline Brown says. She's still laughing. "Oh my god. I'm just so happy that everyone who I have worked with, everyone who I have doorbelled with, everybody is kicking ass, and I am just so happy and so excited."
The excitement leaves her out of breath. At that moment, Lewis was narrowly beating her opponent, state Rep. Jeff Holy, for the seat Baumgartner left open. Kay Murano, the candidate running against incumbent Washington state Republican Rep. Mike Volz, was winning, too.
"Kay Murano knocked on like probably 6,000 doors on her own," she says. "Jessa probably knocked on 4,000."
As more votes were tallied during the next week, Holy pulled past Lewis. Now, he's 3 percentage points ahead. But Lewis doesn't seem to be bothered.
"Doesn't matter if we end up a couple of votes ahead or behind," she says on Twitter. "We exceeded expectations with a double-digit swing and we look forward to a real race in the general in a district that isn't known to be competitive."
Consider the contrast: In 2016, Holy defended his House seat in the Legislature against Shar Lichty, who had run for Spokane mayor the year before, and yet Holy walked away with an 18-point lead in the primary.
But today? The Democrats vying for Holy's old seat in the 6th Legislative District still have slightly more votes than the Republicans. Murano clings to her lead over Volz by 64 votes, at last count.
Generally, the 6th District leans about 3 percentage points to the right, Baumgartner notes. It's a mostly suburban district, and recently Democrats have been making a lot of gains in the suburbs.
"While I'm very confident that Republicans will hold that seat come November, it is a competitive race," Baumgartner says.
Biviano, meanwhile, says that the recent returns haven't dampened the initial Democratic enthusiasm at all.
"The nice thing about the earlier returns is it makes the election night party all the better," Biviano says. "That's where the volunteers sign up and donations start getting made. No one really pays attention to what the final results are a week later." ♦