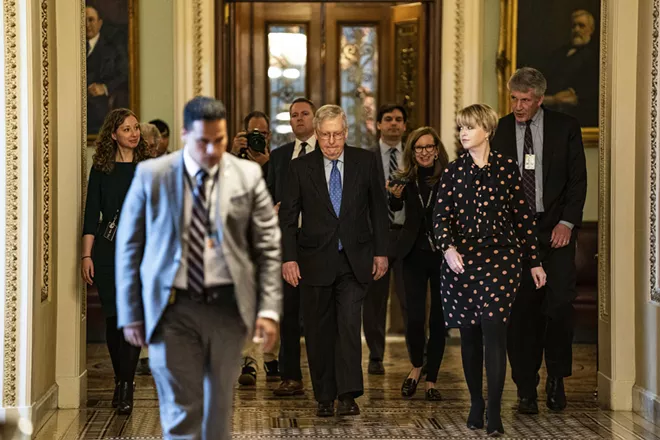 By Emily Cochrane and Nicholas Fandos
The New York Times Company
W
ASHINGTON —
Congressional leaders and Trump administration officials closed in on a deal Tuesday on a roughly $2 trillion economic stabilization plan to respond to the coronavirus pandemic, after agreeing to Democratic demands to add oversight requirements for a $500 billion government bailout fund for distressed companies.
Negotiators were hammering out the final details of the plan, which is aimed at delivering critical financial support to businesses forced to shut their doors and relief to American families and hospitals reeling from the rapid spread of the disease and the resulting economic disruption. With lawmakers and White House officials expressing optimism for an agreement, the measure could be enacted within days.
A crucial breakthrough came when Democrats won concessions from the Trump administration to add strict oversight over the $500 billion corporate aid fund, including installing an inspector general and a panel appointed by Congress to monitor it. The vast majority of the fund would go to the Federal Reserve to cover loans.
The measures are similar to those put in place as part of the Troubled Asset Relief Program, the centerpiece of the Wall Street bailout enacted in 2008 to respond to the financial meltdown.
Markets around the world rallied on the news that after several days of often contentious talks that left the fate of the stimulus measure in doubt, it appeared to be coming together. The S&P 500 rose more than 9%, its biggest gain since 2008. Stocks in Europe climbed as well, while major markets in Asia posted increases that ranked among their biggest in weeks. Shares of hard-hit industries most likely to receive aid, such as casinos and cruise lines, soared.
The measure would also provide $1,200 direct payments to taxpayers, substantially increase jobless benefits and send money to states struggling to weather a huge public health and economic disaster. Schumer said Republicans had agreed to extend unemployment insurance for an additional month at Democrats' insistence, for a total of four months. The two sides had previously agreed to expand the program considerably, to include self-employed and part-time workers who traditionally have not been eligible and to cover 100% of wages to the average worker.