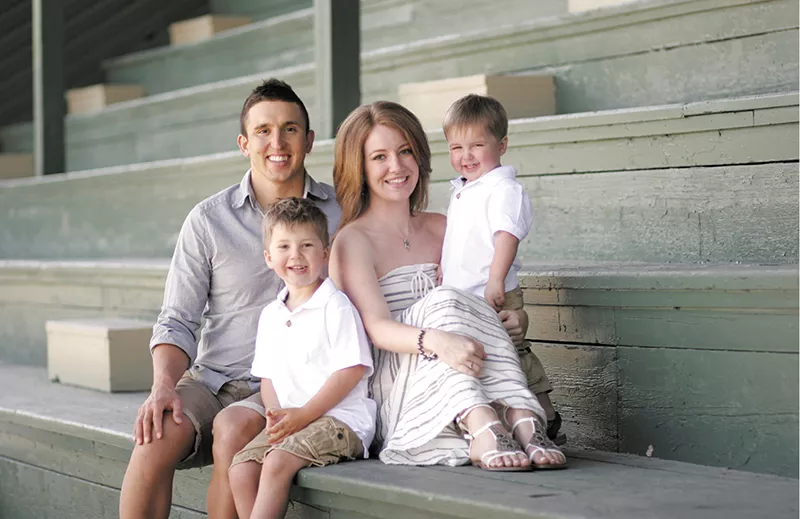 December 7, 2007 is forever etched into Spokane resident April Bell's memory. Following months of vague gastrointestinal complaints, that was the day Bell's doctor finally diagnosed her with cancer. It was also exactly seven months after another important date for the then-30-year-old — her wedding.
Like most young brides, Bell did not foresee testing the 'in sickness and in health' vow so early in her marriage. But soon after being diagnosed with follicular non-Hodgkin's lymphoma — a particularly aggressive form of cancer typically found in patients many decades older — Bell was faced with crippling medical treatments, financial burden and uncertain fertility.
The American Cancer Society estimates more than 700,000 young people ages 15 to 39 are diagnosed with cancer each year in the United States. In fact, after accidental injury, cancer is one of the leading causes of death in this demographic. And despite treatment advances in both older and younger counterparts, the mortality rate for adolescents and young adults diagnosed with cancer has remained virtually unchanged for more than 30 years.
That's probably because these cancers tend to be more aggressive, less responsive to treatment and diagnosed later. Many young people may not consider themselves at risk for cancer and screening tests are not routinely provided. Others may delay treatment because they are uninsured. Even providers may prolong diagnosis by initially mistaking fatigue or stress for often vague presenting symptoms.
Those who survive find a cancer diagnosis can derail many of the normal transitions that occur during this time — things like forging ahead in careers and starting a family.
"It takes so much away from you," says Bell, who refers to her life in terms of BC and AC — before and after cancer.
When Post Falls resident Derek Garcia was diagnosed with testicular cancer in 2012, he did not have insurance. Young adults, like the 28-year-old Garcia, boast the highest uninsured rate of any age bracket. For them, a cancer diagnosis can be financially devastating.
After being diagnosed, Garcia eventually was able to obtain coverage through a government-sponsored high-risk insurance program. It's expensive and doesn't cover everything, but he says he is grateful to have it.
"For the short time that I had to deal with the aftermath, it was scary to think what life would be like if I was sick for an extended period of time," says the married father. "My career would have been impossible to continue had it been worse." Because of early detection, Garcia, a professional triathlete, did not require radiation or chemo following his surgery.
For Bell, the process was more complex. "It hit us so hard," she says, referring to her thick stack of medical records as War and Peace. After initially undergoing 11 months of chemotherapy followed by two years of maintenance therapy, Bell has been in remission since February 2009. But complications — including peripheral neuropathy and a chemo-related immune disorder — still plague her. Bell, who works as a pediatric oncology nurse, worries that future changes to her company's insurance policy might leave her unable to afford ongoing immune therapy that costs $14,000 a month. And because she says fertility options like banking eggs weren't discussed initially in her treatment, she's uncertain whether she'll be able to have children.
In addition to physical and financial stressors, a cancer diagnosis can isolate 20- and 30-somethings at a particularly vulnerable time in life.
Bell admits she couldn't identify with the largely older population who shared her diagnosis and avoided the offered support groups. She found herself isolated from her peers as well.
"They get tired of hearing about cancer," says Bell, relating that she eventually stopped talking about her health concerns with friends. "But it's just a fact of life for me." Instead, she networks online with other survivors who understand what she has been through. She admits it would be nice to receive similar support within her own community.
"We as a group need to be more vocal about what we need," says Bell of her co-survivors. "You can't just 'get over' cancer… we all suffer from PTSD."
Help At Any Age
Young Survival Coalition provides information and fundraising — including the annual Tour de Pink bike race — to benefit young women with breast cancer. This organization makes pink look good. youngsurvival.org
Stupid Cancer serves as the quintessential guide to surviving a cancer diagnosis at a young age while keeping a sense of humor (check out the "give cancer the bird" button). The nonprofit provides social networking for survivors and hosts an annual convention for survivors. stupidcancer.org
First Descents takes young cancer survivors and fighters into the great outdoors. Weeklong adventure camps are offered in categories such as surfing, kayaking and rock climbing, all with a focus on cancer survivorship. firstdescents.org