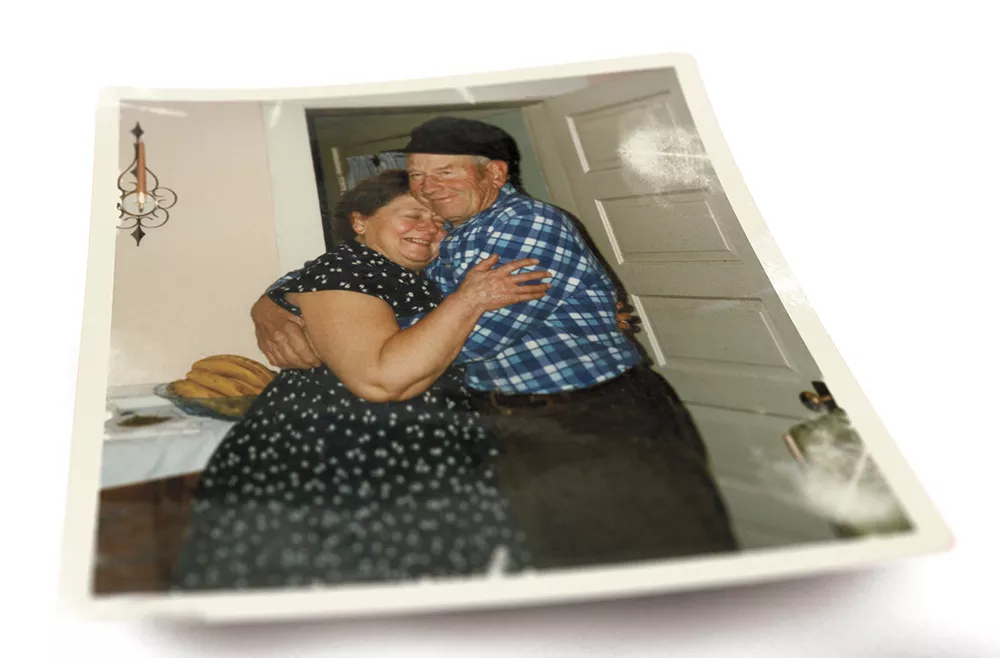 Enclosed in the broken glass and crushed steel of a crumpled 1969 Plymouth Fury, Margaret Nordhagen sits next to the love of her life. Both of them are dying. For more than 68 years, Floyd had held her steady. Together they carved out a simple life near Chattaroy, raising four children and scores of cattle on 80 acres of hayfield and black pine.
In his 92 years, Floyd boasted of few things except a strong heart and Margaret. A child of the Depression, he worked the Bremerton shipyard during World War II. He later logged, ran a salvage business, and for nearly 50 years farmed the land his parents tended before him.
While Floyd left school after eighth grade, Margaret, 88, graduated as valedictorian of her high school. She worked most of her life as a bookkeeper for both Montgomery Ward and her church. She insisted on managing the family's checkbook as well as the kitchen.
Never apart for more than a few hours at a time, the Nordhagens held together through good years and bad years, anniversaries and Alzheimer's, growing old side by side. She would follow him anywhere, and together they set out on a sunny October afternoon for a quick errand just 10 miles down the road. It's there on Newport Highway, north of Spokane, that the couple's car collides with a Ford pickup, cutting their trip short.
How do you say goodbye to such a man after such a long time together?
We can never know.
What is certain, though, is that as sirens close in on the crash site, Margaret reaches across the front seat. She grabs Floyd's hand.
Not to be left behind, she is still holding on as emergency responders check Floyd's fading pulse.
When Floyd Nordhagen was born in 1920, the automobile had yet to rise to its middle-class prominence under Henry Ford. Horses and trains still ruled transportation. Historians say only about 9 million vehicles were registered nationwide in 1920. That figure would nearly triple by the end of the decade. As of 2009, the U.S. Census Bureau estimates the country has more than 246.3 million registered vehicles.
Across the United States, motor vehicle collision fatalities have steadily declined in recent decades, but close to 35,000 people still die along our roadways each year. While crashes may not kill as many as heart disease or cancer, the Centers for Disease Control indicates unintentional injury accidents make up the leading cause of death for Americans younger than 45, and car wrecks top the list of injury accidents.
The National Highway Traffic Safety Administration reports at least 346 people have died in car crashes in Washington state this year, including 29 just last month. And October deaths came in below average, with less than half of the 60 fatalities in May.
The Nordhagens made headlines around the world on Oct. 13 after emergency responders found them holding hands in the wreckage. Local TV news drove their story to national networks. It seemed fitting they would go together, a small comfort out of tragedy.
But two other deadly crashes have shaken the Inland Northwest within days of that crash. Just eight days prior on Oct. 5, two 15-year-old girls died on a notorious curve in Spokane Valley. On Oct. 18, a young girl would be fatally struck while crossing Monroe Street.
From the halcyon days of cruising Division to family road trips to the morning commute, Americans live on the highway. But death travels those same streets, and we don't always make it where we're going.
Hundreds of students and community members pack the stands at the University High School football game on Oct. 11. An overcast Friday night, they gather with signs, face paint and tears in memory of their classmates Josie Freier and McKenzie Mott, who had died along a winding stretch of South Bates Road days earlier.
During a memorial assembly, the school retires Mott's soccer jersey, No. 9. A massive pile of toys fills the school gym, collected at the urging of Freier's family, to be distributed in their daughter's memory to area children in need over the holidays.
Family and friends remember the girls as bright, kind and outgoing. Mott played soccer through school and FC Spokane for eight years. Photos online show her dancing, making funny faces, practicing soccer drills and trying on clothes with friends.
"McKenzie Mott's tragic end is the stone that the Lord has thrown into the pond of life we all live in," her family writes in a statement, "and its ripples have touched all of us in this community in some way."
Freier left notes online describing her love of family, coffee, shopping and reading. She posted photos of holiday celebrations, movie quotes and celebrity crushes. She played silly games with her younger sister and doodled flowers on graph paper.
In one unattributed poem posted to her Instagram account, she longs for the experiences she will miss: "things that i will never accomplish, places i will never go, and people i will never be able to love."
Homecoming pictures from last year show Freier and Mott smiling in pink and yellow dresses. They pose arm in arm with classmate Preston Maher, who would receive his driver's license the day before the three loaded into his parents' Infiniti I35 on Oct. 5, speeding away toward the "Ponderosa Jump."
As Marvin Nordhagen pulls up to his parents' farm, the scattered cattle start bellowing across the lower field. After a decade of daily visits to check on his folks and tend the livestock, most cows know the sound of Marv's approaching Ford F-150 pickup. A couple of dogs rush to greet him.
Marv, who has an identical twin brother named Melvin, says his parents lived simple, unassuming lives. Their two-story farmhouse, originally built in 1882, has turned gray with age. Several windows have been boarded up and a blue tarp covers one addition.
Stacked and strewn about the property sit rusting tractors, aging RVs, car parts, wood piles, tools and building materials.
"The thing about Dad, he's a child of the Depression," Marv says. "Pretty much everything he ever owned, he still owned. ... Dad wasn't a hoarder in the sense of needing to have stuff. He just couldn't stand to see it thrown away."
While Marv checks the house, the two dogs nose the nearby grass. A dozen cats prowl between the outbuildings. Marv says his father had a weakness for animals, often naming his cows. He especially loved kittens, white ones most of all.
Margaret spent 34 years with Montgomery Ward, tracking the local department store's finances. Marv says she often trained the men who would later rise to become her boss. Family members remember her as a "world-class" worrier, who always knew what to do in a crisis.
Marv's wife Lynn says Margaret also did all the cooking, serving impressive multi-dish meals during holidays. She cooked many of those meals on a wood stove in the corner of the kitchen.
The Nordhagens went to church service multiple times a week, attending Elk's Country Church of the Open Bible in recent years. Marv says they gave as much as 20 percent of their modest earnings to charity. They never turned away a neighbor in need.
In recent years, Alzheimer's stole Margaret's short-term memory. Her "recorder" had broken, Marv says. The family had to take away the checkbook. She could no longer be trusted around the stove.
Marv says his parents became even more dependent on each other then. He doubts either would have survived long alone. But he still seems somewhat baffled by how their deaths have resonated with so many people in so many different places.
"They never cared about impressing anybody," he says. "Never did a thing in their lives to draw attention to themselves."
Washington State Patrol troopers direct evening traffic around the mangled shell of the blue Plymouth Fury. With paint, troopers mark where the two damaged vehicles came to rest. Collision technical specialists map out the scene, calculating trajectories, velocities and measuring "crush" damage. Amid the debris, they triangulate the likely point of impact between the vehicles.
Trooper Jeff Sevigney, who once served as a WSP collision "tech," says investigators will catalog everything from the weather to tire pressure to potential intoxication. With that information, they can reconstruct the factors in each collision.
"Every incident is different," he says. "Every incident leaves its own set of clues."
The incident report for the Nordhagen crash lists road conditions as bare and dry. The aging sedan showed no signs of defect. Visibility was clear and the temperature hovered near 57 degrees as the Plymouth approached the intersection at Lane Park Road.
Witnesses told investigators the southbound Plymouth failed to yield, turning left across the northbound lanes and "leaving no reaction time" for oncoming traffic. A white 2013 Ford F-150 slammed into the front passenger side of the Plymouth and shoved it off the road.
Vehicle measurements show two tires went flat. The right-side mirror had been sheared off. The Plymouth sagged at least four inches to the right. And a ball joint beneath the vehicle cut a long gouge across the highway asphalt as the car wrenched sideways.
The first trooper arrived within three minutes, the report states. Fire crews had started CPR on Floyd within seven minutes. They started CPR on Margaret moments later, just after Marv arrived at the crash following a call from a family member.
Floyd and Margaret Nordhagen died at the scene. Their son says they were turning into the Big R Store to pick up cat food. They planned to stop at McDonald's for hot-fudge sundaes afterward.
Approximately 10 miles away and five days later, Elayna Jayne Noel Burrows-Gust follows her mother and 7-year-old brother across Monroe Street. For a 5-year-old, Elayna had an outsized presence. Family members say it made her easy to love and hard to ignore.
"Her voice was as loud as her hair was red," family pastor Dale Jenkins says.
Elayna loved ponies and riding bikes and the color purple. Family members say she enjoyed her Bible study group and always asked them to turn up the stereo. An online video shows the girl romping excitedly as she awaits an episode of SpongeBob SquarePants.
She had her mischievous moments. More than once, she got into trouble with scissors, sometimes cutting her own hair or her brother's hair. She even tried cutting the cat's and the dog's hair.
And just a few weeks ago, Elayna had managed to get into some paint, Jenkins says. Her parents later discovered a series of tiny, colorful handprints stamped along the walls of their home.
Investigators say the streetlights had just started to flicker on along Monroe Street when the family stepped off the sidewalk shortly before 6:30 pm on Oct. 18. Sarah Burrows-Roberts, 25, had Elayna on one side and her son Evan on the other as they crossed just north of Mansfield, near the Cenex gas station.
Witnesses say the family made it to the inside northbound lane before a passing car hit them. The driver, a 67-year-old woman, told police she didn't see them until she was "right on top of them." Her passenger never had time to utter any warning.
The next morning, the same day dozens gathered in Elk for the Nordhagens' funeral, Elayna died from her injuries at Sacred Heart Medical Center. Despite serious injury, her mother and brother have been released and are expected to recover.
Investigators have since pursued potential manslaughter charges against the mother after hospital tests detected methamphetamine in her system. The family has not commented.
Prayer candles, stuffed animals and wilted flowers line South Bates Road where it curves toward the Ponderosa Jump. Investigators say Maher was driving at near-highway speeds, allegedly trying to catch air off a rise in the road at Ponderosa, when his tire clipped the curb and catapulted the Infiniti into a nearby tree.
Freier and Mott, sitting on the passenger side, were killed. Maher suffered serious injuries and spent several days in the hospital. A month later, Maher answers the door at his family's two-story home. The teen has a small frame, made a couple inches taller by a spiked swoop of bangs. He introduces himself quietly and politely, but his family declines to comment on advice from an attorney.
The following day, the Spokane County Sheriff's Office submits a recommendation to charge Maher with two counts of vehicular homicide. Even as a juvenile, a conviction could mean a lengthy prison sentence. The case now goes to the Spokane County Prosecutor's Office for a final decision on whether to file charges.
In recent weeks, several others have died on Inland Northwest roads:
• On Oct. 13, the day of the Nordhagen crash, Melissa Connors, 32, of Osburn, Idaho, and Shannon Wheeler, 38, of Silverton, Idaho, died when their car crossed into oncoming traffic along Interstate 90 near Kellogg.
• On Oct. 17, Evelyn Emery, 93, of Spokane, crashed head-on into oncoming traffic along Highway 195, five miles south of Spokane. She died from her injuries four days later.
• On Oct. 19, Matthew Clark, 21, of Colville, died when the truck he was riding in rolled along Aladdin Road, north of Colville.
• On Nov. 9, Kelsey Heidecker, 20, of Spokane, was killed when the semitruck she was riding in struck a tree along Highway 195, seven miles south of Spokane.
• On Nov. 15, Rodella Wickard, 60, of Pullman, died when a Chevy pickup crossed into her lane and smashed into the car she was riding in along Highway 195, six miles south of Colfax.
"We don't like to use the term 'accident' because accident implies that it was unavoidable," Trooper Sevigney says. "People are driving cars and people aren't perfect. We all make mistakes and, unfortunately, sometimes when folks make mistakes, people die."
Many highway shoulders have become makeshift memorials. They collect flowers and crosses and beloved mementos. In Montana and other western states, long-haul truck drivers on crooked mountain roads can count the small, white crosses lining each curve to help judge how sharp or dangerous the turn may be.
Emergency responders see the same warnings. Sevigney says every trooper remembers the intersections or mileposts of their worst calls, often the places where children died. They watch American drivers, all of us, careening around in glass and steel, missing each other by a few feet, spared by mere inches.
"It's dangerous," he says. "We've kind of become numb to it — until it impacts you somehow personally."
Snow falls steadily outside the Heritage Funeral Home as about 80 people file into its small chapel. Portraits of Elayna, smiling and wide-eyed, sit near the entryway. Soft piano tempers the silence as mourners settle into their crowded pews. A small white casket rests at the front of the room.
Pastor Jenkins leads the group in prayer and opens the floor to share stories about Elayna. A few rise nervously. They tell of a sweet girl who teased her brothers, practiced Bible verses and left a mark on each person there.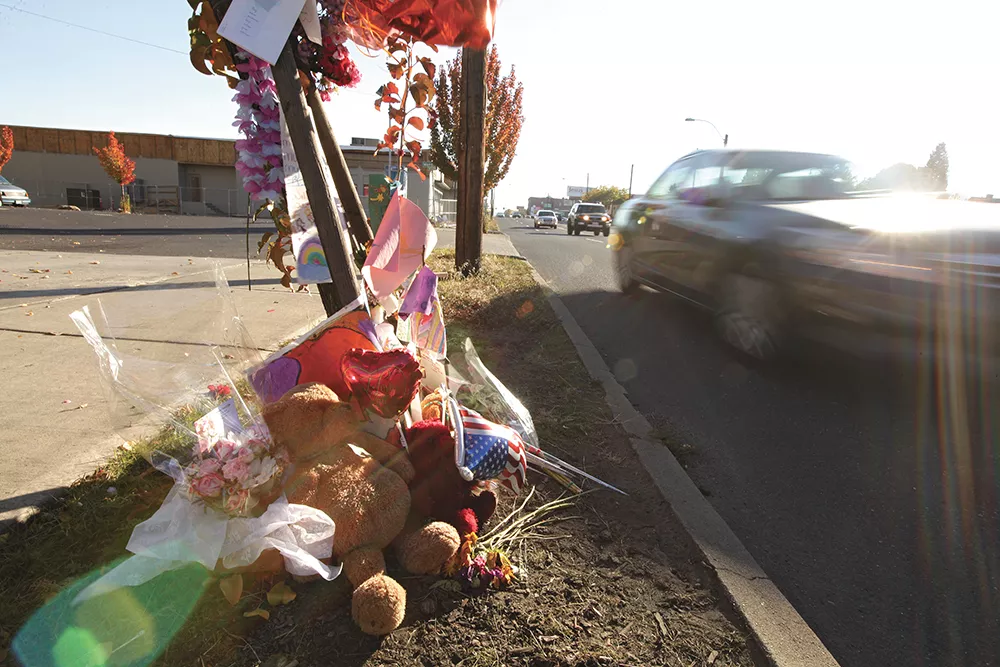 Jenkins offers that they may take comfort in Elayna's innocence. She has surely gone to her Lord in heaven. He has prepared for her a mansion.
"I'm pretty sure it has handprints on the wall," he says with a light chuckle. "If not already, I'm sure soon."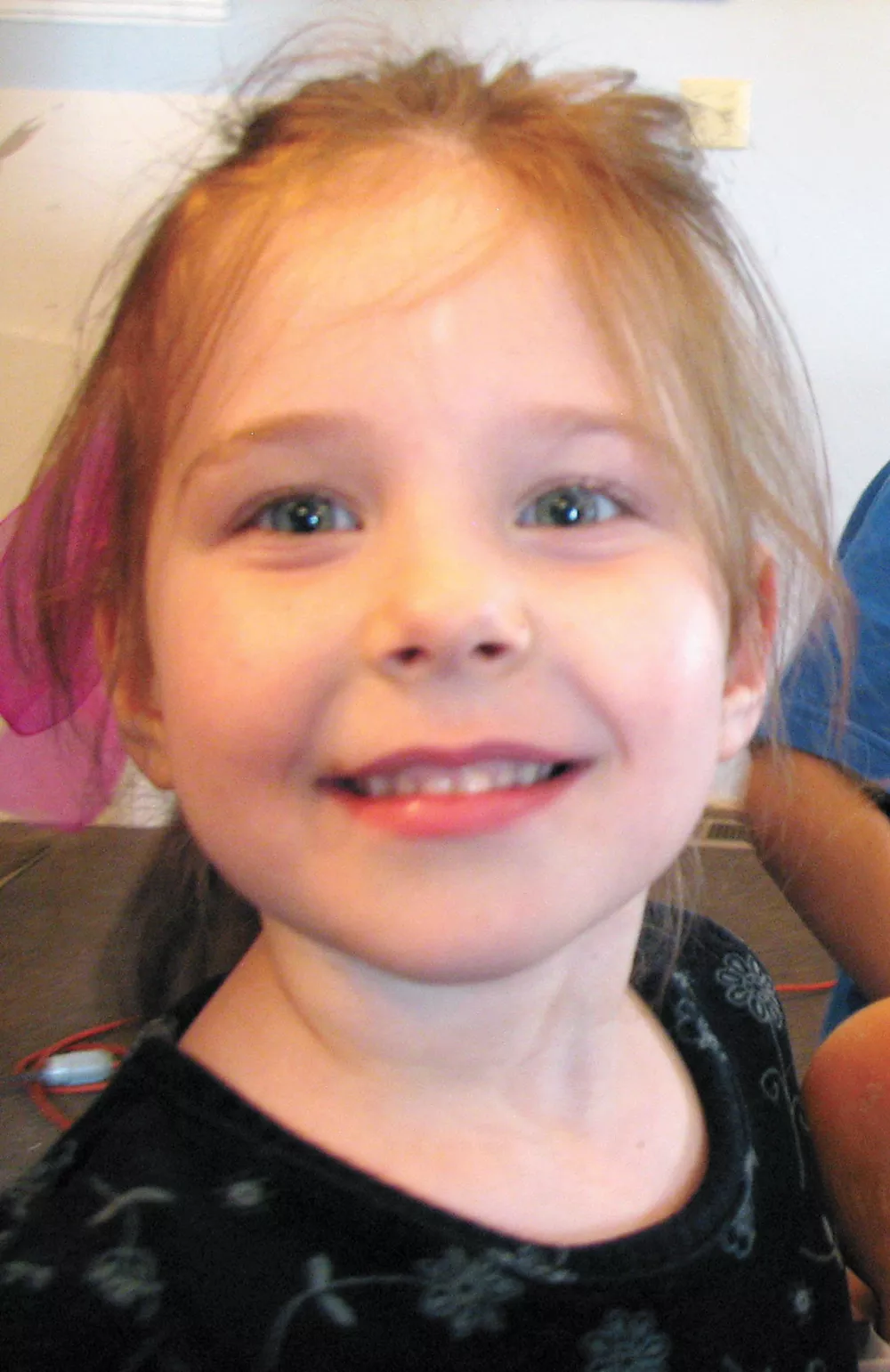 Together the group sings the children's hymn "Jesus Loves Me" over the quiet plinking of the piano. Her mother, released from the hospital just days earlier, sits near the casket. Loved ones kneel beside her.
Sorrowful music plays over a slide show of Elayna's life. Photos depict her as an infant, turning into a toddler, growing into a kindergartner. Tissue boxes circulate down each row.
Some mourners lean into each other's shoulders to weep as photos roll by of Elayna holding an Easter egg basket, standing in front of a Christmas tree, toting her backpack to school.
Many of the pictures come from the same holidays or gatherings, suggesting how difficult it can be to fill a slide show with so few years to look back on.
"A 5-year-old should not be gone from us," Jenkins says, adding, "There is a lot that we don't understand. There is a lot that occurs in this world where we don't know what to do."
But in Elayna's brief time, she touched many. Jenkins says he sees her outsized presence, her spark still shining within those who knew her.
Millions of commuters take to the road each day. Tens of thousands of Spokane drivers travel our shared roadways, connecting and crossing throughout the city. We speed along our parallel lanes. We merge in and out of each other's lives. We idle side by side at red lights, lost in our own journeys.
Some of us will not make it. The flashing lights and sirens will close in. Investigators will set to measuring. But some things cannot be measured.
Despite all the telling of stories, all the collecting of evidence, and all the calculations on points of impact, our trajectories and legacies remain mysteries. We all just keep careening around, intersecting and bypassing. Who knows what marks we leave on the people we pass by along the winding paths of our lives?
An incident report may catalog our birth dates, times of death and next of kin. But only those close to us will know whether we gave freely of ourselves, valued friendship or chased dreams. Only they will know whether we loved poetry or ponies or white kittens.
In recent days, Marv Nordhagen says he has come to terms with his parents' fate. Floyd and Margaret spent a lifetime together and now they rest side by side in the Chattaroy Cemetery. Their reliable Plymouth has gone to a towing company as scrap.
Marv says his parents lived on their own terms. They raised their children to believe they could accomplish anything. They took care of their neighbors. But beyond that, they exemplified a steadfast and uncommon love that even strangers could recognize as they clung together amid broken glass and twisted steel.
"You don't see a lot of real love in the world today," he says. "Not that kind of love. ... I think people want to have the kind of love that it looked like they had. That's why it grabbed people's attention."
Our paths may be uncertain and our destinations unknown, but if you look, there are lessons scattered along the road.♦