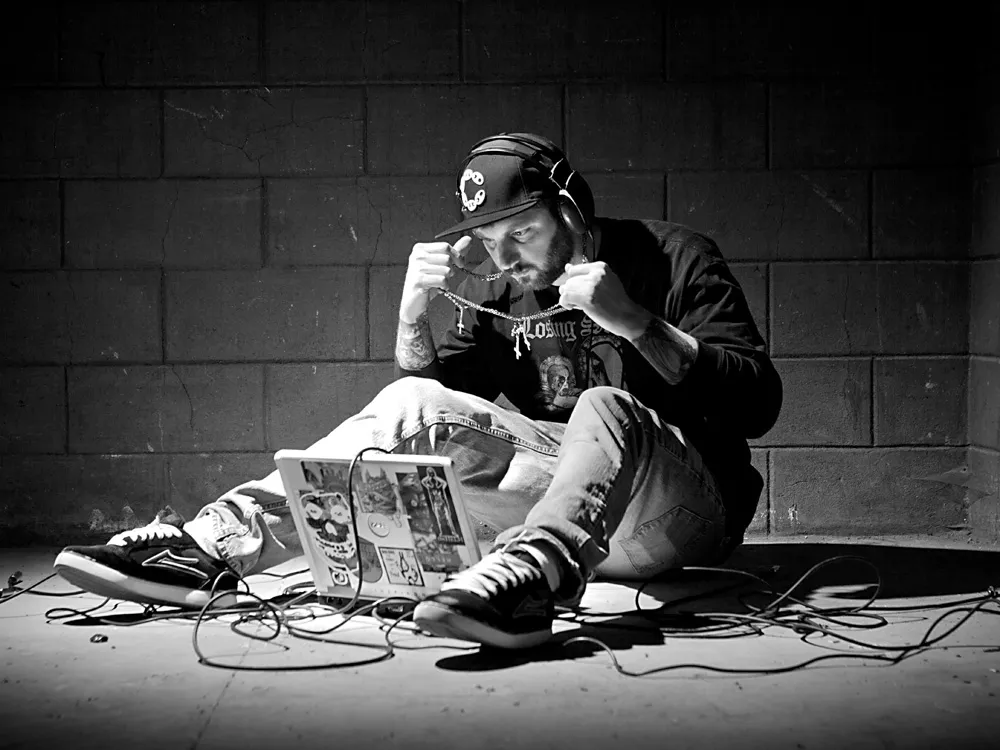 Dan Ocean's is a hazy world, where black tears drip down pretty girls' faces. A place of inverted crosses, funeral pyres and human skulls.
And in the last year, this world has gotten progressively darker. In the midst of releasing four new albums, several remix tracks and more buttons and T-shirts than any other local act, the electronic musician has delved deeper into the imagery of the occult. Even his song titles are cryptic — more often glyphic than alphabetic (like "C▲S▲BL▲NC▲").
And under his "Black Ceiling" pseudonym, Ocean (whose real name is Dan Cuccia)fleshes out how, exactly, the occult would sound. His songs explore doom and delirium.
Over the past six months — since Ocean was named one of The Inlander's 2011 Bands to Watch —his already dark sound has also become more reflective of the artist's hip-hop roots. On "H▲RP," from his latest record, groaning organs intermingle with an incessant police siren, and on "D▲VEY DR▲WINGS," a crystalline piano plinks alongside a barking junkyard dog.
That odd combination has made him something of a favorite among fans of underground electronic music. Last week, a reviewer on the music website Earmilk.com remarked that Ocean "somehow manages to pull off a Memphis rap feel," and his latest record "will change your life, I swear."
The day after his latest album, II, dropped on netlabel Aural Sects, we chatted with Ocean about why he's so inspired by scary stuff, and how he can possibly release four albums in less than a year.
INLANDER: You released Call Me Later in December of last year, and since then you've had a string of releases: Black Ceiling, Max Beta, II. How are you producing so much material?
OCEAN: I can't stop. It's my therapy. I am probably one of the very few artists who listen to their own music. I have made — and will always make — music for myself. It just happens that some people are into what I make. My new project dropped last night and I was working on music. I have hundreds of tracks that have never seen the light of day, other than my iPod. Even if I'm broke, working a shit job for lousy pay, and nobody gives a shit about me, I will still come home and crank something out. I like to impress myself.
This year saw you performing live for the first time. How is your music translating to the stage?
Performing live came about mainly because I was [one of The Inlander picks for] Bands to Watch. I had been thinking about doing live stuff, so it was a good excuse to start. I still need to figure out a live gig, more so than just present songs. Performing has never been a goal, so I do have mixed feelings about it. I love the feedback from people who see me and say they really enjoyed it. I'm like, "Huh they liked it?"
The new album is already getting some pretty incredible reviews. Do you feel like you have a unique perspective in the witch house world?
Yes, I do feel that way. I was making 'witch house' before it was a genre. Every once in a while, I will post a song from three or four years ago on my Soundcloud, as if it were just produced. My taste didn't change or reshape to fit this genre. When I discovered music in the same vein as what I was doing, my mind was blown. I didn't put myself out there or market myself as a 'witch house' artist. I just made my shit, and it was embraced by that crowd. I started making hip-hop beats, so I think the drums will never leave my blood.
What's the deal with all of the symbols? And why are you so into the occult?
Symbols are just a way to embrace the culture. Triangles, crosses, serpents are occult symbols that date back to forever ago. I didn't come up with them, but I embrace the idea. I love occult because it's the opposite of everything I was taught as a child.
This year you played Terrain and The Inlander's Volume show. How are mainstream audiences responding to what you do?
I can't be sure. I had a guy come up to me at Volume and say, 'Well, I guess I like witch house now.' It was pretty rad. I think, for the most part, it's understood: It's not for everyone. No doubt about it. I am passionate about what I do. It's my thing. I think people can tell, or at least appreciate what it is for what it is. A couple people came up to me at Terrain with shocked looks on their faces and told me how much they enjoyed my set. Those couple people were the only ones that mattered to me, if that makes sense.
What's been the most surprising thing that's happened with your music in the last year?
Just the fact that it's out there and people are liking it. Linking up with the label I'm releasing through, Aural Sects, has to be the biggest thing for me, as far as exposure. A group I am very fond of, AIMON, contacted me a few months ago to do a remix for a project, as they were fans of mine. That was very humbling. The great thing about this genre is it's new and small and has a weird coven-esque family vibe. Most of the people doing it, the real ones, are all friends, at least via Internet, as they are in different parts of the world. It's a gang without a leader or rank. Call it cult, satanic, whatever. It's still love.
Download Black Ceiling II at auralsects.bandcamp.com.