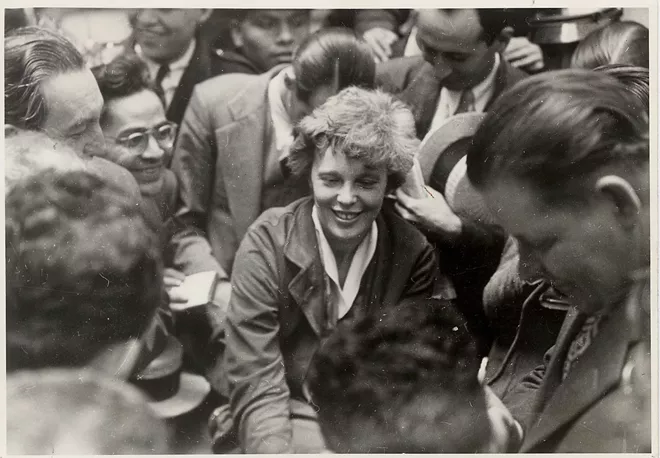 By JACEY FORTIN
© 2017 New York Times News Service
Since Amelia Earhart, the famous American aviator, and Fred Noonan, her navigator, disappeared somewhere over the Pacific Ocean during a 1937 attempt to circumnavigate the globe, groups of researchers and historians have argued over their fate.
Sunday was the 80th anniversary of the disappearance of Earhart and Noonan. So it is perhaps no surprise that National Geographic recently announced that a team of forensic dogs was being dispatched to a remote atoll to search for the duo's remains. And now History — formerly The History Channel — is debuting a documentary on Sunday about how Earhart may have ended up in Japanese custody.
Various forms of this theory have been tossed around for decades, but a newly discovered photograph is breathing new life into the idea.
The photo, which History said was found in the National Archives by a retired federal agent named Les Kinney, appears to show a tall, trousers-wearing, short-haired woman seated on a dock in Jaluit, an atoll in the Marshall Islands, with her back to the camera. It also appears to show Noonan and maybe even the Electra itself, on a barge off in the distance.
Shawn Henry, a former FBI executive assistant director who has been working with History to investigate the photo for about a year, said facial identification experts called it likely that the photos showed Earhart and Noonan.
"When you take it all together, to me, it's beyond a reasonable doubt," Henry said in a phone interview.
He sounded confident — just as confident, in fact, as Ric Gillespie, who may be the best-known proponent of an entirely different theory.
Gillespie is the executive director of The International Group for Historic Aircraft Recovery. He thinks the aviator landed her plane on an atoll (then called Gardner Island, now Nikumaroro) that is more than 1,000 miles away from the Marshall Islands.
This week, researchers from that organization are on their 12th mission to Nikumaroro in search of the aviator's remains. That voyage is the one being supported, in part, by National Geographic and four dogs.
"There is such a public desire for an answer to this mystery," Gillespie said.