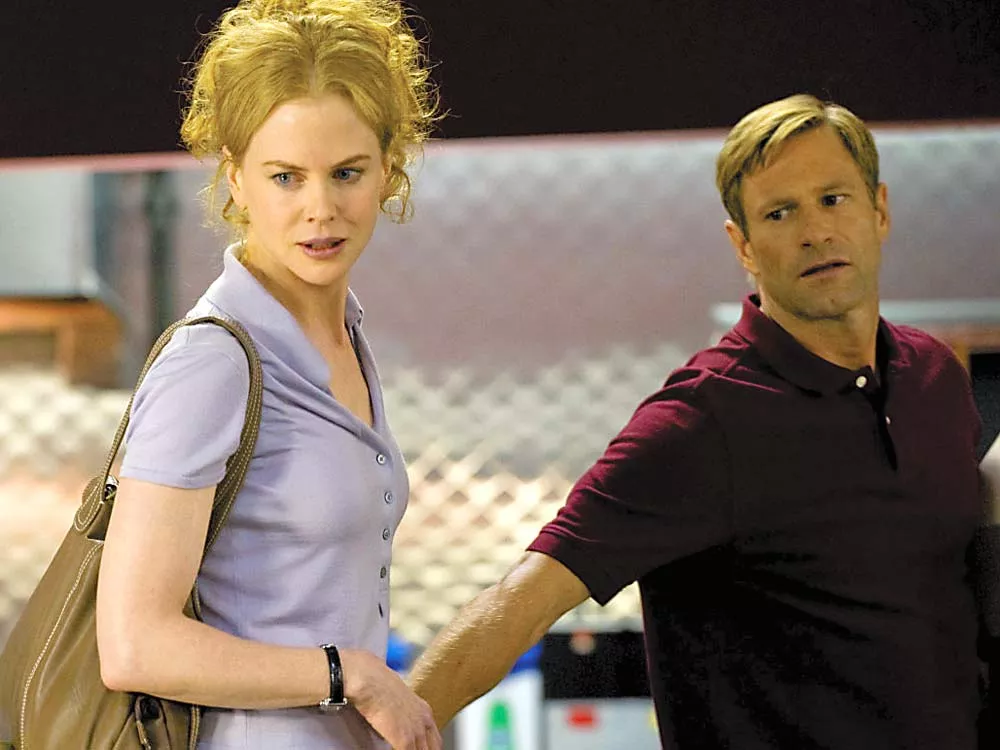 Rabbit Hole isn't a light and fluffy night at the movies. But David Lindsay-Abaire's Pulitzer Prize-winning stage drama makes a compelling, emotionally painful, at times surprisingly funny jump to the screen.
In the film's seemingly peaceful opening, Becca (Nicole Kidman) is attentively working her spacious garden, "trying to get things back in order," she says to a neighbor. When her husband, Howie (Aaron Eckhart), comes home from work, she's smiling, putting together a nice dinner for them.
But you just know that something's wrong. She's not just tending to her plants and shrubs; she needs to get something much larger "in order."
Both of the Corbetts stay up late at night, rarely in the same room. He's watching home movies on his iPhone; she's just thinking. It's not until they're seen together at some unnamed support group that things come clear — at first slowly, then like a punch to the gut. It's a group for bereaved couples whose children have died. Eight months ago, in front of their home, the Corbetts' 4-year-old son Danny had been hit by a car and killed.
Once they were two-thirds of a happy family. Now Becca and Howie share a home but lead separate lives. Howie is adjusting to the situation but obviously needs more help than he's getting from going to group. The movies he watches at night are of Danny at play. With a lot more going on in her head, Becca refuses help altogether, labeling the support group a collection of "God freaks." The irresponsible antics of her younger sister Izzy (Tammy Blanchard) don't help any. Neither does their lonely, frustrated, pushy mom (Dianne Wiest), who went all religious years earlier when she lost a son to drugs.
How do people cope with tragedy? Howie burns up grief on the squash court, but that just leaves Becca more time to think. Yet even when she gets out to visit old friends, things are apt to go wrong. She bumps into an acquaintance, all unaware, who innocently asks, "So how's the family?"
Becca and Howie's real problem is that they're not communicating. And that leads to them having secrets from each other. Each of them develops a secret friendship. Howie actually finds himself able to joke around with another woman (Sandra Oh). Becca, meanwhile, has been secretly meeting with a much younger man named Jason (Miles Teller), a high schooler carrying a guilt-burden of his own.
The film's mood may be mostly gloomy, but the actors are affecting. Kidman and Eckhart play a couple who are truly bewildered about how to get through their grief. Wiest portrays a mother who has accepted her lot in life and tries hard, but ineffectively, to help her daughter through hers. But it's newcomer Teller who has the most challenging role. He's the best part of the film.
Director John Cameron Mitchell (yes, he played the title role in Hedwig and the Angry Inch) lets the story's ever-hovering anger go too far over the top on one occasion. Otherwise, though, he keeps the devastating content under control. Thank goodness for the scattered sparks of humor, which give viewers a chance to breathe. Without them, Rabbit Hole might have collapsed under an unbearable weight.