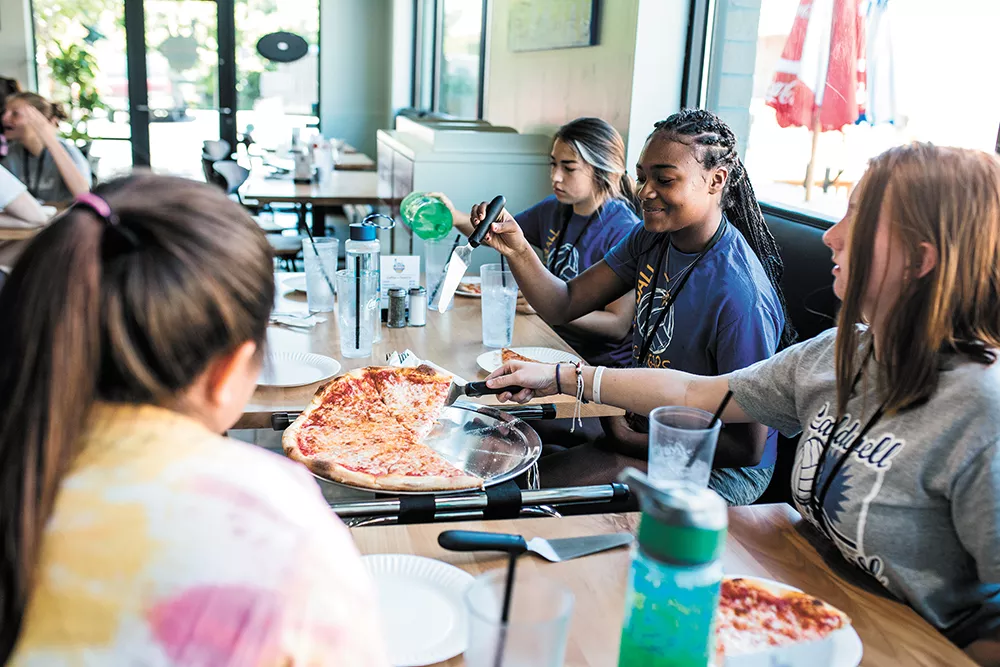 When you grab a slice of pizza at DiNardi's, you're tapping into a long-standing family tradition of Italian culinary magic.
Ciro DiNardi Sr., hailing from Naples, Italy, and later New York City, helps Ciro DiNardi Jr., owner of the newly opened pizzeria in Spokane's Logan Neighborhood, as chef in the kitchen, sharing recipes his grandparents passed down to him. There is a visible camaraderie between father and son as they banter and work together.
"He's [a] 75-year-old," says Ciro Jr. about his hardworking father. "I'm trying so hard to lighten his workload, but he's just an animal."
Much of the younger DiNardi's childhood, starting around age 8, included answering phone calls at his parents' restaurant in Yonkers, New York, which opened in 1964. Ciro Jr. would come into the restaurant after school on days when he didn't have sports practice to assist the family with whatever was needed. His earliest recollection of making pizza for the restaurant begins at 13.
"Everything is originated from my father," says Ciro Jr. "He learned everything from his family."
Combining New York-style pizza and authentic Italian cuisine, DiNardi's aims to surprise customers with a behemoth of options in addition to pizza. Basically, almost any Italian meal one might be craving is found on the menu. Meatballs ($5.50), assorted wraps ($8.25), manicotti ($12), ravioli ($12) and seafood dishes ($15-$22) are just a sampling of what's available. At DiNardi's, items like chicken marsala ($15) and penne alla vodka ($12) aren't exclusive to pasta dishes, they're also included as toppings for its gourmet pizza offerings ($9.50-$21). Gluten-free substitutes are also accommodated.
For dessert, choose between classics like cannoli ($3.95), a waffle cone with cream inside or tiramisu ($5.95), a cake with layers of espresso, rum, custard and cocoa powder. Pair with beer or wine for the ultimate full-course meal.
All sauces are made from scratch in the kitchen, as is the pizza dough. For Ciro Jr., it wasn't ever a question whether to order those premade, as these ingredients are made from passed-down family recipes.
Freshness is a constant at DiNardi's, where pizza slices available at the counter for a quick bite are not kept longer than two hours. For a slower paced meal, there's indoor seating and a charming outdoor patio.
Being a seafood and pasta lover, trying the shrimp scampi ($19), topped with crumbs and fried in a sweet sherry wine sauce and the linguini with clams ($15), which comes in a light and savory white or red sauce, was a treat. The best part? Dipping the fresh bread into remaining sauces for a satisfying ending.
"We look forward to being in Spokane for a long time. I want my daughters to be, when I'm long gone, wondering what they're going to do with it, whether they're going keep it. That's how long I want this place to be here. Even longer," says Ciro Jr. ♦
DiNardi's Pizza & Pasta • 829 E. Boone, Suite A • Open Mon-Sat 11 am-11 pm and Sun 11 am-10 pm • dinardispizza.com • 960-7949