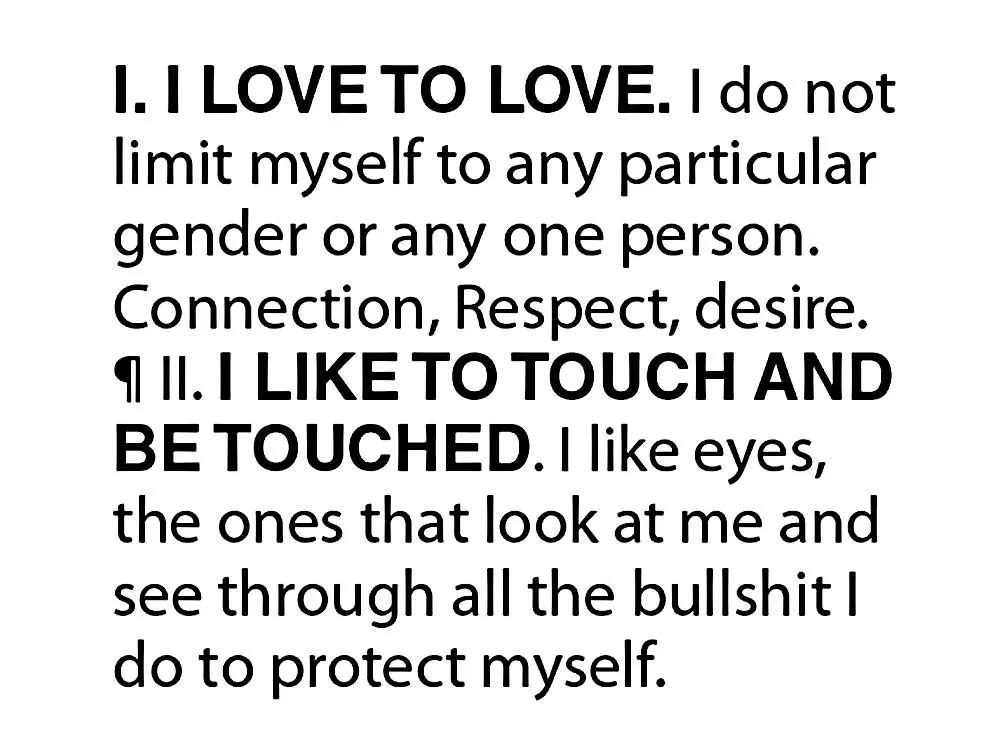 "If you've never stood nearly nude in front of a crowd of people, shimmering with glitter and maneuvering your shoulders and ribcage in a way that makes the sparkling tassels attached to your nipples twirl and rotate — well, you're missing out."
Blunt tales like that define "SEXT," an upcoming text-art installation at Kolva-Sullivan Gallery. Covering love and lust and lots of sex, some of the pieces are funny and others will make you blush. "Please do not break my dick," one reads. "It is the only dick I have." Another: "There are reasons I prefer porn to real life." Others are plain declarations: "Stop lying and using women to get what you want. The future is not what it used to be."
A joint effort between Chris Dreyer, of Dreyer Press, and Naaman Cordova-Muenzberg, of local art collective Boys Who Like Butterflies, SEXT exists as both a book and an exhibition examining sex and gender.
Cordova-Muenzberg says he got the idea from "Hide/Seek: Difference and Desire in American Portraiture," an exhibit at the National Portrait Gallery in Washington, D.C., that explored the idea of gender and sexual difference in portraiture.
But he also drew inspiration from the story of Antjuanece Brown, a 20-year-old Oregon woman with a teenage girlfriend, who was indicted on felony sex abuse charges there last fall because of the relationship.
"The younger girl had been dating older men for a while, but this was the first time
she'd dated a girl," Cordova-Muenzberg says. "Her mom was cool with the older guys but she wasn't cool with the girl."
When the mother found questionable photographs on her daughter's cell phone, she turned Brown in for child pornography.
Brown's grief struck a chord with Cordova-Muenzberg. "It brought into question the entire idea of who has ownership of the images of our bodies and how does that function in today's world, where we have the ability to take a picture and multiply it over and over again," he says.
That gave "SEXT" its name, but the connections end there. Don't expect to see cameraphone images of scantily clad co-eds: This show is more a compilation of texts about sex.
For its content, Cordova-Muenzberg tapped his social networks for submissions on the topic of gender or sexuality — the only requirement being that they include fewer than 500 words — and got 33 works from about 20 authors and artists.
He and Dreyer (an occasional Inlander contributor) then put those into book form, creating what Cordova-Muenzberg calls "word portraits," or text-only versions of what he'd seen in D.C.
The contents of the book will also be rearranged into one long line that will wind its way up, down and around the walls of the Kolva-Sullivan gallery space, creating a mash of black Helvetica on white walls.
"The wall is sort of a big monotonous orgy for all the sex pieces mixed together; they're indistinguishable from each other," Dreyer says. "In book form, it's a little bit more personal and you get to know each sexual entry individually."
So "SEXT" is a gallery show without any pictures. It's pornography without nudity.
And it's sexual expression without the criminal charges.
SEXT • On display April 1–30 • Artist reception: Fri, April 1, from 6-9 pm • The SEXT Show, featuring readings by the artists in their underwear, takes place on Saturday, April 16, at 6 pm • $5 or donation of underwear for YWCA Spokane • Kolva- Sullivan Gallery • 115 S. Adams • 462-5653