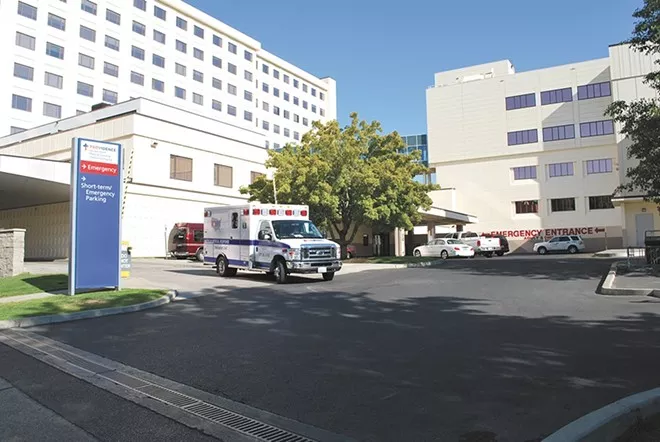 Disability groups in Washington filed a complaint yesterday
with the federal government over the state's reported plan to ration care if the health care system runs out of life-saving treatment.


They fear treatment rationing will cut out life-saving care for people with disabilities, saying that would be a violation of federal disability rights laws.
"While we recognize the need to plan and be prepared for this potential reality during these extraordinary times, the guiding principles that are adopted must be consistent with federal civil rights law," says a
complaint
filed to the U.S. Department of Health and Human Services Office for Civil Rights.
Disability Rights Washington, Self Advocates in Leadership and the Arc of the United States jointly filed the complaint. It calls out a plan considered by the Washington Department of Health and the Northwest Healthcare Regional Network, which,
as the New York Times has reported
, "will assess factors such as age, health and likelihood of survival in determining who will get access to full care and who will merely be provided comfort care, with the expectation that they will die." And
guidance
issued by the state Department of Health last week recommends that hospitals should consider transferring patients with "loss of reserves in energy, physical ability, cognition and general health" out of intensive care.
The disability groups say that even if the plan is evolving, "it is clear that it will discriminatorily disadvantage people with disabilities."
The complaint portends a scenario locally that's already played out in other countries where COVID-19 has overwhelmed hospitals. In Italy, for instance, there are so many patients needing care that they lacked machines to help everybody. Doctors
took a utilitarian approach
to guarantee patients with the "highest chance of therapeutic success" will have access to intensive care.
David Carlson, director of advocacy for Disability Rights Washington, says
those with disabilities are a broad community and can include those with a compromised immune, respiratory, cardiovascular and endocrine systems. It can also include people recovering from cancer or who have HIV, as well as intellectual and developmental disabilities.


Carlson argues any approach to allocating hospital resources shouldn't be based on disability. Currently in hospitals, he says, doctors treat patients on a first come, first serve basis. He doesn't think that needs to change — doctors should focus on treating patients in front of them, not what will do good for the most people in a community.
"When you're asking doctors who have different experiences to make assumptions about who should and shouldn't be saved, you end up with bias entering the equation," Carlson tells the
Inlander.
And Carlson says people with disabilities are already underserved and discriminated against. If an elderly person comes to the hospital first, before a younger person, and there is only resources for one, Carlson says it's not ethical for a doctor to deny resources to the older person based on the perceived survivability.
"I know it's tough and it can come across as really cold, but so does picking a particular group, age or gender and say 'you're going to suffer more,'" Carlson says.
A spokesman for the Washington State Hospital Association, when asked for comment on how hospitals plan to ration care, says they're still reviewing the complaint and don't have any comment yet.
Peter Berns, CEO of the Arc, says in a statement that it's "urgent" that the government make it clear now that it will enforce federal law protecting rationing plans from discriminating against people with disabilities.
"The lives of millions of people with disabilities across the nation are at stake — and those lives do have value," Berns says.