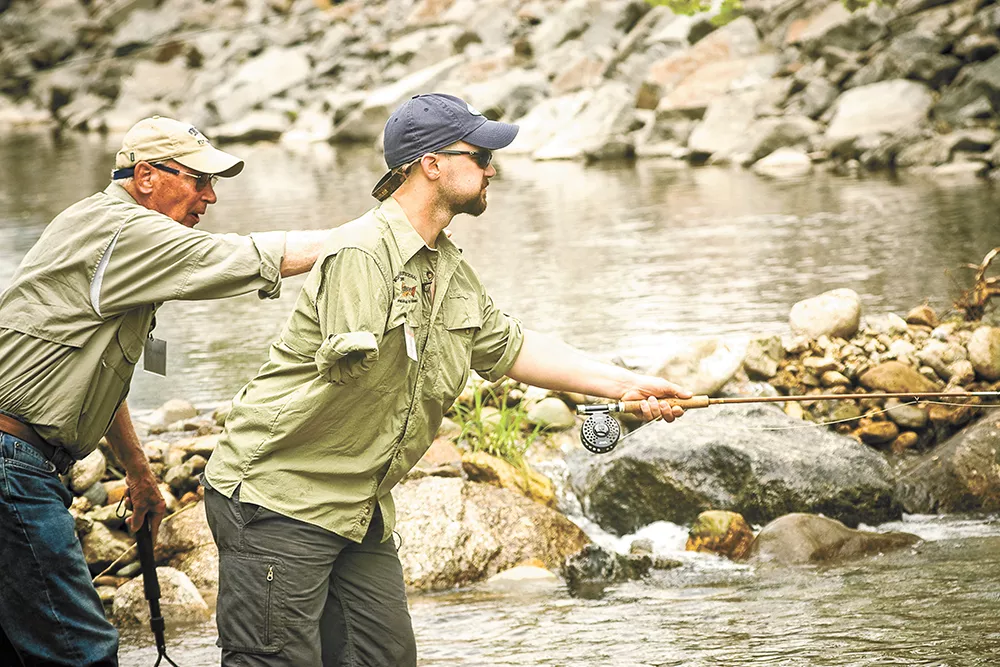 There's a comfortable quiet in the room as several anglers focus in on the delicate work of tying fishing flies during their weekly Tuesday morning get-together at the Mann-Grandstaff Community Living Center.
Carefully, they wrap black thread around strips of foam coated with a layer of reflective green, folding the material over on itself as they go to create the appearance of insect body segments. Later, they add wispy white feathers and bouncy rubber floss "legs" to perfect the look that expertly disguises their fishing hook as a beatle.
All the while, the men and women seated around the table catch up, poking fun at each other and passing the morning in good company.
Getting disabled veterans out of their homes and into a social setting like this is one of the main goals of Project Healing Waters Fly Fishing, a national nonprofit with local programs around the country, including this one in Spokane.
At no cost to them, the vets learn fly tying, fly casting, and how to build their own rod. They experience firsthand the fun of fishing on regional rivers and lakes, where it's much more about getting out for a day on the water than it is about catching fish to eat.
"We're all one big family. A lot of [participants] have come out of situations that haven't been the best for them," says Craig Adams, assistant program lead for Spokane. "We get 'em out doing this and they find out some of them have similar experiences."
Encouragement is key, though; no one is dragged out or pushed too hard, says Jerry Foster, Spokane program lead. For many, it starts with the simple quiet camaraderie in fly tying and progresses into a real passion for a hobby that they eventually want to teach.
That's how Foster got where he is.
"When I started I was a real novice, and then I became interested in helping others," says Foster, who joined the Spokane program around 2011. "The first time I went in I couldn't put a thread on a hook."
So he studied up on fly fishing and, after several years in the program, now leads others in teaching the craft.
"I love to see people blossom in this," Foster says. "Some have told us they've been in a dark place where they're not wanting to be around people or crowds. Then they come here and find like-minded people."
One of the fun things for participants is competing against the other national programs to see who is best at tying flies and building rods.
Debra Crewdson, a Spokane participant for about three years, was the 2017 fly tier of the year for her category, and both Foster and Adams note she has a great attention to detail.
"I like to get it right the first time. Otherwise I take it apart and do it again," Crewdson says in between tying more beetles at the meeting.
While the weekly gatherings are a huge part of the program, the actual fishing trips to Idaho, Montana and other parts of Washington are the best part for many members.
Jim Jones and Steve Gump ("it's G-u-m-p just like Forrest," he jokes) have both been coming for a few years and say their favorite fishing trip by far is over at Langlois Lake in Western Washington.
"It's in the spring just before opening so we can go catch all the fish we want," Jones says.
For many outings, educational fishing licenses allow the group to get out on the water, Foster says. While some trips like Langlois enable them to catch a few fish to keep, most of the time the group is simply doing barbless fishing for catch and release.
Because many participants have mobility issues and either can't walk very well or use a wheelchair to get around, many of the trips they take are to lakes instead of rivers, he says, though some rivers do have accessible docks. At the end of the day, it's about getting folks on the water.
"It's not about competing, it's just about you," Foster says. "You take the rod you made, the fly you made, and catch a fish."
The trips are completely funded by donations, which can be made to the local program by noting a donation is specifically for "Project Healing Waters Spokane" at projecthealingwaters.org/donate.
More than anything, Foster says, the program is about getting people out of dark places and solitude to form friendships with people with common experiences, though the group rarely talks about their military service.
"We do not bring war stories or politics," he says. "We can talk to each other. We don't need to talk where we been. ... It's just a lot of fun. It's just them and the river and the fish." ♦