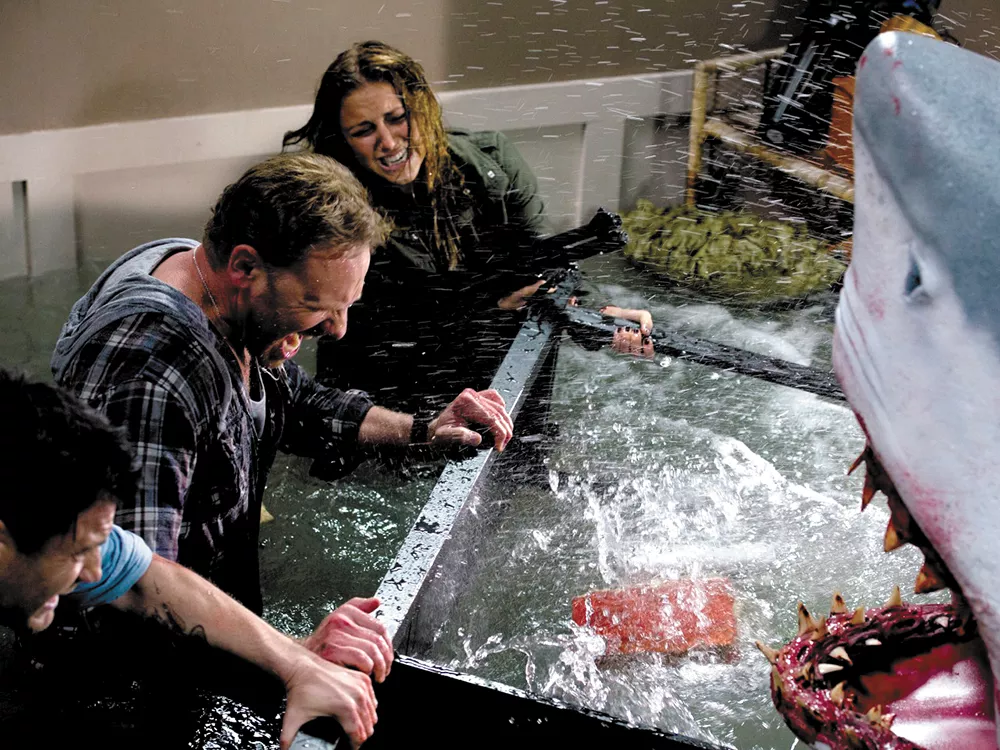 The idea seems more likely to have been concocted between the giggles of a couple of smoke-addled college freshmen than presented as the premise for a motion picture — let alone a film that was actually produced: What if a tornado full of sharks hit Los Angeles? Crazy, right? Stupid, too, eh? Absolutely. Yet somehow Sharknado, the Syfy network original film that's actually about a tornado full of sharks, has become arguably the most talked-about made-for-cable-television movie ever, precisely because it's so stupid.
Since it first aired in early July, Sharknado has appeared two more times on Syfy, the last screening garnering 2.1 million viewers. They've also been running a host of other gems like Mega Shark vs. Giant Octopus, 2-Headed Shark Attack, Swamp Shark, Sharktopus and, soon, Ghost Shark. Apparently there's enough demand for Sharknado that it's appearing at select movie theaters, including two in our region, so we can enjoy this campy blood-storm of bad acting on the big screen.
There is no non-ironic reason anyone would pay to see Sharknado in a proper movie theater — exactly the reason this cinematic abomination is coming to a theater near you. The film's director, Anthony C. Ferrante, knows the movie is outlandish, but in a recent TV interview he earnestly called the film "ambitious." He said it was shot it in 18 days (that's very, very fast) for less than $1 million, at which point the newscaster interviewing him laughed and asked, "What happened to the other $900,000?"
Apparently a million bucks doesn't buy the sort of flying sharks it once did, but this isn't supposed to be a sharp, visually impressive movie. It's not that sort of film.
This is a movie in which a man sees a shark flying toward his daughter, so he dives straight for the beast's mouth — after he starts up his chainsaw — then dives inside the fish and cuts himself out of the side of the shark with said chainsaw. You know, just like in the Bible.
This is a movie in which a dude blows up a shark with a diver's oxygen tank, a la Jaws, then says "That's what you get for trying to eat me."
This is a movie that stars Ian Ziering, who you'll remember as Steve Sanders from Beverly Hills 90210. This is also a movie that stars Tara Reid, who you'll remember for becoming a total trainwreck of a human being.
Yes, this is a movie with a ton of sharks and tornadoes, and someone you know might actually pay to see it. 
Sharknado in theaters • Fri, Aug. 2 at 12:05 am • Regal Cinemas Northtown 12, 4750 N. Division St., Spokane • Regal Riverstone Stadium 14, 2416 N. Old Mill Loop, Coeur d'Alene