In 1990, the United States formally recognized November as National American Indian Heritage Month — aka Native American History Month — capping a 75-year process of formally recognizing the rich culture of Native American tribes. In Coeur d'Alene, we are surrounded by opportunities to honor tribal culture, particularly the Schitsu'umsh, which is what the Coeur d'Alene call themselves. It translates to "the discovered people," but also "those who are found here."
Walk along the lake frontage road near North Idaho College to discover Yap-Keehn-um, the Gathering Place. This sacred spot near the mouth of the Spokane River was dedicated to the Coeur d'Alene tribe in 1977 and commemorated with signage and a bronze sculpture of Ats'qhule'khw, Chief Morris Antelope commissioned in 2015.
For a historical tour of Coeur d'Alene culture and its impact on North Idaho, check out NORTH IDAHO MUSEUM, which this year celebrates 50 years. By appointment only in winter; call 208-664-3448.
The CATALDO MISSION offers a living history exhibit entitled "Sacred Encounters," which tells the 1840s story of when Jesuit missionaries met the Coeur d'Alene people. The oldest building in Idaho, the Mission sits on a larger state park, which is beautiful any time of the year.
Guided tours to the mission are just one of many experiences available through the COEUR D'ALENE CASINO'S CULTURAL TOURISM program. The tribe has offered cultural experiences, like its Julyamsh pow wow and stickgame tournaments since it opened 25 years ago, but recently expanded its offerings. "We thought it was important to share our stories, traditions and the land we've lived amongst for centuries," explains Laura Stensgar, director of public affairs and cultural tourism for the tribe. Additional events include a shared meal with elders featuring authentic food, drumming and storytelling to a trip to a nearby buffalo ranch to experience understand the history and importance of local bison first-hand. The STICKGAME TOURNAMENT, Nov. 9-11, is a free and fun-filled weekend, with Native American crafts for sale and plenty of stickgame action to view. WINTER BLESSING is at 6 pm, Nov. 29. This treasured tradition includes storytelling, a canoe blessing and a dance exhibition as the tribe prepares for the coming winter by sharing with the community. Then on Nov. 15, the tribe is presenting the MILDRED BAILEY SHOW. Bailey, a Coeur d'Alene tribal member, was an influential jazz singer in the 1930s. Known as the "Queen of Swing" or "Mrs. Swing," she performed regularly with Bing Crosby, but her greatest fame came as a member of the group the Rhythm Boys. During this one-night tribute to Bailey, Cecelia Curtis, a member of the Coeur d'Alene Tribe will be performing Bailey's beloved hits. "As Coeur d'Alene people, we understand our history," says Stensgar. "But events and experiences like these allow us to share our culture and identity with others."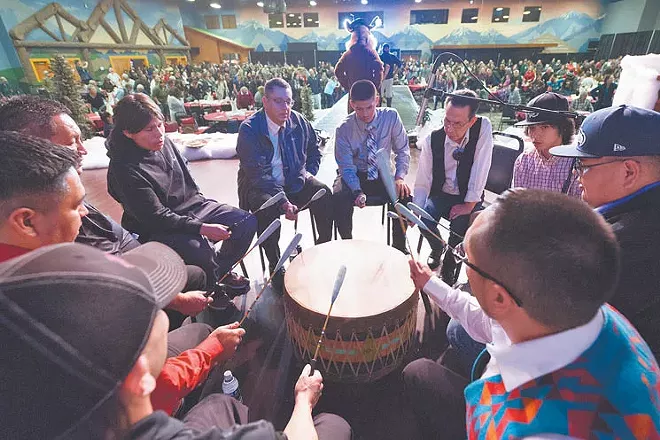 ---
Upcoming Events
Veterans Dinner
NOVEMBER 8
The Coeur d'Alene Tribe is extending an invitation to all veterans to join them for a free dinner at the Coeur d'Alene Casino, featuring an honor ceremony and live music and entertainment. Free; 5-8 pm; Coeur d'Alene Casino Event Center.
Artwalk
NOVEMBER 9
Coeur d'Alene's monthly celebration of local art continues this Friday, when galleries and businesses downtown host artist receptions. Most ArtWalk venues offer complimentary wine and an opportunity to meet the artists. Free; 5-8 pm.
Rebel Junk Holiday Market
NOVEMBER 9-10
Shabby chic, steampunk to flea market style are artfully on display at the Rebel Junk Holiday Market, which features carefully selected local and traveling vendors with a heart for junk and the imagination to elevate it. Friday, 6-9 pm; Saturday, 10 am-4 pm; Kootenai County Fairgrounds.
My Son Pinocchio Jr.
NOVEMBER 9-18
This new musical retells the classic Disney story from Geppetto's perspective, but features the beloved classic songs, "When You Wish upon a Star" and "I've Got No Strings," alongside a host of new songs by Oscar winner and Grammy Award winner, Stephen Schwartz. Presented by CYT North Idaho. $11-$15; Friday-Saturday 7 pm; Saturday-Sunday 3 pm; Kroc Center.
Paint Nite
NOVEMBER 10
Channel some Bob Ross chill and create a one-of-a-kind painting while sipping wine at Coeur d'Alene Cellars. Saturday's Paint Nite in the tank room features a painting that's all about the seasons. $45; 2-4 pm; Coeur d'Alene Cellars.