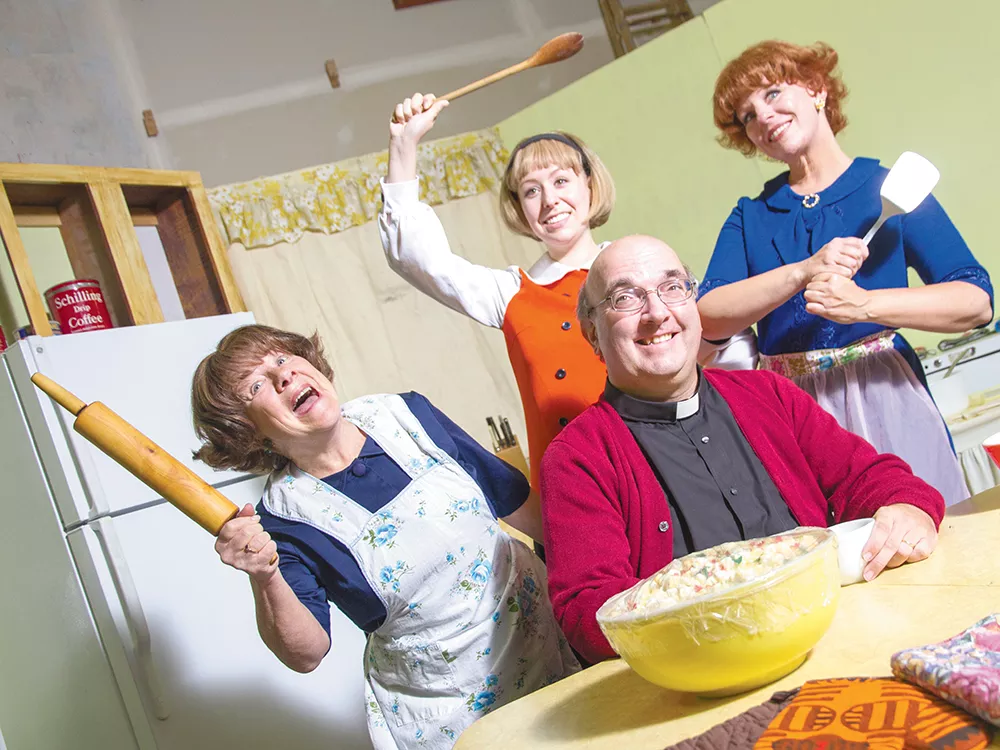 Interplayers' search for a preseason replacement for the thoroughly exhausted Tuna franchise has led it to Church Basement Ladies, a musical comedy — the first in a series of five — about Lutheran do-gooders in rural mid-1960s Minnesota.
As its no-frills title would indicate, this is live theater reduced to its basic elements: people dressed like other people moving around on a stage and saying things. That makes it the most rarefied form of light entertainment, stripped of all subtlety, all development, all originality, all thought, all raison d'être. The upside, perhaps, is its sheer predictability. And if your knowledge of Lutheran customs and stereotypes is spotty, Church Basement Ladies will talk (and sing) you through the broader points of lutefisk and the 95 Theses as if a Wikipedia entry were being read aloud. Yah, in a Minnesota accent, you betcha.
Michael Weaver directs this twee song-and-dance farce in the same way he oversaw last season's Seeds of Change. Understandable, given that there's not much artistic wiggle room when it comes to paint-by-numbers plays about church busybodies and their fundraisers.
Also as in Seeds of Change, Kathie Doyle-Lipe is once again the scene-stealer. Here her physical comedy (tumbling in and out of chest freezers, somersaults on countertops) brings life to a production in which every pivotal moment occurs offstage and the passing of time is noted in dialogue. Her voice, unfortunately, is a brittle Sprechgesang that can't quite meet the minimal demands of, say, "My Own Personal Island," a song about menopausal hot flashes. As it happens, those menopause gags drew the most reliable audience chuckles, which goes a considerable way toward explaining why these variations on a theme keep appearing on the Interplayers calendar.
Doyle-Lipe (as Mavis Gilmerson; she also choreographed) is flanked by three less familiar female faces, namely, Jennifer Jacobs, Sarah Uptagrafft and Susan Windham. All are about as good as their respective roles allow: Jacobs as Karin Engelson, mother to politely recalcitrant Signe Engelson (Uptagrafft), and Windham as the change-averse Vivian Snustad. Jacobs and Uptagrafft have the most arresting voices of the quartet, though Windham truly comes alive for "The Cities," a mock burlesque number that bills Minneapolis–St. Paul as the "Sodom and Gomorrah of the prairies" in one of the play's rare flashes of inspiration.
As Church Basement Ladies stumbles toward its obvious conclusion, there's a moment when Karin employs a clumsy simile that likens herself to butter. To which Mavis responds: "We should stitch that [saying] on a dishtowel." Suddenly, the primary source of playwrights Jim Stowell and Jessica Zuehlke's homespun dialogue — and with it the essence of the play's myriad flaws — becomes clear.
Church Basement Ladies • Through Sept. 1: Wed-Sat, 7:30 pm; Sun, 2 pm • $28 ($20 senior/military, $12 student) • Interplayers • 174 S. Howard St. • 455-7529 • interplayerstheatre.org