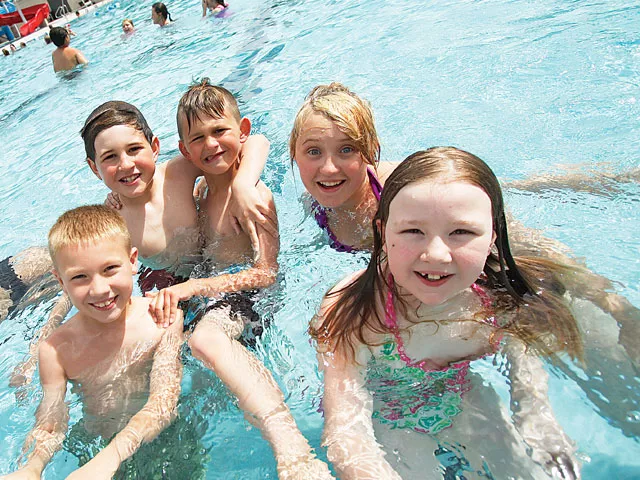 When the headlines heralded the beginning of swim season for Spokane's public pools — including two shiny new ones — my competitive spirit got the best of me. I was going to try to swim all six pools on Monday's opening day, biking from one to the next. It had to be done.
COMSTOCK, 7:15 am | 29th Avenue and Howard Street Only one pool in and I'm already cheating. Instead of swimming Comstock as part of a six-pool bike tour in the afternoon, I get a head start and arrive in the early morning. It's totally worth the guilt. Comstock is one of only two pools that offers regular lap-swimming hours, and at this hour it's peacefully quiet — only four people in the pool.
Surprisingly versatile, this year-old pool manages to pack in four 50-meter lap lanes, six 25-meter lanes going the other way (these double as a diving pool), plus a twisty slide, a shallow kids area and a little splish-splash play area.
I keep my splishing to the lap lanes. It's cool out, with a slight breeze, but the water is delightfully warm. What a way to start the day.
HILLYARD, 12:25 pm | Columbia Avenue and Market Street This is another of the pools built last year with money raised by a $43 million bond voters approved in 2007 to reinvigorate the city's crumbling pools inventory. The general approach to its design will become familiar as the afternoon progresses — slides, diving board, lap lanes, shallow area, play features.
In theory, there's something for everyone here, but right now it's a freakin' free-for-all, with kids everywhere. I take a whirl in a toilet bowl-like lagoon with a swirling, circular current but get mashed up against a raft of kids. As if the lifeguards don't already suspect I'm some kind of perv.
SHADLE, 1:15 pm | Wellesley Avenue and Belt Street When, in life, is it that encountering crowds of other humans goes from being a visceral thrill to a digestive irritation? Two kids in line here at the Shadle pool just caught a glimpse of the melee inside and now they're psyched to get inside and join the throngs. I'm … not.
The only place I can find to swim is a little me-sized column of water in the thrashing, sloppy lap pool. But this isn't swimming. It's like standing around at a party full of pre-teens, where the revelers indiscriminately cannonball your ass.
A lifeguard gives me a look, like I'm too old for this.
Maybe she's right. One second into the descent, my field of vision shrinks down to nothing, like the way silent movie scenes used to dissolve to a tiny spot before going black.
A.M. CANNON, 1:45 pm | Maxwell and Elm Streets Our photographer, Young, arrives first, to find a gaggle of children huddled on the sidewalk outside the entrance. Pool's closed. Pump's broke. On opening day.
WITTER, 2:09 pm | Mission Avenue and East Upriver Drive Now this is my kind of pool. The other lap-swimming pool, brand-new Witter looks like a football field — six lanes of competition-ready 50-meter lengths, with only a nod to all the kiddie crap that dominates the other pools. I get in a few wonderfully tranquil laps. Not cannonballed even once.
On the way out, we notice the kiddie area is vacant.
Pump's broke, lifeguard says. This, at a pool where the dedication was delayed in May because they'd found a broken pipe before it was even open.
LIBERTY, 3:12 pm | Fifth Avenue and Pittsburg Street A youthful boy approaching the diving board at Liberty Aquatic Center, tucked into the hillsides at Liberty Park, announces to his friend: "I'm going to make this my grand finale! I'm gonna be, like, starfish!" He leaps from the diving board and stretches his arms and legs like four rays before slapping the surface of the water.
I have no aspirations for a finale so grand. It's not until you travel from one pool to the other by bicycle that you can appreciate how well the city of Spokane has spread out its assets (even if can't always keep them running). I rode more than 20 miles and swam in five pools, and I'm pooped.