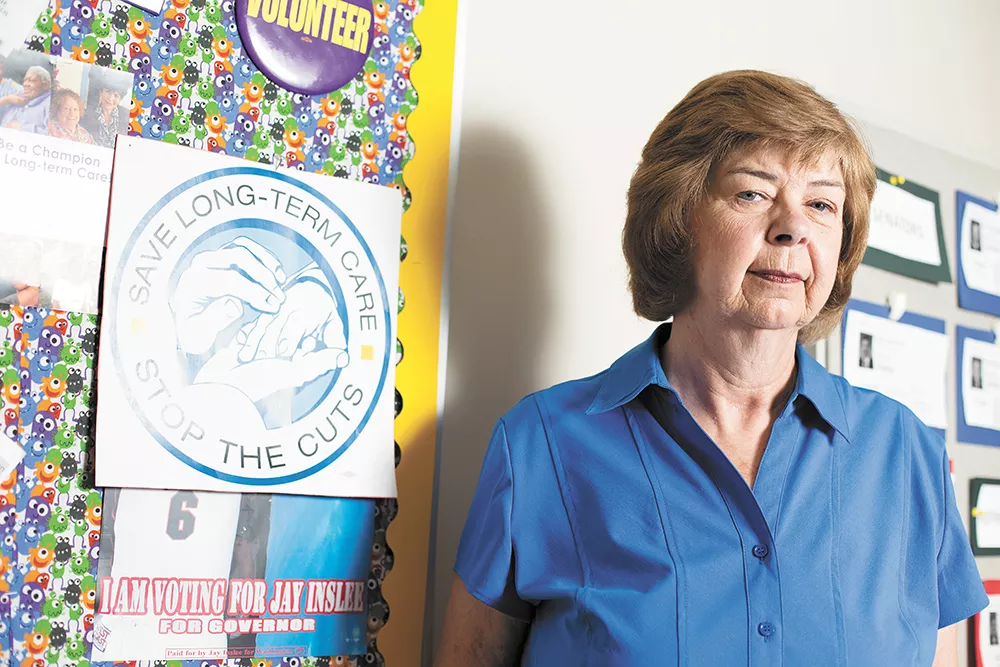 Susie Young remembers feeling hesitant when she first met an organizer from the Service Employees International Union in the parking lot outside of her work in 2003. Having grown up in a non-union home, she remembers thinking, "They are going to take my money."
At the time, she was making about $7.25 an hour caring for disabled individuals, and SEIU was trying to organize people like her. Despite pushback from her employer, she and her co-workers were convinced by the organizer and voted to unionize under SEIU Local 775NW, a union whose ranks have grown to 40,000 members.
"I had to fight for every little thing," recalls Young. "And I thought, what a cheap employer. I didn't get a pay raise or training."
Since then, Young has seen her wages increase to $14 an hour. She's received training and has more leverage with her employer over things like getting gloves when working with HIV-positive clients.
But now another organization is mailing, calling and even showing up on the doorsteps of SEIU members with a very different message: You can leave the union; you don't have to pay dues.
Last year, by a 5-4 vote, the U.S. Supreme Court ruled in Harris v. Quinn that Illinois home-based health-care workers can't be required to financially support a union even if it's negotiating on their behalf. In Washington, the ruling is having an effect, as a conservative group is seeing some success in peeling off members and financial support from one SEIU affiliate.
Washington is among 25 states that require public-sector employees to join a union or pay fees for providing representation, regardless of whether individual employees object to the union's political activity. In Idaho, a right-to-work state, such arrangements are illegal. But in states like Washington, they play a critical role in the financial viability of unions.
In the wake of the ruling, the conservative Freedom Foundation is aggressively reaching out to union members affected by the court ruling, letting them know they can opt out. Maxford Nelsen, labor policy analyst with the Freedom Foundation, says his group wants union members to know they have a choice. That choice, he adds, will have political implications.
Traditionally, labor-friendly states like Michigan and Wisconsin have seen the power of their unions wane under Republican governors and lawmakers. The Freedom Foundation, which has aggressively sought to diminish the influence of unions through litigation and other tactics, hopes that Washington is next.
"They're a thorn in our side," says Young of the Freedom Foundation. "We need to beat those people down so they go away."
In 2001, Washington voters passed Initiative 775 with 63 percent of the vote, allowing individuals who provide publicly funded in-home health care to the elderly and disabled to unionize. The following year, workers did just that under the auspices of SEIU as Healthcare 775NW local.
Since then, SEIU and its affiliates have become an influential part of Washington state politics, contributing hundreds of thousands of dollars each electoral cycle to liberal candidates and causes. The union even helped usher in Seattle's $15 minimum wage.
"They are a major component in organized labor, particularly as the workforce has evolved from manufacturing sectors to the service sectors," says Rep. Timm Ormsby, D-Spokane, who also serves as president of the Spokane Regional Labor Council.
Ormsby says that Harris v. Quinn could have important consequences for SEIU. In that case, the Supreme Court created a new class of "partial public employees," individuals who are paid with state funds but work on behalf of private individuals, such as someone providing in-residence care to a disabled person or someone running a home-based child-care center that receives government subsidies. The idea behind the ruling is that requiring these workers to fork over part of their paycheck to unions violates their First Amendment rights.
Although union members affected by the ruling can now opt out, Nelsen says that many are unaware they can do so. To change that, the Freedom Foundation has launched a campaign seeking to tell them they no longer have to provide financial support to the union. The foundation has used social media and purchased TV ads to spread that message.
Using the state's public record law, the Freedom Foundation has also acquired contact information for members of SEIU Local 925, which represents in-home child-care providers, and reached out directly to them, even showing up at their doorsteps. The foundation is currently in litigation to get similar contact information for SEIU Local 775, another branch of the union affected by the ruling.
"I think it is entirely up to individuals," says Nelsen. "For any good or service that the union is providing, consumers should be able to make that choice."
Since July of last year, following the Supreme Court ruling, the number of SEIU 925 dues-paying members has dropped from 6,633 to 3,738, according to numbers from the state. The union has also seen collected dues decrease from $146,740 to $98,763.
Adam Glickman, secretary treasurer for SEIU 775, says the union has grown to 43,000 members despite the Freedom Foundation's efforts. The average wage for union members, he says, is $12 an hour, 3 percent of which goes to dues. Glickman says the union tells its members they can opt out, but he says that most see SEIU's value, having negotiated a contract that'll raise average wages to $14 an hour. Members, he says, are also turned off by the Freedom Foundation's aggressive outreach efforts.
"It's very invasive to our members' privacy," he says. "Our members are caring for vulnerable people in their own home. There is a potential for there to be real violations of privacy."
Young, an executive board member for SEIU 775, says that disabled clients are better served by the union. Better pay and working conditions means less turnover, resulting in better service for clients, she says, and the union's political advocacy extends beyond its members.
"We are in the homes, and we are on the front lines," says Young. "We see what needs to be done. We see seniors are having a hard time getting a place to live or getting food." The Freedom Foundation, she says, will do none of these things.
But Nelsen says that for some workers, it doesn't make sense to be part of a union, such as someone being paid with state funds to take care of a disabled family member. "You wouldn't have a mother caring for her disabled child filing a grievance against her son," he says.
Michelle Lowell, the owner and operator of All Saints Child Care and Preschool in Spokane Valley, says she opted out of SEIU 925 — which didn't return calls for comment — shortly after the court ruling. Lowell says the union payments ranged from $50 to $75 on the $3,000 she made monthly from state subsidies.
"It's a business," says Lowell. "The union is a business, so they are trying to create money, but they didn't help us any. In fact, they hurt us a lot."
Specifically, she cites SEIU's support for requiring state-subsidized daycare centers to participate in Early Achievers, a state program intended to improve early education. Lowell finds the new requirements so burdensome she won't take any more state-subsidized kids.
Ormsby says the Harris decision affected only a narrow section of public workers. But the precedent it set could set the stage for a more sweeping ruling, he says. Specifically, in an upcoming case, Friedrichs v. California Teachers Association, the court could rule that all public employees can opt out of their unions.
"I think it's a dangerous precedent," he says. "It could be a devastating impact on the ability of state employees to form a union." ♦