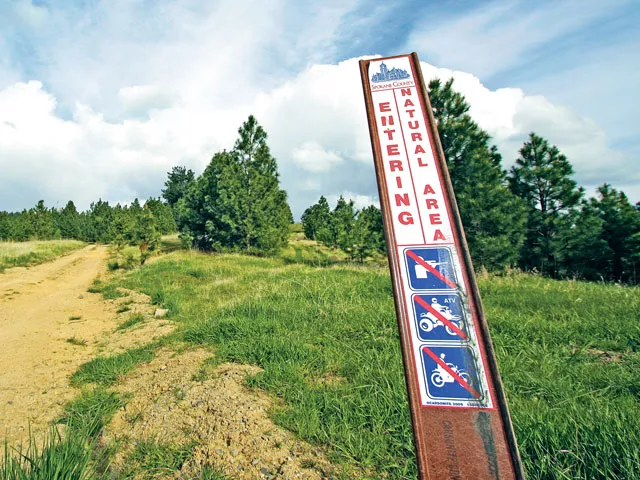 Since 1994, the Conservation Futures program has preserved more than 5,000 acres of undeveloped land in Spokane County. Thanks to the program, we all own land on Antoine Peak, in Liberty Lake and near Latah Creek, among other places.
Also thanks to this conservation money, we own less than an acre in downtown Spokane — the old YMCA property in Riverfront Park.
On May 1, the Conservation Futures nominating process opened for the first time in five years. The timing could be awesome, with the wealth of cheap land and the program's cash on hand. Or, as some are saying, the timing could be horrible, with the controversial Y purchase hindering the county's ability to set aside pristine land.
"The big reason is the funding. We're diverting $6 million, $7 million over the next 20 years [for the Y purchase]. That's money that will just be lost," says Spokane City Councilman Jon Snyder. The day after the council voted to purchase the Y — with Snyder on the losing end of a 4-3 vote — he wrote on his blog that the deal would "greatly reduce the effectiveness of the Conservation Futures program and result in hundreds, if not thousands, of pristine wild lands never entering into the public domain."
But according to Paul Knowles, the county's park planner, this could be one of the program's better years.
"It seems like it is a fairly good year for us," Knowles says. "It seems like there is a lot of interest from property owners. Part of it I think is they're looking for a buyer. Conservation Futures is one of the few programs that has cash on hand."
The fund currently has about $3 million in the bank and receives an annual injection of about $1.7 million. The Y purchase will take $350,000 a year from this fund, but this hasn't happened yet because the city and county are still hammering out an interlocal agreement.
"The economy's down, and the values and assessments have gone down," says Richard Rush, another Spokane councilman who opposed using Conservation Future funds to purchase the Y. "It does present a buying opportunity to acquire properties at a more affordable price and therefore spread the funds."
Rush is right. According to Ralph Baker, the county's assessor, this year marks the first time since 1974 that the overall value of the county has gone down. Land is cheap.
But how much land can $3 million buy? In the program's history, 5,057 acres have been purchased within the county for $19.3 million. Of these, 223 acres are within city limits and were picked up for $2.9 million.
"The window opens only once every five years or so.
This is a great opportunity to nominate properties," Rush says. "That's what we're all about. Near nature, near perfect, right?"