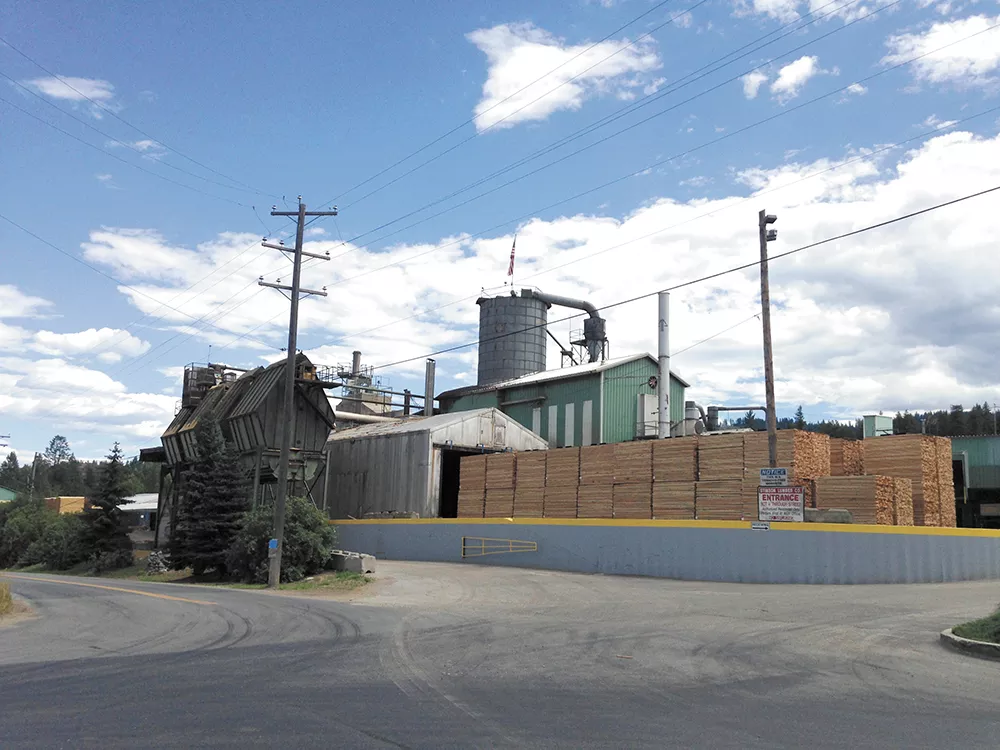 Highway 2 is sunbaked and choked with SUVs and pickups piloted by folks who are likely still expected to be sitting in Spokane offices at 3 pm on a Friday. As they crest the hill into Priest River, some of the vehicles slow and some turn off. Most don't.
The drivers who do get off the road crowd into a pocket-sized, Idaho-state-run liquor store, where they remark about how much cheaper the booze is here. They go to the Mitchell's grocery store and rush through the aisles, list in hand, kids dragging their feet behind them, tossing in items with the knowledge that each one gets them closer to the cash register and closer to the road.
Or maybe they stop at Burger Express and order a huckleberry milkshake. But then their husband will wave from outside, where he's checking the tie-downs on the boat cover and amending that order to two huckleberry milkshakes. Three guys, their clothes stained with errant paint, the evidence of a day's work in the punishing sun, will wait patiently, gazing with heavy eyes at the Elvis records on the walls and the motorcycle in the corner, waiting for their turn to order. When they get to the counter, it's big burgers and onion rings and the sort of friendly chatter that's exchanged only between people who've known each other for a long, long time.
The shakes come up and are shuttled briskly out the door and into a truck that tows that freshly secured boat back onto the road and a stoplight, where they'll turn left. That's Highway 57, which winds through dense woods for 20 or so miles to Priest Lake. It's the only reason a lot of people ever see Priest River.
People have been making that turn for more than 100 years. In the early 1900s, Charles Beardmore hauled vacationers, hunters and timber workers on a grueling, daylong journey in horse-powered coaches from Priest River out to the lake. By 1914, Beardmore's operation had switched to motorized coaches, leaving from a bustling, timber-and-mining-powered Priest River that had become home to 2,000 people.
Beardmore's name looms, quite literally, over Priest River's downtown, which is past that stoplight and down the hill a bit. The Beardmore Building occupies more than a city block. It's been overhauled and updated with a mix of modern flourish and historical preservation by Beardmore's great-grandson, Brian Runberg. Now a successful Seattle architect, Runberg was one of the "just turn left at the light" guys growing up in Spokane, then spending his summers working at a marina on the lake.
"There's something about history. It stirs the soul," Runberg says.
It was that family history that persuaded him to buy the building in 2006. Now he sees it as a sign of Priest River's future.
"I think it's important for any community to have a sense of place and identity, and that's hard to do without reaching out and touching its historical culture," he says.
On the ground floor of the Beardmore, you'll find the sleek yet cozy Beardmore Bistro. It's a coffee shop and wine bar owned by Jim Martin, who believes in the value of the small American town. Small towns are making a comeback, he says with full conviction. He should feel that way; he's the mayor.
"If you want to jump-start a small town, you need a downtown," says Martin, in his 10th year leading the city.
Compared to the Friday bustle up the hill, the downtown is tame — a little too quiet.
Down the street, kids swim in the river (actually the Pend Oreille River) at a park near the railroad tracks. Martin, Runberg and others are working to revitalize the waterfront so it's more accessible — just another shot in the arm for a city that, like many others, is getting back on its feet after the recession that began in 2008 punched it in the gut and left it with a high rate of families living below the poverty line.
The economy is picking up, Martin says. Small businesses are doing well and there's an influx of new industry, including an airplane manufacturer. These are good signs, especially for the town's young people looking for a career path.
But in Priest River, more has stayed the same than has changed. You see that when you look across the river and see the steam emanating from the Stimson Lumber mill. It's where more than 100 area folks go to work, turning trees into boards, just like they've been doing for more than a century.
It's the sort of place where you get a job because your father-in-law put in a good word, and you work next to a woman whose mom is also on the payroll. Where the mayor's brother scales logs and couples ride to the site together in the morning. Plant manager Marty Kyler says the plant uses a lot of manual labor, much more than other, more high-tech plants, yet it's able to yield about the same amount of board feet per day. That's something to be proud of in a town where people are proud of their lumber industry, which you see every year in July when the Timber Days parade brings several thousands to the streets of Priest River.
"In this small town," says Kyler, "we like to think we're good to our people and our people are good to us."♦
---
PRIEST RIVER
Population: 1,751 in the 2010 census
On the map: 22 miles west of Sandpoint
Annual event: Timber Days, late July
Notable names: Lucy Beardmore, one of Idaho's first female legislators